To say cooking thanksgiving dinner is a huge undertaking is an incredible understatement, especially if you don't have the right tools. We could our first turkey class Thanksgiving and although it came out perfect, we absolutely did not have the right kitchenware and utensils to properly handle, carve, and serve our turkey. Thanks to some wonderful cookware and kitchen appliances from brands like All-Clad Cookware, and Bella Housewares, cooking for Thanksgiving will be a breeze. Today we share the latest in Roasters, Slow Cookers, and Cooking Utensils, the must-have cookware essentials for easy Thanksgiving cooking and preparation. Our list is sure to make your Thanksgiving preparations easier….you're on your own when it comes to dealing with your family.
BELLA HO– USEWARES 18QT Turkey Roaster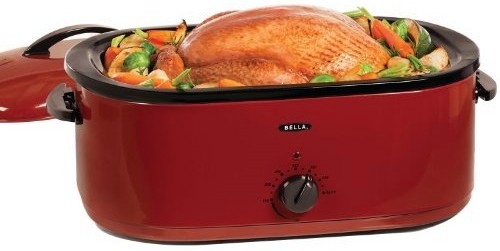 The BELLA Turkey Roaster is the second oven you've always wanted on Thanksgiving. It roasts up to a 22lb turkey and has an 18QT capacity. Not only does it free up your oven for other parts of your Thanksgiving feast, it saves you a lot of back pain from the constant bending while checking on your turkey. A metal rack is included with the Bella Turkey Roaster for cooking convenience and the temperature may be set from 150 degrees up to 450 degrees Fahrenheit.
ALL-CLAD ROASTING PANS

All-Clad Stainless Steel Covered Roaster            All-Clad Stainless Steel Roti Combo                       All-Clad Hard Anodized Roti Combo
The All-Clad Stainless Steel Covered Roaster is ideal for roasting large cuts of meat and turkeys. It's made up of heavy gauge 18/10 stainless steel which makes cleaning up a breeze and features large loop handles for maneuverability. This roaster features a unique rack with lifting handles for easy removal of large foods after roasting. This covered roaster also features a pressure release on the lid for easy removal.
The stainless steel All-Clad Roti Combos are ideal for turkeys and rib roasts. The V-shaped nonstick roasting rack elevates foods to generate even cooking and browning. Stovetop safe for pan gravies after roasting. The roaster comes with a set of 2 stainless turkey forks, ergonomically designed for comfort.
The versatile All-Clad Hard anodized Roti Combo is best suited for roasting large cuts of meat or whole poultry and boasts a nonstick v-shaped rack allows for even browning of meat and collection of natural juices in the pan for basting, glazing or a gravy base.
BELLA TRIPLE-SLOW-COOKER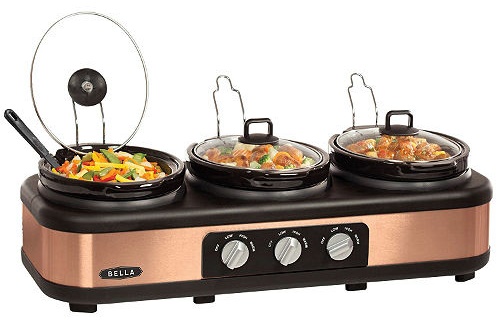 When all your stovetop burners are going, the BELLA 3 x 2.5QT Triple Slow Cooker with Lid Rests (in gorgeous rose gold – one of many available colors) adds much more needed cooking capabilities. No more waiting until something is done cooking to start on another. This triple slow cooker is perfect for entertaining family and friends. It boasts individual temperature control knobs to ensure that each meal is cooked just right while its non-skid feet help prevent spills.
ALL-CLAD STOVETOP SLOW COOKER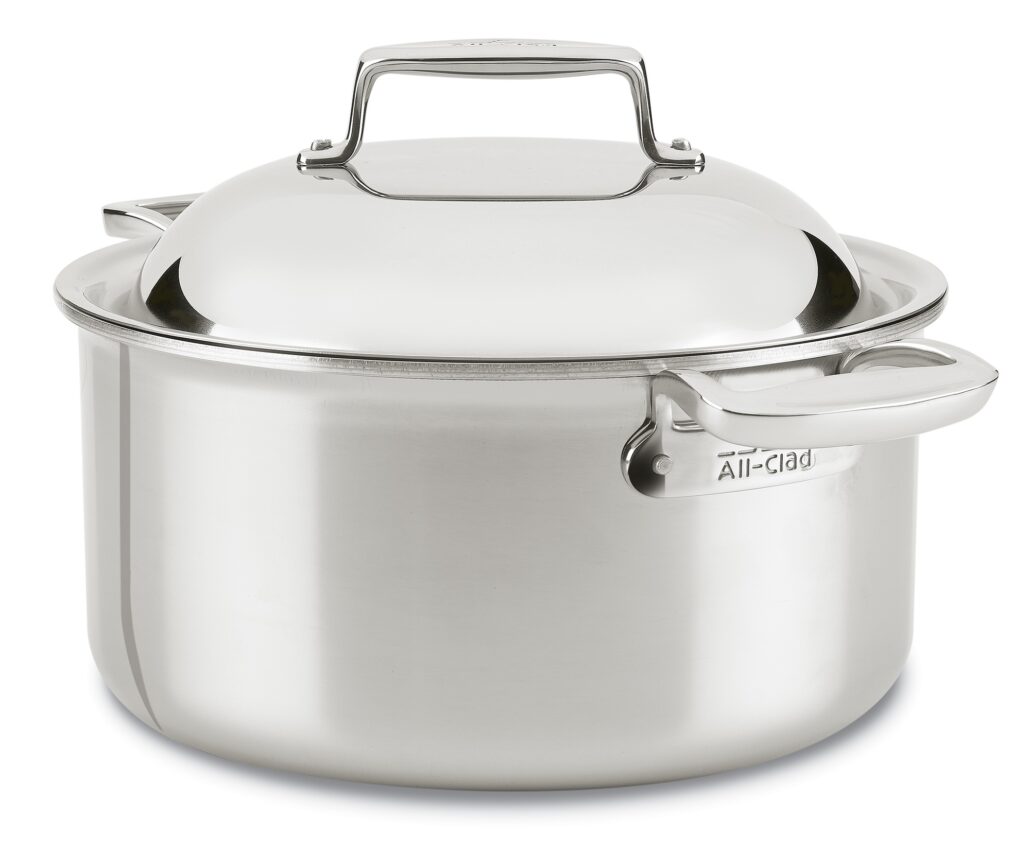 For those of you who prefer stovetop slow cooking (and has a free burner), you will love this innovative pot from All-Clad. This stainless steel beauty boasts seven-layer bonded-metal construction, offering doubly uniform heat conduction with 25% less weight than cast iron. Count on this kitchen-to-table cooker for perfect browning, caramelizing and slow cooking of everything from tender pot roast to hearty stews and braises.
ALL-CLAD COOKING UTENSILS

All-Clad Measuring Spoons                                                                                                                                     All-Clad Potato Masher
When following recipes, precise measurements are key, especially if it's a recipe you're trying for the first time. The beautifully crafted stainless steel All-Clad Measuring Spoons set comes chained together to keep the entire set easily accessible. This set includes a 1/4, 1/2, 1 teaspoon and 1 Tablespoon measures. The rounded spoons are also conveniently designed to glide into small openings of spice jars and small containers.
No one likes lumpy mashed potatoes or sweet potato pies, with the All-Clad Potato Masher, you will easily mash vegetables and fruits such as potatoes, avocados and bananas.  Thanks to its thin slits which efficiently mashes while its high sides reach into corners of most bowls and pans, so food pieces don't escape.