We know when it comes to celebrating the luckiest day of the year, it's usually done with cocktails, but we're here to tell you, enjoying a delicious plate of a delicious pasta is another great way to honor the greenest holiday. All Explore Cuisine products are vegan, gluten-free, non-GMO and jam-packed with nutrients. While they may not be Irish, these Explore Cuisine pastas, made with Green Lentil, Edamame, and Mung Bean, are actually green. Ready to try these Explore Cuisine St. Patrick's Day pasta recipes?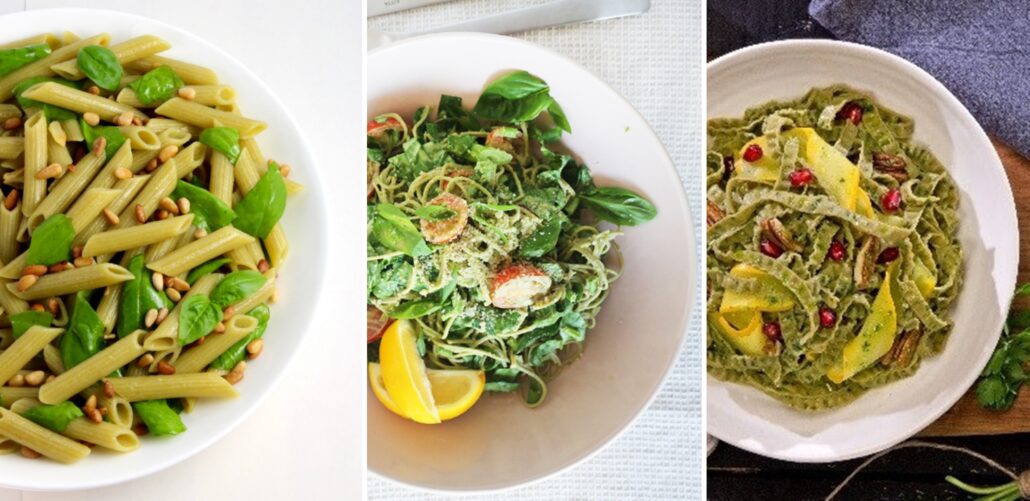 Free of artificial colors, Explore Cuisine integrates beans, peas, lentils, and rice to provide you with nourishing meals which are easy, quick, colorful, and simply delicious. The following Explore Cuisine St. Patrick's Day pasta recipes include two pesto dishes and a pasta salad.
Green Lentil Penne with Deconstructed Pesto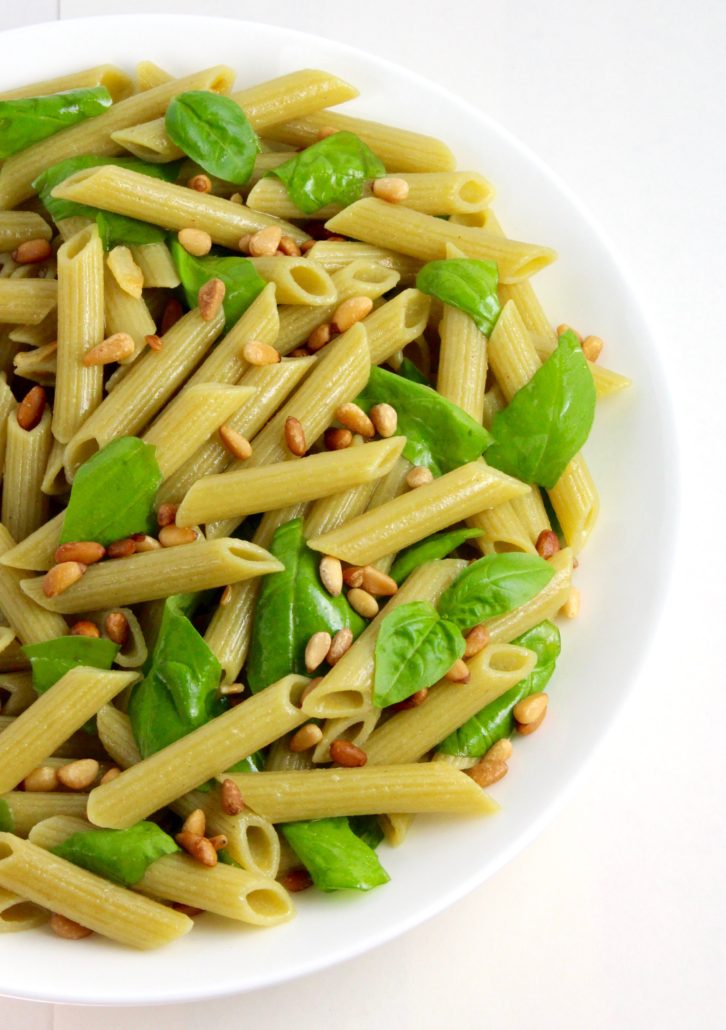 1 package Explore Cuisine Green Lentil Penne – cooked, drained
2 T. olive oil
3 garlic cloves, sliced thin
A handful fresh basil leaves, roughly torn
salt and red chili flakes to taste
3 T. pine nuts, toasted
Parmesan cheese (optional)
Heat oil in a small sauté pan. Add garlic and cook one minute. Toss penne with garlic oil. Gently fold in torn basil. Season with salt and chili flakes. Garnish with pine nuts. Add cheese if desired.
Explore Cuisine Super Green Pasta Salad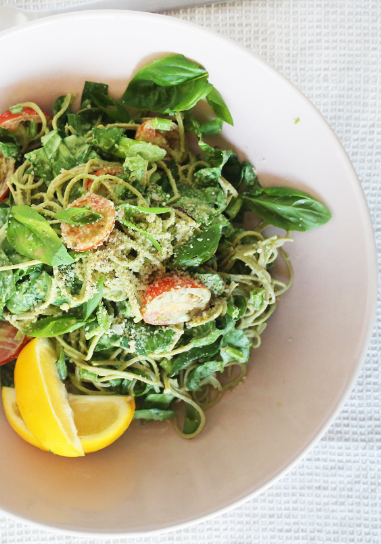 1 7oz Explore Cuisine Edamame Spaghetti
4 cups spinach (finely sliced & packed)
2 spring onions (finely sliced)
2 cups cherry tomatoes (halved)
1/2 tsp sea salt
Green Tahini Sauce
1 cup fresh basil (packed)
1/4 cup tahini
1/4 cup cashews
1/2 cup water (the pasta cooking water)
1/2 cup lemon juice (3 lemons)
4 cloves garlic
1 tsp sea salt
freshly cracked black pepper (to taste)
1/4 cup brazil nut parmesan (to top)
Cook pasta for 4 minutes, then drain and rinse briefly under cold water. Be sure to reserve 1/2 cup cooking water – it'll make a huge difference to your sauce! While the pasta cooks, make up the Brazil nut parmesan by blitzing all ingredients in a blender until crumbly. Once your pasta is cooked, make the sauce by blending all sauce ingredients (including your reserved pasta cooking water) until smooth. Place the pasta back in the pan and turn the element onto a low heat. Add the sauce and spinach, cooking for just a minute or two until the spinach it very lightly wilted but still vibrant. Finally, mix through the tomatoes and spring onions and then remove from heat, (this maintains all the nutritional benefits of the raw vegetables while lightly heating them). Plate your pasta into bowls, adding 1 tbsp of parmesan to each plus cracked black pepper and extra sea salt to taste. **Recipe courtesy of Recipe by Buffy Ellen of begoodorganics**
Organic Edamame and Mung Bean Fettuccine in a Light Pesto Sauce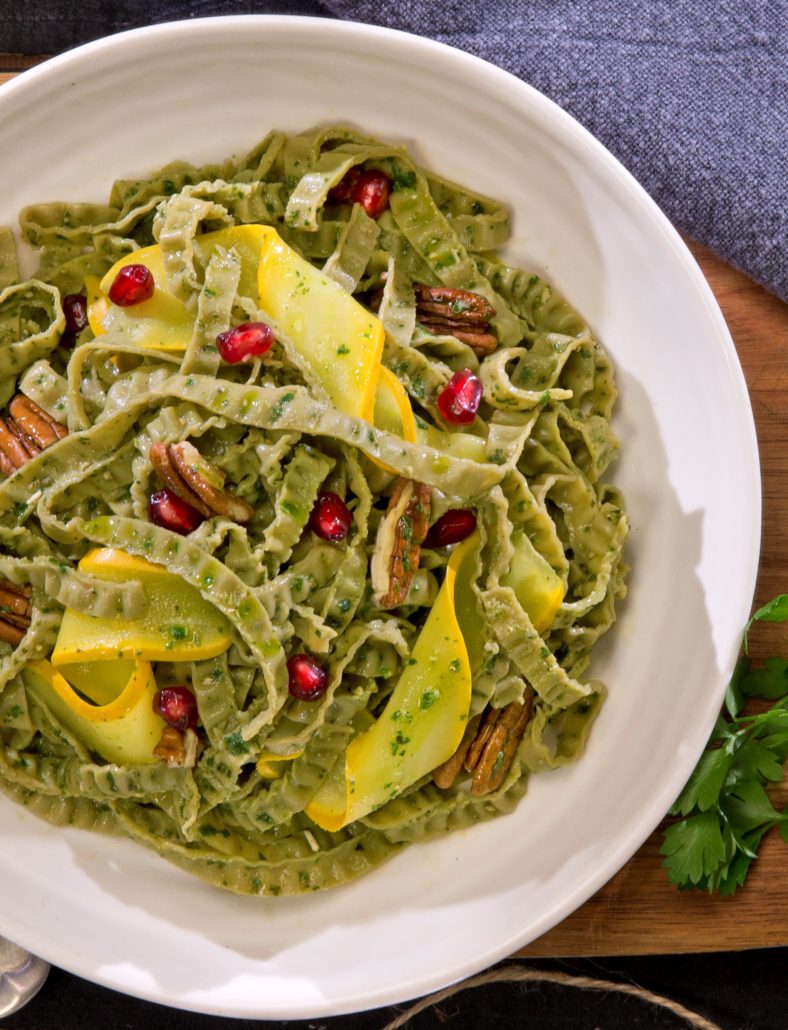 7 oz. Explore Cuisine Edamame and Mung Bean Fettuccine – cooked and drained
2 large yellow squashes, peeled into ribbons with a peeler
3.5 oz. pecans – peeled & halved
1/2 cup pomegranate seeds
3 oz. pine nuts
LIGHT PESTO SAUCE
1 large bunch of fresh basil
2 cloves garlic
2 oz. olive oil
2 tbsp pine nuts
1/2 tsp coarse sea salt
Peel skin from garlic cloves, and chop into big chunks. Using a food processor, pulse basil, garlic, and nuts several times until finely chopped. Add the salt and olive oil, pulse until blended. Pesto may be thick, so add more olive oil for a looser consistency. Lightly toast the pecans, pomegranate seeds and pine nuts in a skillet. Mix the fettuccine with the sauce, gently fold in the remaining ingredients. Serve immediately.
What are your thoughts on these Explore Cuisine St. Patrick's Day pasta recipes?