Did you know this year marks the 50th anniversary of  A Charlie Brown Christmas? This annually, televised holiday treat is one of the most beloved holiday favorites. This year also marks the release of the highly anticipated The Peanuts Movie….it's sure to be a festive year for Charlie Brown. In celebration of those two great film moments, Teleflora celebrates the Peanuts Gang with a festive lineup of two floral arrangements that pays tribute to the Peanuts gang: the Snoopy's Cookie Jar, which features lush arrangements of chrysanthemums and carnations that adorn a decorated doghouse (which also doubles as a cookie jar); and the Peanuts Christmas Mug Bouquet, also boasting lush arrangements of chrysanthemums and carnations that adorn a handpainted ceramic mug and captures Charlie Brown's joyfully ice skating with his best furry friend. We're sure both bouquets are sure to make great gifts for any collector or Peanuts Gang fan.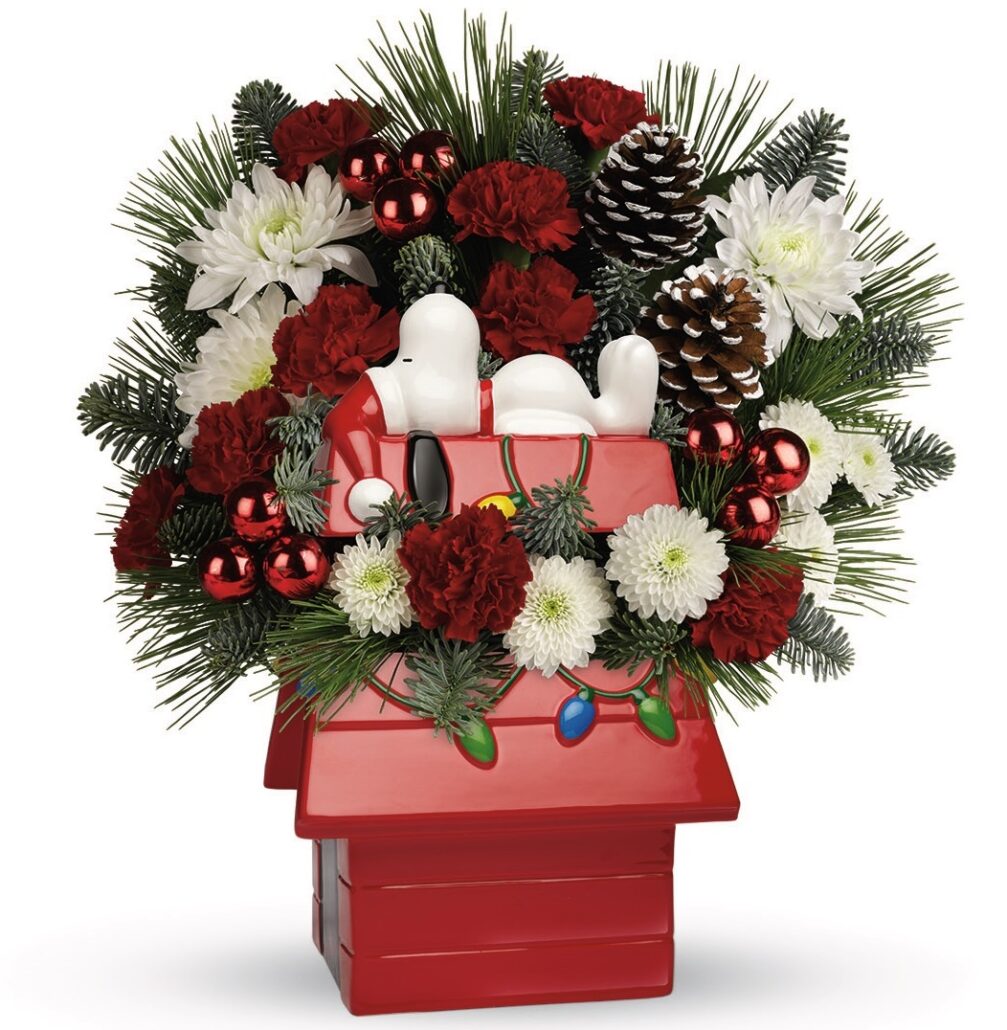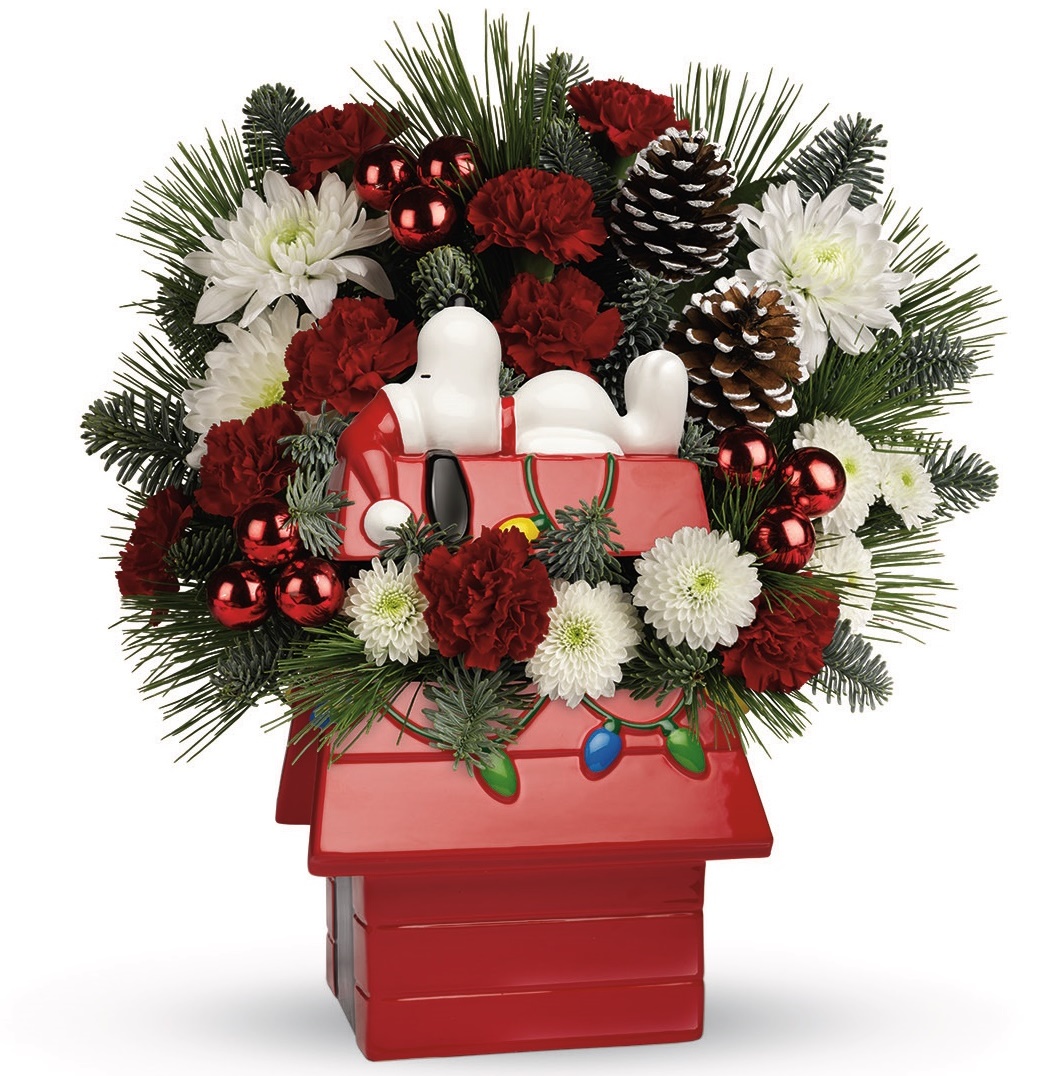 Snoopy is the Flying Ace, the Joe Cool and Charlie Brown's beloved beagle and confidante. This Teleflora arrangement is an ode to Snoopy's decorated doghouse from the TV special. This holiday bouquet is perfect a collector's dream and features the feisty beagle peacefully asleep atop his iconic red doghouse. The FDA-approved container, which doubles as a cookie jar for storing Christmas (or canine) cookies, boasts rich red and white blooms complete with greens, pinecones, and holiday ornaments to make the perfect gift for your most cherished and loyal friends and family.
Who can forget the magical opening of the TV special with the adorable Peanuts gang singing and ice skating on a frozen pond? This hand-painted ceramic mug honors the opening scene with Charlie Brown joyfully ice skating with his best friend, Snoopy. The Teleflora arrangement comes overflowing with rich red and white blooms, holiday greens, red ornament balls, and is topped off with a candy cane striped ribbon. Perfectly sized for those who are always int he mood for extra hot chocolate, this over-sized mug is FDA-approved, microwave and dishwasher safe. Everyone on your list will appreciate this nostalgic gift.
To commemorate the release of its exclusive bouquets, Teleflora celebrates the Peanuts Gang by launching two national TV commercials entitled "Happy Dance" and "Ice Skating" that capture Teleflora's Peanuts Christmas bouquets in nostalgic animated scenes based upon the legendary holiday classic. The two commercials began airing on November 30th on national prime time, cable and syndicated networks during the regular season and holiday special programs, including the premiere and encore of ABC's "A Charlie Brown Christmas" TV Special.
These two Teleflora's arrangements join the already time-honored Christmas floral arrangements and collectibles including the Thomas Kinkade's Country Christmas Homecoming Centerpiece, Teleflora's Silver and Joy Centerpiece, Teleflora's Sparkling Winter Wonderland, and the Send a Hug Open Sleigh Ride by Teleflora.