It's Memorial Day Weekend, so you know what that means, the weather is gorgeous and it's time to decorate with some amazing outdoor furniture and get your grilling on. For these things to happen, you will be in need of the proper items, and this season, Kmart has everything you need to get your home summer-ready. Most homes will already have patios installed. However, if your home doesn't, you could consider getting some decking installed instead. If you decide to go ahead with the decking, it might be worth purchasing a composite decking joist too. This can keep the decking in good condition for a longer amount of time, ensuring that it remains low maintenance and weatherproof. If you do choose to have a deck installed, remember that you will have to maintain it. Or, you could just contact a Deck Maintenance company who can do the hard work for you! The choice is yours! Whether you have a decking area or a patio, it's important to have some furniture to give you more space to relax outdoors. Luckily, today, we will concentrate on your outdoor living space with some stunning furniture from Kmart. However, for the best shaggy rugs, it would be better to find a higher-quality supplier elsewhere online.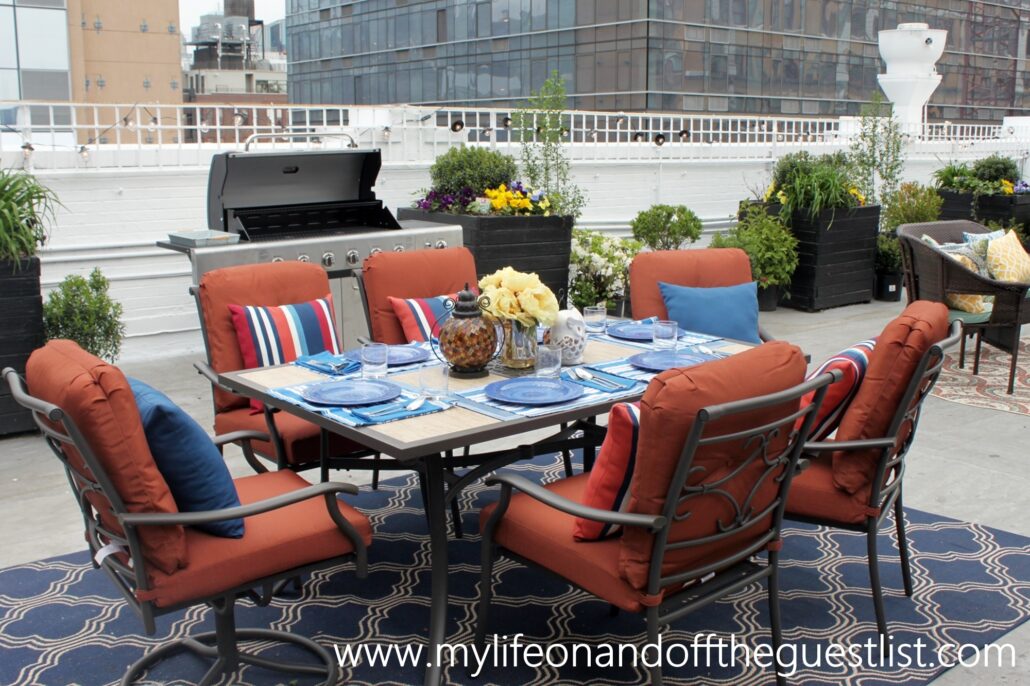 The patio furniture from Kmart will beautifully bring your inside life outside with gorgeous outdoor furniture sets from Jaclyn Smith, the must-have Kenmore grill for grilling season, and wonderfully decorative, outdoor accessories from Essential Garden, Safavieh, etc, at amazingly low prices, plus with their no money down layaway plan, there's no need to wait until you have a deposit to can secure these items for your home.
JACLYN SMITH REECE 4PC BROWN WICKER SEATING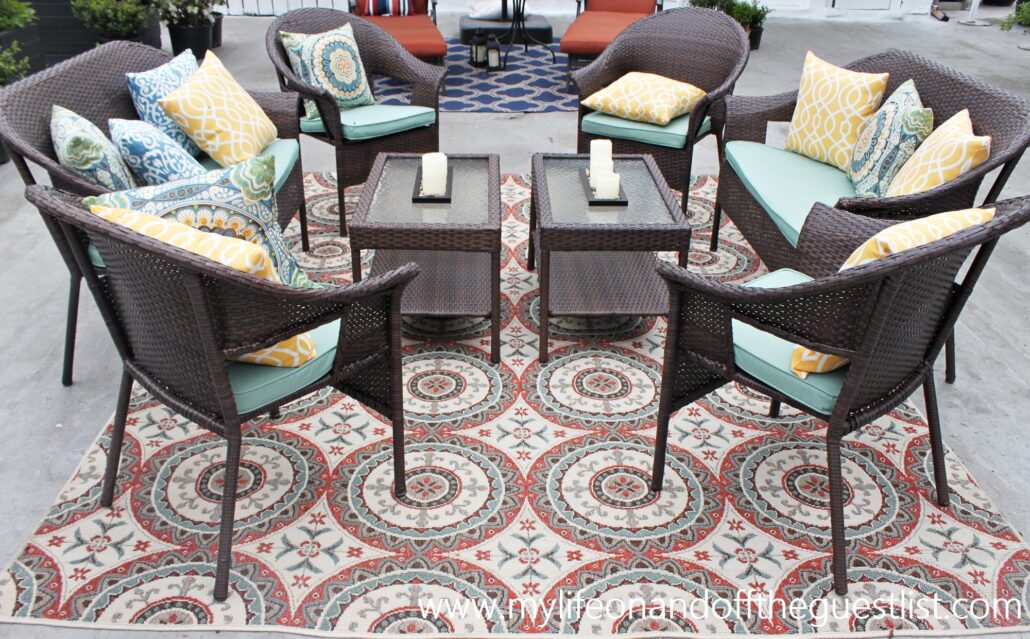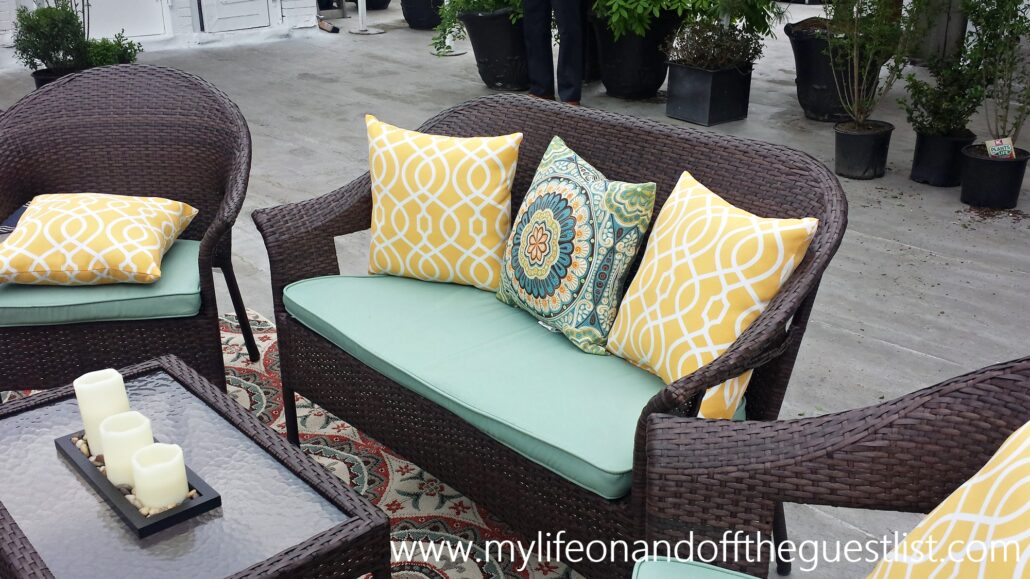 The Jaclyn Smith Reece 4 Piece Brown Wicker Seating (two sets are shown above) is crafted from richly woven wicker in a contemporary style with durable steel frame construction for sturdiness. It boasts gently curved arms and soft, and supple cushioning that provide hours of comfortable relaxation. The all-weather PE wicker and seat cushions are designed to withstand the elements and resist fading, mildew, and stains, similar to how the Rattan Liegen sets achieve. The four set includes two chairs, one loveseat, one tempered-glass table, three seat cushions, and retails for $599.99. It can be yours with only 4 layaway payments of $152.00. The Bistro Table is available separately for $199.99 and can be yours with 4 layaway payments of $52.00.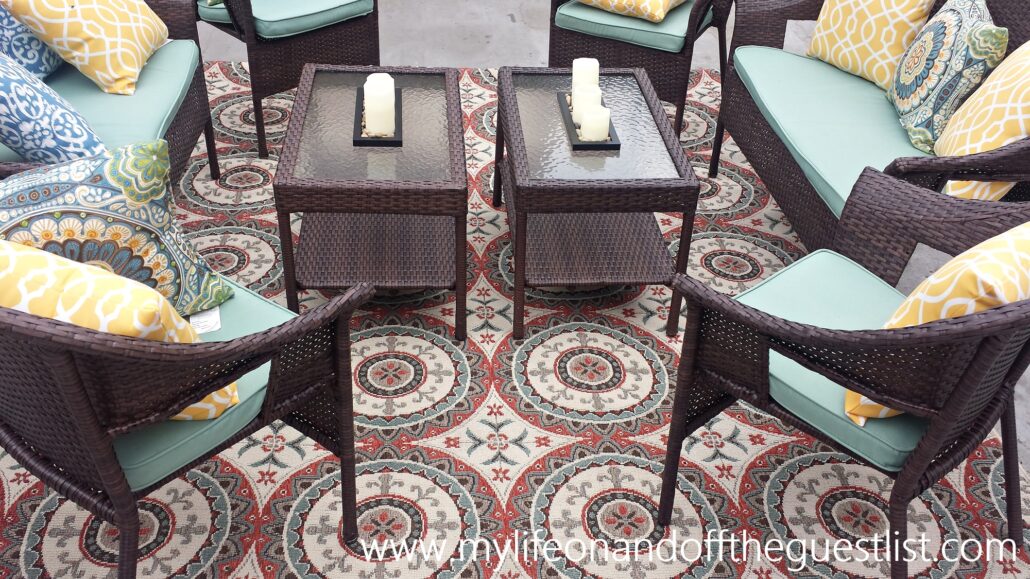 The set pairs beautifully with the Medallion Silver/Multi Indoor/Outdoor Rug, a stain and water-resistant, multicolored medallion print in shades of red, blue, and white. The easy-to-care-for rug is available in the following sizes: 19.7″ x 30″, 59.1″ x 84″, 94″ x 120″, and 19.7″ x 59″, and ranges in price from $12.99 – $129.99 (it's currently on sale for less until June 4th).
JACLYN SMITH CLERMONT DINING SET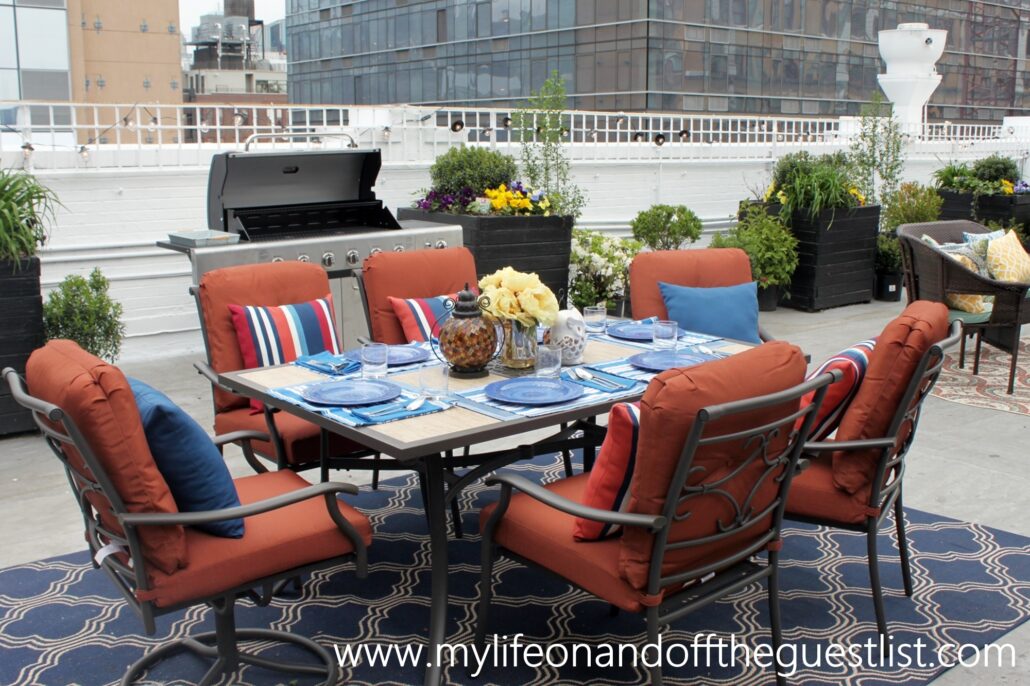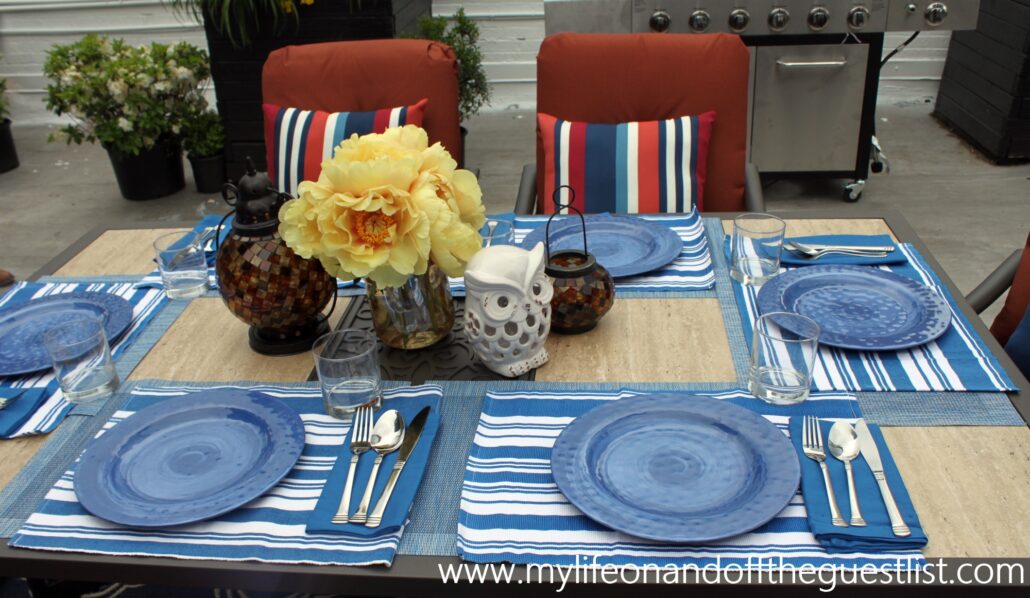 The Jaclyn Smith Clermont Dining Set offers generous seating for up to 6 people, sturdy steel frame, and is perfectly designed for traditional outdoor dining. The table features an ornate filigree aluminum cast pattern in the center surrounded by pressure-resistant ceramic and a durable steel frame with a weather-resistant powder coating to prevent rust. The four plush chairs, which features four stationary chairs and two swivel chairs, also feature a classic brown steel frame and is contrasted with beautiful earth-tone cushions. The Clermont Dining Set is a must-have for those looking for patio or deck furniture that combines reliability with elegance. The Clermont Patio Dining Table with Ceramic Tile retails for $299.99 and can be yours with 4 layaway payments of $77. 00, the Jaclyn Smith Clermont Set of 6 Dining Chairs retail for $500.00 and can be yours with 4 layaway payments of $127.00

Pair the entire set with the Navy Fretwork Indoor/Outdoor Patio Rug, a stain-resistant, flat weave rug that works for both indoor and outdoor and is available in 5 ft. x 8 ft., and 8 ft. x 10 ft. sizes and retails for $19.99 – $129.99. Now that you and your guests are comfortably seated with at the above stylish patio furniture from Kmart, it's time to get grilling, and no one knows grills like Kenmore.
KENMORE 6 BURNER GAS GRILL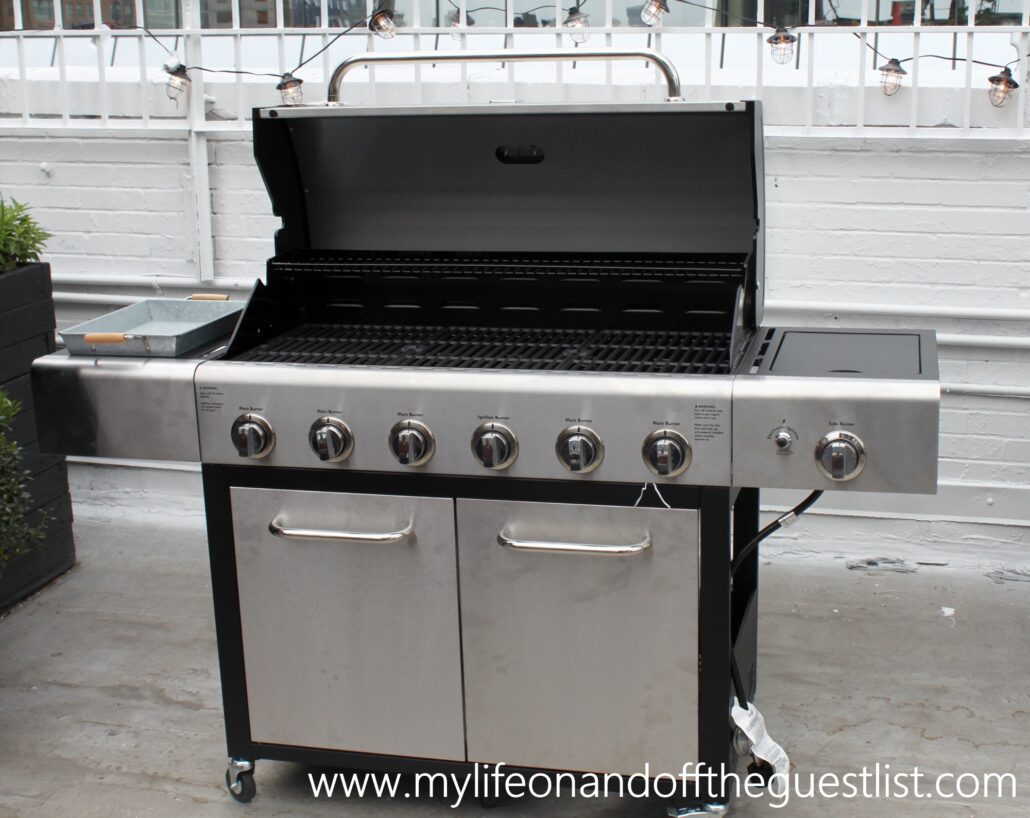 The Kenmore 6 Burner Stainless Gas Grill, provides a remarkable 819 square inches of cooking space for multi-zone grilling. Each of the six burners puts out 10,000 BTUs, and delivers a side burner that puts out 13,000 BTUs, allowing you to grill your meat and cook all of your side dishes at the same time, plus it has large cabinets, so you have more than enough room for all your grilling tools and other essentials. Lighting this 6 burner gas grill is as easy as pushing a button, thanks to the electronic ignition. The grill retails for $399.99 and can be yours with 4 layaway payments of $102.00.
What are you thoughts on the incredible patio furniture from Kmart? See these and much more at www.kmart.com now.