As Lifestyle Bloggers and influencers, there's a limited amount of time to attend events, write up articles, sleep, and share to the various social media outlets. Then, of course, there's managing your social media networks. We've been a user of Commun.it for three years now and have used it religiously to manage our Twitter and Facebook accounts. With the Commun.it app, it is now easier to know who's following us, who liked or retweeted our posts (and show them some Twitter love), follow them if we desire, reply to their comments, unfollow those who are not following us with ease, and support other high-value members. Now thanks to the launch of Commun.it for Instagram, we can do the same for the mobile photo and video-sharing social network. If it's followers that you are looking to gain more than anything, you may prefer using something like a bot service.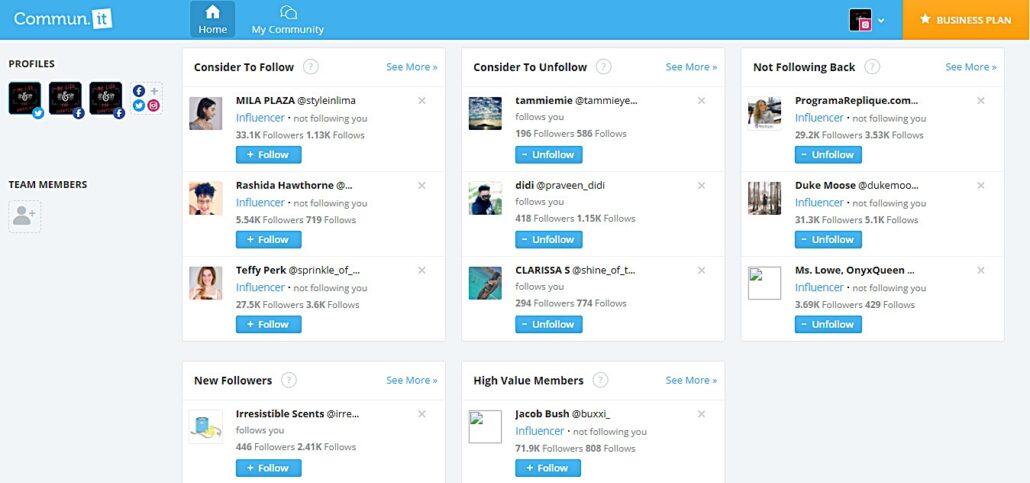 One of the most time-consuming things to do on Instagram is to unfollow those who are not following you. Because Instagram has disallowed just about all third party unfollow apps, we've had to manually visit the page of everyone we're currently following, and search their follower list to see if they're following us. With Commun.it for Instagram, we no longer have to do this. As you can see in the above image, there are five sections: Consider to Follow, Consider to Unfollow (inactive accounts or accounts that have never engaged with you), Not Following Back, New Followers, and High-Value Members. We can instantly see and unfollow those who are not following us back and consider to unfollow those who have never engaged us. This is my absolute favorite feature of Commun.it for Instagram, it is updated daily, and has saved us so much time. It is especially useful if you use something like Kicksta and gain lots of followers quickly. You can check out Kicksta here if you don't use it. As with Twitter, we can instantly follow new followers and high-value members and engage with those who have supported and engaged us (see below image). My second favorite feature is the ability to click on someone's profile, see how they have engaged with us and also see their most recent posts. This allows us to support them instantly. We especially love to use this feature for our supporters and engaged followers.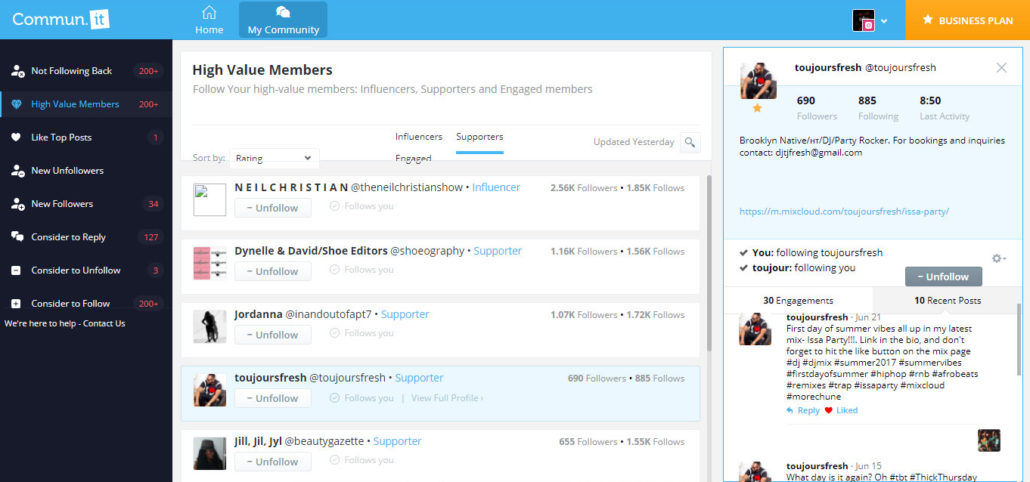 As you can see above, @toujoursfresh has engaged us 30 times and has 10 recent posts which we have liked. Commun.it for Instagram even allows us to leave a comment on his most recent Instagram posts. Commun.it is great for those who manage multiple social media accounts, and Commun.it for Instagram is amazing if you manage multiple Instagram accounts, which in the social media-fuelled world that we live in, it's becoming increasingly popular to have more than one profile. In turn, if your focus is placed on one more than the other, it can be hard to generate the followers that your profile deserves. Unless you decide to enlist the help of a service like instazood who can give your account the much-needed boost that you want it to see, and pairing it with Commun.it, success is only going to come your way. Whether you're a social media manager, a small business owner who has separate social media accounts for your personal and business, or a blogger, Commun.it will make your life easier. It has certainly made ours simpler, now we have more time to write. Can Commun.it for Instagram make your Instagram experience easier?
Sign up for a business account today, and enjoy an exclusive, and limited offer of 80% off the Commun.it business plan. This plan allows you to enjoy all the Instagram features mentioned above, plus the ability to monitor 8 social media accounts, have unlimited engagements, weekly campaigns, follower analysis, and so much more. You won't want to miss out on and find out more on this new launch the Commun.it blog.