We always say the best way to experience a country's culture is to dive right into their local cuisines. Sadly not all of us can afford to travel around the world indulging in international foodie fantasies. However, there is a way you can enjoy these culinary delights, especially if you're not blessed enough to have access to international chefs and restaurants. What do we mean? Cooking with international spices and seasonings of course. Pereg Natural Foods & Spices, the people who brought you fiery Harissa from Tunisia, exotic Moroccan Ras Al Hanout, and the bold flavors of Cajun country, has launched two new international spices, Chinese 5-Spice Seasoning, and Latin Adobo Blend. Let's get to know Pereg's Mixed Spice Blends.


Pereg's ever-growing selection of international ingredients now includes 5-Spice Seasoning, an aromatic anchor of Chinese cuisine, and Adobo Blend, a zippy mainstay in kitchens from Spain and Peru to Mexico and the Philippines. These two spices join the wide range of Pereg's Mixed Spice Blends.  Pereg's Chinese 5-Spice mix, a happy marriage of sweet, salty, pungent, sour, and bitter has the power to elevate dishes of all kinds.  With its balanced blend of cinnamon, anise, fennel, black pepper, and cloves, it delivers an intriguing, pan-Asian complexity to braises, soups, stir-fries, and sauces. It pairs beautifully with lamb, chicken, and duck. You can even use it in cocktails!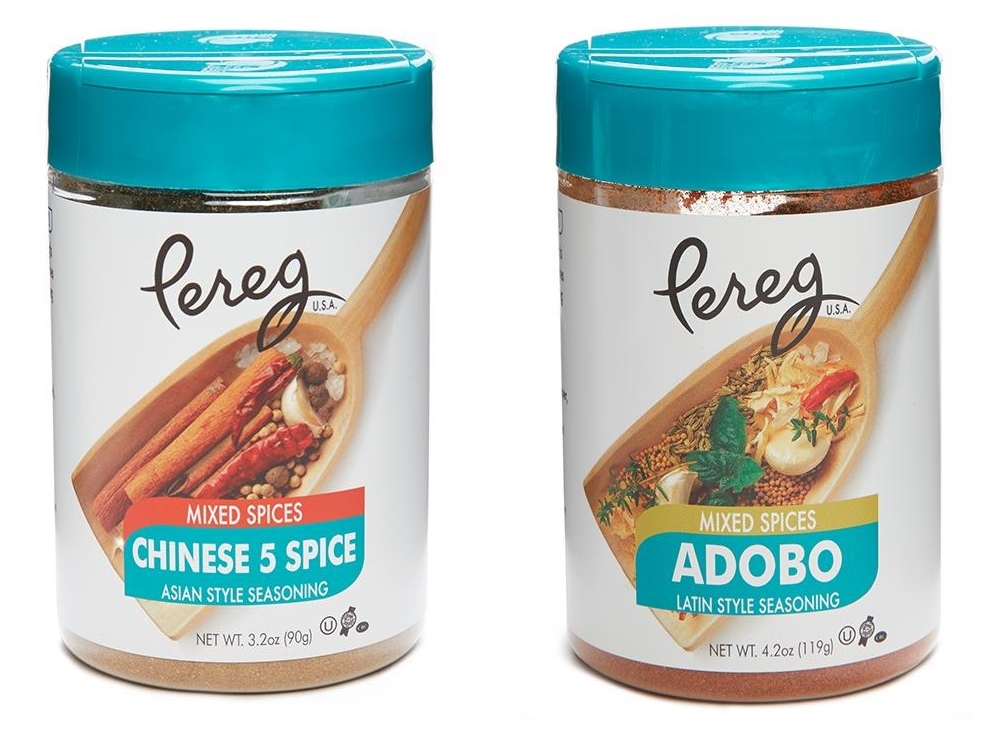 Adobo, which originated in Spain and Portugal, wears many hats. Latin adobo usually refers to a sauce or marinade typically made from paprika and stewed chipotle chilies. However, some Latin and Caribbean countries think of adobo as a seasoning mix, either wet or dry, to rub on meat before cooking. And in the Philippines, where adobo is the national dish, it's a style of cooking in which meat, fish, or vegetables are marinated in vinegar, salt, and spices, browned in oil and then simmered in the marinade. Adobo seasoning is endlessly versatile. It adds a rich dimension to chicken, turkey, burgers, and your favorite chili. Use it as a dry rub for steaks and whole fish. Mix it with quinoa, add it to fish tacos, spice up your guacamole, or sprinkle it on popcorn.
Are your ready to bring international cuisine to your life and kitchen? What are your thoughts on Pereg's Mixed Spice Blends? Will you start cooking more international dishes?