While you may find yourself currently only thinking of BBQs, fireworks, and your time off from work, there is a wonderful sample sale going on right now. If you haven't heard, the Nicholas K sample sale is currently going on right now……Well, there is a small break for the holiday from July 3rd through July 8th, but the sale picks up again on July 9th and goes until the end of the month. If you've read our New York Fashion Week coverage on Nicholas K, then you know this outstanding fashion design duo, who also happen to be siblings.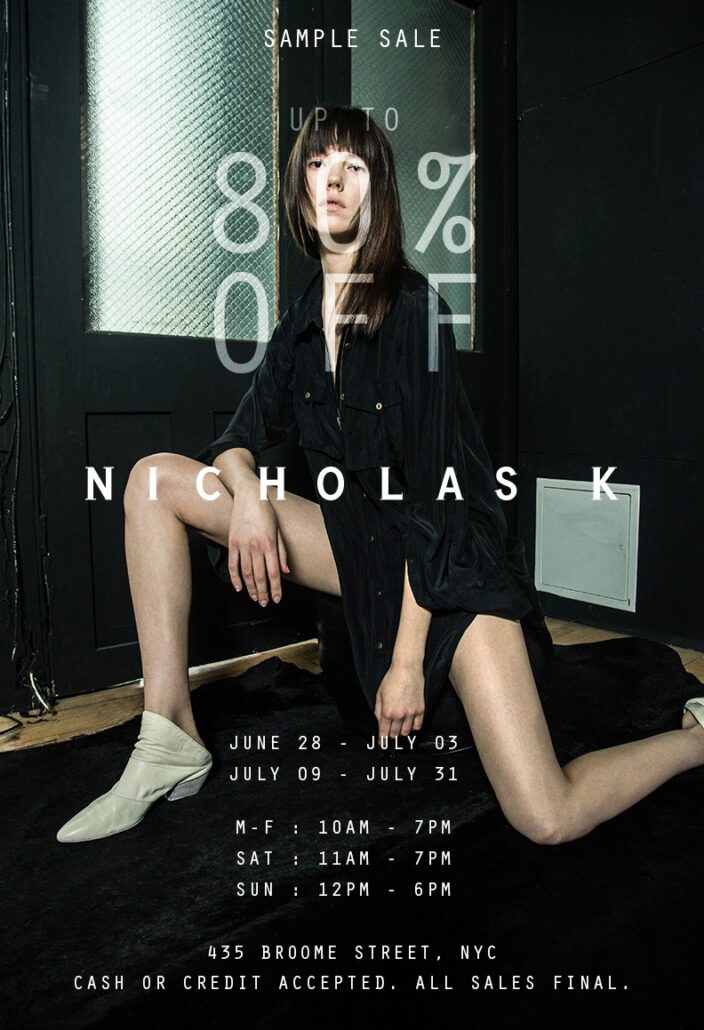 Nicholas and Christopher Kunz are at the helm of this chic women's fashion label which boasts artisan fabrics, adventurous yet comfortable silhouettes, complimentary layering looks that flow from season to season with ease, allowing for seamless integration into various aspects of your wardrobe. The Nicholas K sample sale promises amazing savings of up to 80% off women's dresses, blouses and tops, knitwear, and accessories. We adore their elegant and uber stylish black, and chestnut fur slippers and hope to snag a pair for ourselves. You may just luck out and get some great outerwear for the upcoming fall/winter season. Since pieces from the Nicholas K collection are timeless classics, you'll need not worry about ever being "off-trend" or 'out of style". Want to take advantage of this great summer sample sale? Check out the location details below or print out the attached sample sale flyer:
LOCATION:
435 Broome St, NY, NY 10013
June 28th – July 3rd
July 9th – July 31st
DATE & TIME:
Monday – Friday: 10AM – 7PM
Saturday: 11AM – 7PM
Sunday: 12PM – 6PM
You'll be happy to know that cash and credit cards accepted at the same. Please note that all sales are final so make sure you try on your pieces to ensure a great fit. Will you be taking advantage of the Nicholas K Sample Sale? We'd love to know about your treasured finds.