It is said that Queen Cleopatra regularly bathed in milk and that many people have been bathing in milk for centuries because of the benefits to the skin. Bathing in coconut milk gently cleanse your skin, soothes irritated skin, nourishes your skin, and heal your skin thanks to its healthy beneficial fats, minerals, and nutrients. As we all head out to make sure we enjoy the last few days of the sun, we must remember to refresh your sun-stricken skin. What better way to do so than with the skin-loving Dial Coconut Milk Bath Products – Dial Coconut Milk Body Wash and Dial Coconut Milk Complete 2-In-1 Beauty Bar.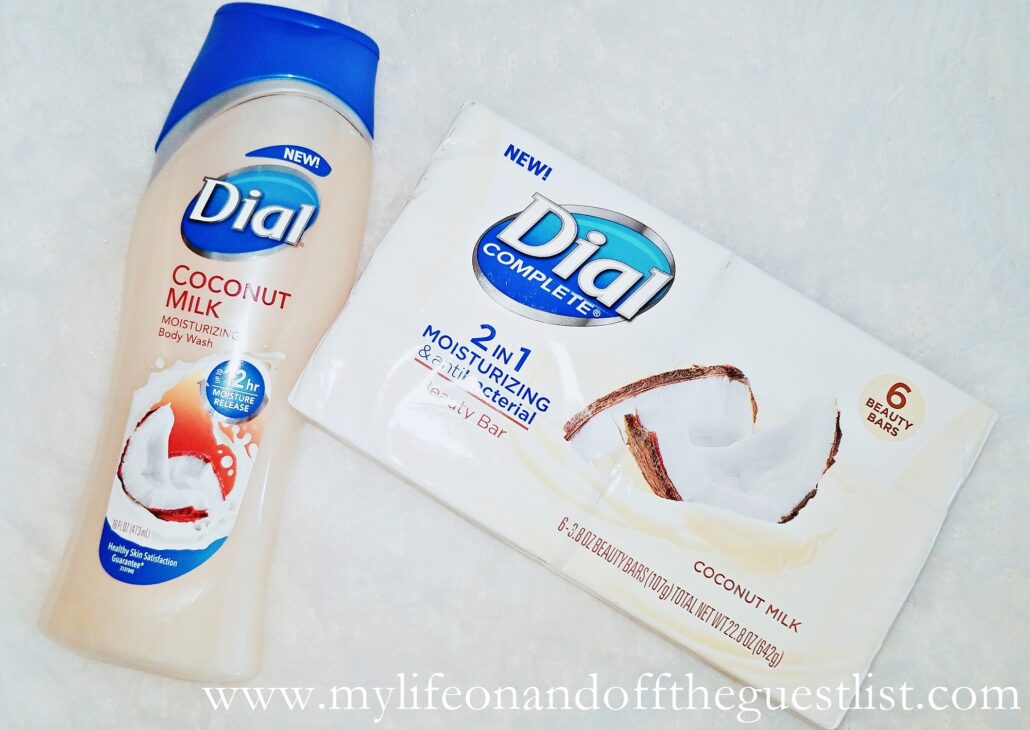 Dial Coconut Milk Body Wash – Get ready for lasting hydration. This moisturizing body wash, with an innovative 12-hour moisture release for a clean rinse and rich lather, is your first step to supple skin. Boasting an advanced moisture-attracting formula for lasting, lightweight hydration, this is the first body wash with an innovative 12-hour moisture release to keep your skin feeling healthy and soft all day. It fresh creamy coconut milk formula and scent is like a vacation from your skin.
Dial Coconut Milk Complete 2-In-1 Beauty Bar – Healthy and glowing skin are right in your hands, thanks to this antibacterial and ultra-moisturizing formula. Let your skin feel the difference with Dial's new moisturizing and antibacterial beauty bar. If you're looking for softer, smoother, more radiant looking skin, Dial's unique nourishing beauty bar leaves your skin feeling touchably soft and beautiful. This bar helps you look and feel good because you know you're clean and your skin doesn't feel dried out. It boasts 2x the moisturizing ingredients and kills 99.99% of bacteria on your face, body, and hands (even after repeated handwashing). The Coconut Milk Complete 2-in-1 Beauty Bar also comes in additional luxurious scents of Silk & Magnolia and Manuka Honey. Check out our previous coverage of Dial's innovative bath products.
Both Dial Coconut Milk bath products are available for $4.49 each at grocery, drug and mass retailers nationwide.