We're sure many of you have attended an all-white party or at least an all-white get together with friends and family; but have you ever attended an all-white dinner with over 6,000 people? That is the concept of Le Diner en Blanc, the world's largest all-white dinner party. The legendary all-white French-inspired pop-up dinner has become THE culinary event of the year in the U.S. and cities around the world. This year over 130,000 people in 80 cities across 30 countries will partake in this global dining event.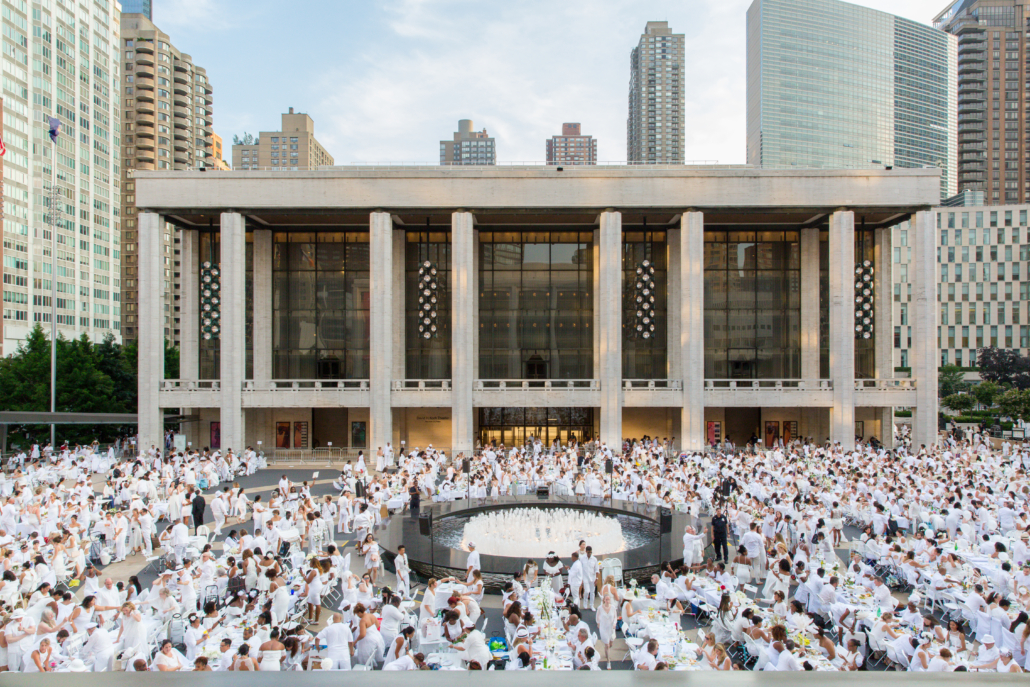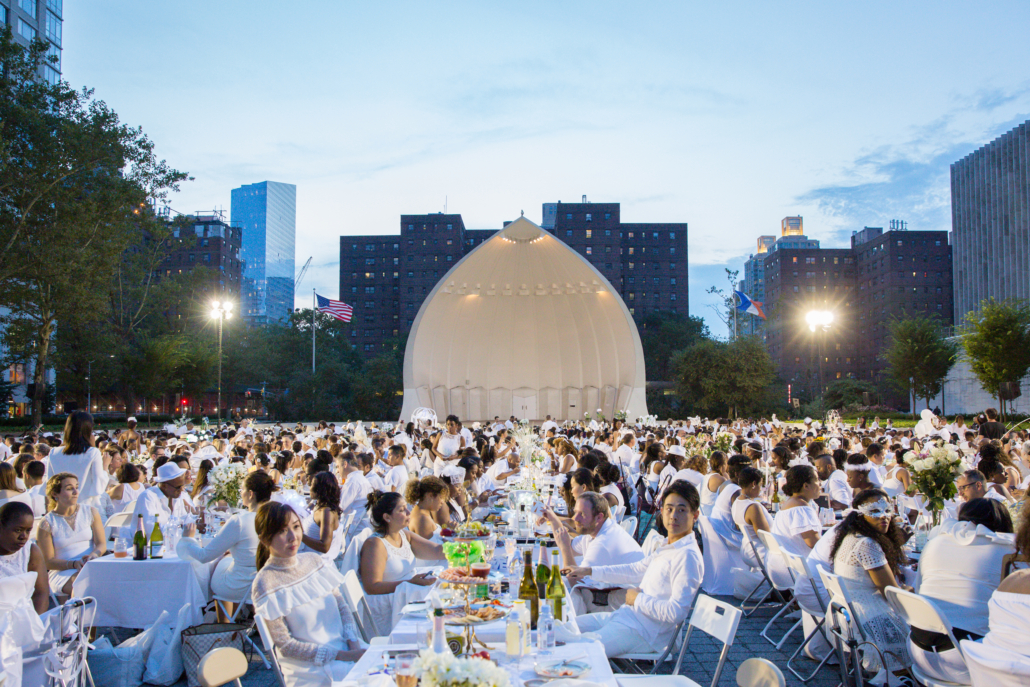 The spontaneous and secretive dinner event is held at iconic public spaces whose locations are revealed only at the last minute. Dressed head-to-toe in chic white, diners will gather at the iconic undisclosed location to dine and dance under the stars. New York was the first city in the U.S. to host Le Diner en Blanc and on September 17th, the wildly popular all-white dining experience will make its return to New York City for its the 8th consecutive year.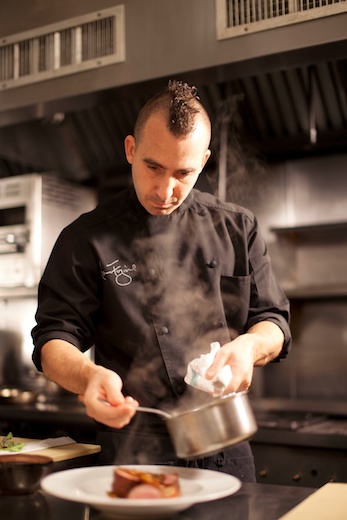 In an exciting first, renowned chef and Michelin Star recipient restaurateur, Marc Forgione (you may be familiar with his eponymous restaurant, Marc Forgione, and his steakhouse, American Cut) will be curating four special picnic baskets for guests in New York who order through Le Diner en Blanc.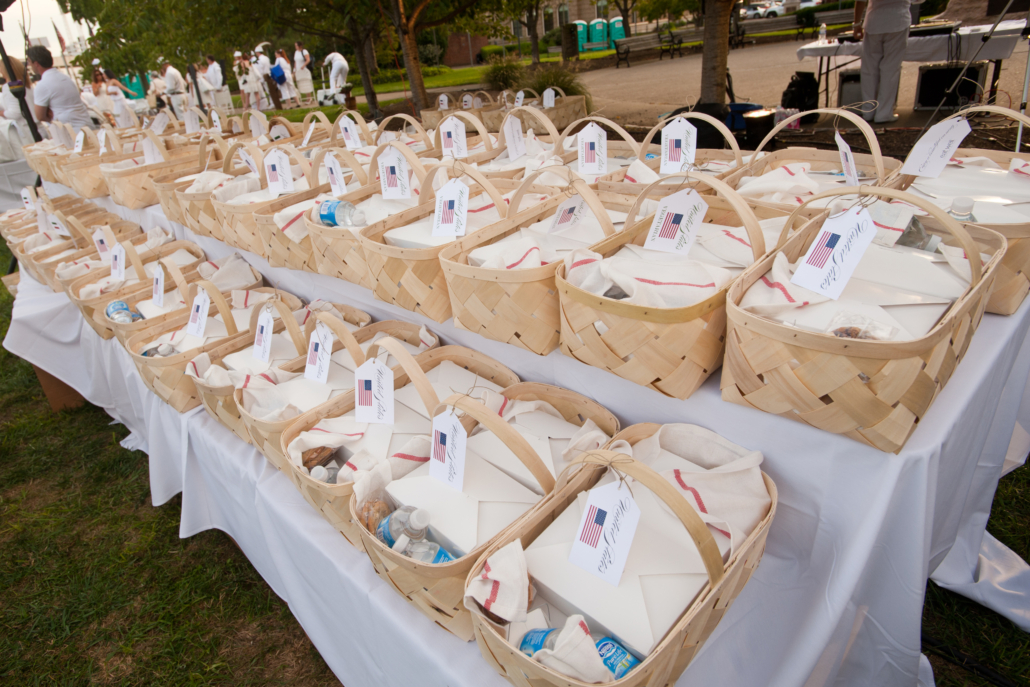 We had the opportunity to speak to Chef Forgione about his menu for the event and his first experience with Diner en Blanc (the answer to our latter question will be answered after the event). We posed the following questions:
How did he select the menu for Diner en Blanc?

Chef Forgione has four meal options planned for Diner en Blanc. Each unique that will offer something for all. The first is built about things NYC is known for – Pastrami Spiced Ribeye, rye bread, and black & white cookies. The 2nd is for seafood lovers and will feature Chili Lobster, spicy rolls, etc. Vegetarians will love the 3rd option featuring Sri Lankan veggie curries, delicious dipping sauces, etc. Last but not least, a meal with all white foods to match the event – chicken in a creamy white sauce, white mac & cheese, onion puree, etc. You'll just have to attend to see for yourself.

Was there any dish he'd be apprehensive about serving because of the event's color theme?

Unlike us, Chef Forgione is not worried about getting stains on your white outfit. Only that you're enjoying the food.

We asked about the pop-up he did for the U.S Open

Guests of the US Open had the opportunity to enjoy the signature dishes of his steakhouse, American Cut in celebration of the US Open's 50th anniversary, including the above mentioned Pastrami Spiced Ribeye and Chili Lobster.

Any plans for Chef residences or kitchen takeovers in other restaurants?

While there are no current plans for chef residences, Chef does have something big planned. Sadly we have to wait patiently to find out.

Any plans to appear on another cooking show?

Although there are no plans, he's open to any opportunities but notes that he is "just happens to be a chef that won a contest". We love chefs that are passionate about their craft who basically go by food first and foremost attitude. You can always taste the love they have in their cooking.

Favorite dish to eat or prepare.

Basically what he offers at his restaurants. He cooks what he loves and offers what he loves. That's a big bravo from us. We knew a fashion company owner who always stated if you don't wear your own product, why should anyone else. We feel the applies here.
Cooking fans may recognize Chef Forgione as the youngest winner of Food Network's "The Next Iron Chef", Season 3. At just 31 years old he is the youngest winner in the show's history. He is also one of the Iron Chefs on Food Network's Iron Chef America. His father Larry Forgione is a culinary legend who revolutionized American-style cooking in the '70s and '80s.
Forgione noted, "I'm excited to be a part of one of the biggest, most sensational events in the world. I've always heard that Le Dîner en Blanc is an unparalleled and revolutionary experience and I can't wait to contribute some of my signature dishes and inventive flavors to the party!"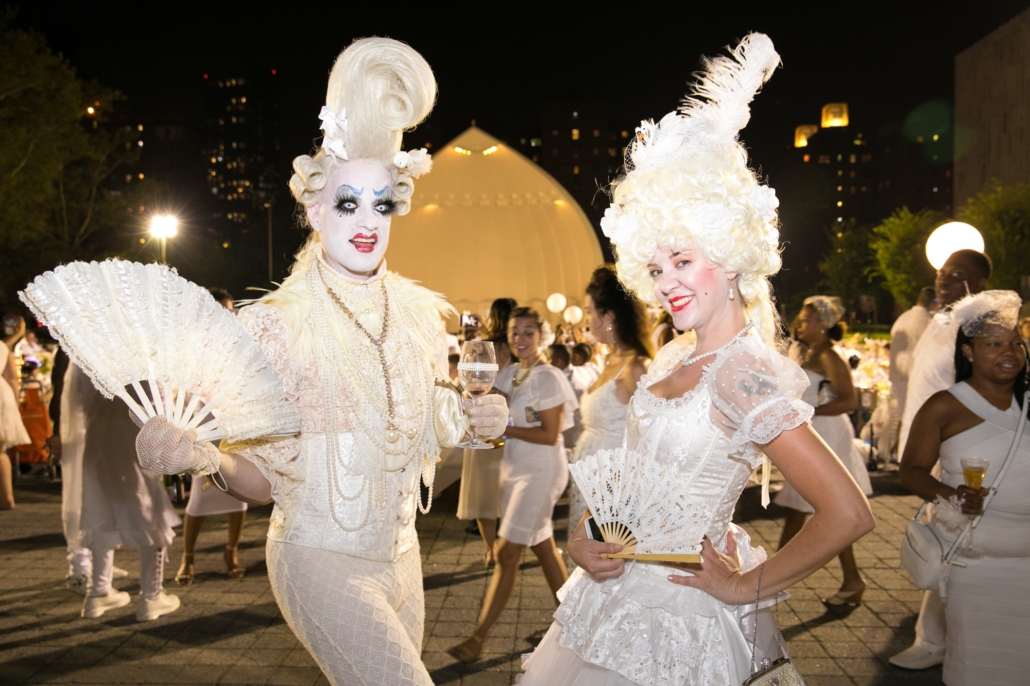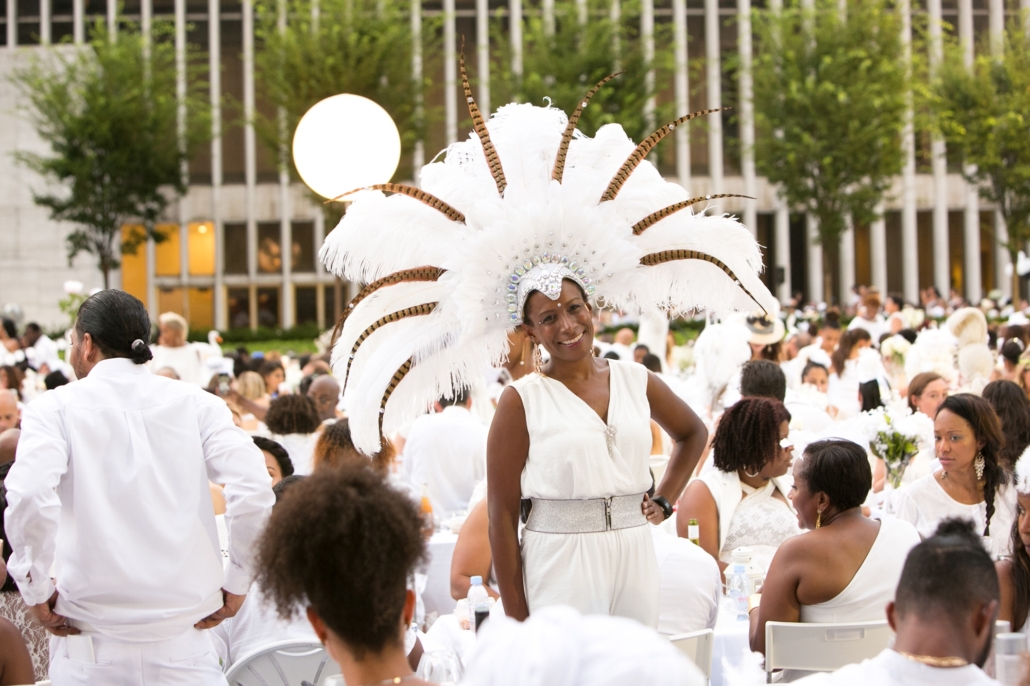 Official local partners of the 8th edition of Le Dîner en Blanc New York include Champagne Jacquart and The Knot. While Luxury Retreats, Sofitel and ONEHOPE are the 2018 Le Dîner en Blanc U.S. national partners. Le Diner en Blanc is by invitation only, traditionally issued by friends and those who have participated in the past. Or just join their very long waiting list. We had some burning questions we needed answers to and connected with one of the organizers, Peter Kohlmann. Check it out below:
What can a first-time attendee expect from Diner en Blanc?

The experience of attending a Diner en Blanc is so unique and magical in part because the evening unfolds as a true "Pop-Up" French picnic with the individual expression of creativity sprinkled throughout the secret location. From the very beginning, guests see the beauty of a public space transform its self into a beautiful setting for dinner and dancing. As a first time attendee, my strongest suggestion in making the logistics of attending manageable is to plan, practice and pack light! A first-time attendee needs to remember, they are bringing everything to the location – AND taking everything with them at the end of the night. You can be creative but also smart in how you transport your things.

Why the color white? Why not blue, yellow, or rotating color options?

The color white mass is such a serene and beautiful non-color. When you look at the guests and everyone is dressed in white, we all become the one. It creates an aura around an atmosphere that is lively and fun.

What's the most outrageous thing that has happened at Diner en Blanc? or favorite moment?

Every Diner en Blanc is unique to its setting, city and time of year. For New York, our guests bring the very best of table decor, fashion, and culinary creativity. Outrageous is a hard word to pin down when talking about Diner. From an actual working carousel centerpiece which served the guests their food as it spun, to guests wearing light-up clothing that sparkle when the sun sets, it's all amazing to see.

How far in advance do you have to plan each Diner en Blanc?

Shortly after we close the books on one year, we begin planning the next. It's a huge event with a lot of logistics associated with it and our goal every year is to give our guests the most unique and inspiring experience we can.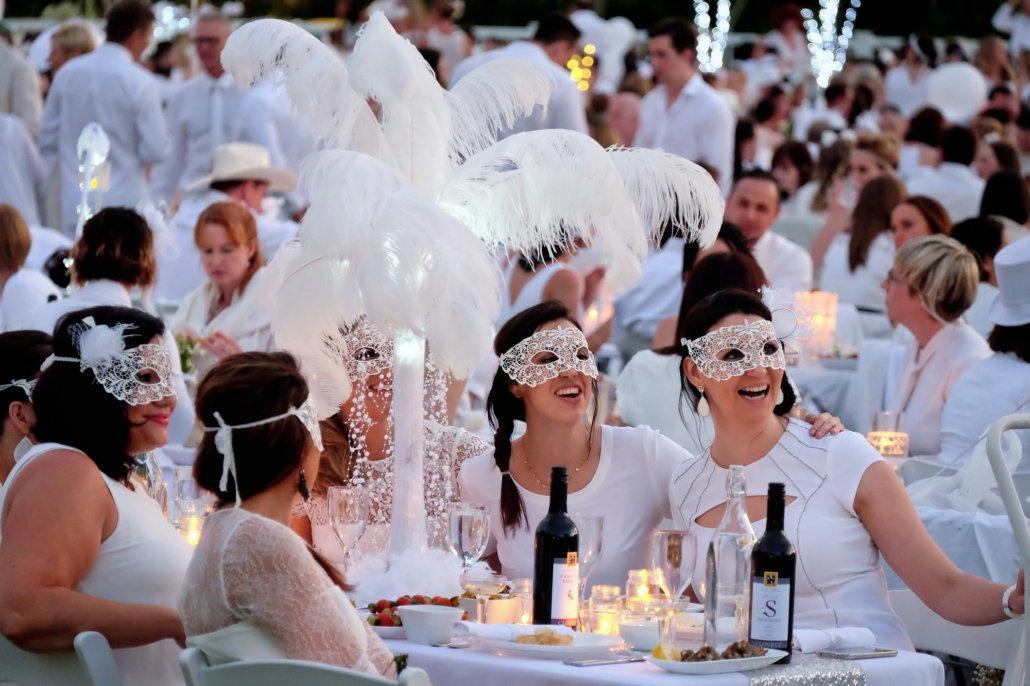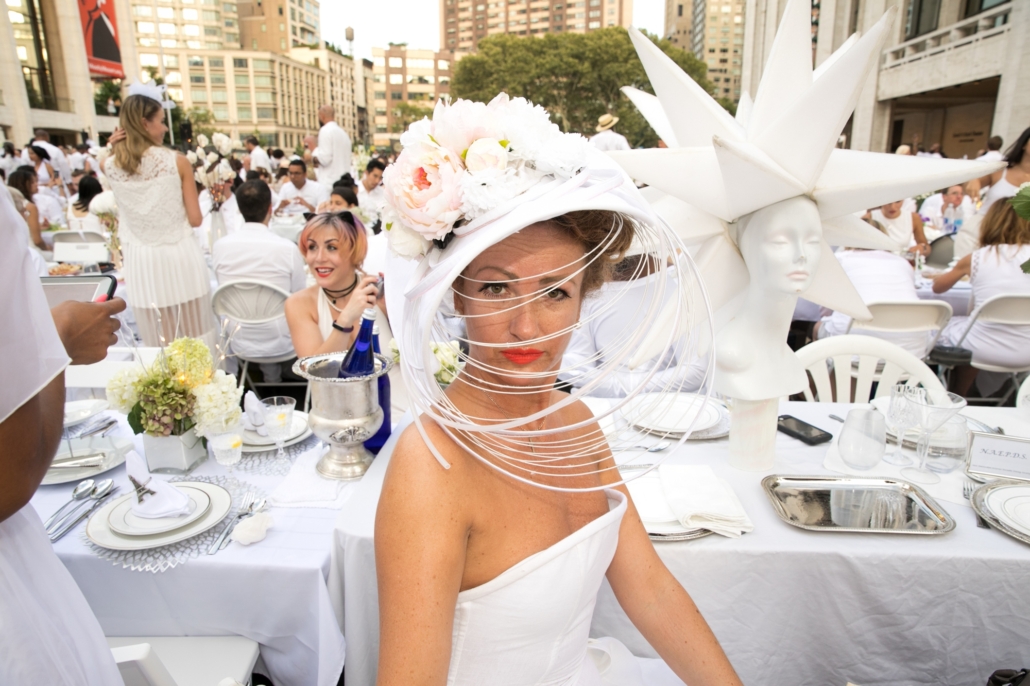 The event has become a beloved tradition across the country, with new cities joining the adventure every year. In some cities like Philadelphia and Washington, D.C., Le Diner en Blanc has become THE social gathering of the year. Four international cities have joined the party this year: Toowoomba in Australia, South Georgian Bay and Trois-Rivières in Canada, and Madrid, Spain. Five new countries: Santiago in Chile, Cartagena in Colombia, Havana in Cuba, Taipei in Taiwan, and Dar Es Salaam in Tanzania have joined as well.
Photo Credit: Diner en Blanc International Inc.