When we think of novelty t-shirts, a strong majority are pretty terrible. We make t-shirts for every other event out there and they're cool for a day, then disappear. More than 14.3 million tons of American textiles help clothe people around the world, many of which are event apparel of some sort. Dads are especially renowned for making and wearing some of the best/worst shirts ever. We could list them, but the general concept is seeing your Dad wear some shirt he finds clever and you shake your head.
One Dad heard his friend was going to the Pride Parade in Pittsburgh wearing a shirt that said free Mom hugs and decided he wanted to join. Scott Dittman, inspired by his friend Deanna, didn't know how much they were about to mean to the LGBTQ+ community. The organization Deanna was attending with is called Free Mom Hugs, an LGBTQ+ ally group that aims to help build a better tomorrow, literally one hug at a time.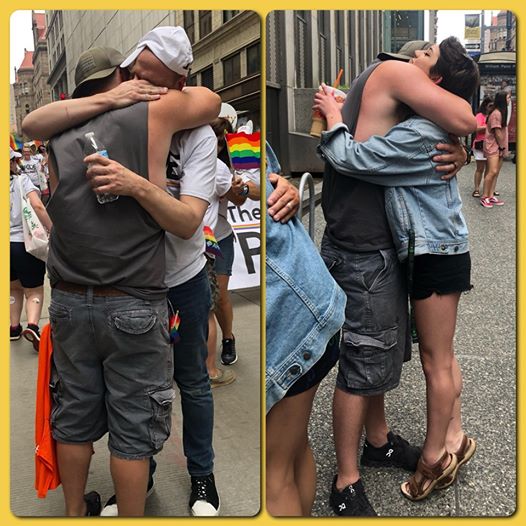 "My first thought was, I'm thinking the rate of rejection from fathers is probably higher than mothers," Dittman said. "I can give dad hugs."
So he got his free Dad hugs shirt and joined the parade. There are technically three categories of high-visibility safety apparel out there, but the free Dad hugs shirt was about to become the fourth. He was about to learn too many people hadn't felt safe in the arms of their own father's in a long time. The first person he hugged was standing in front of him, with tears in her eyes. He said she just thanked him over and over again. The next hug was a gay man who had been abandoned by his parents at 19 years old because of his sexuality.
"He just sobbed and sobbed and thanked us," said Dittman. "He just melted. It was an honor to be involved in that, but it was terrible at the same time."
Lots of hugs were exchanged that day, with more emotions than Dittman admitted expecting. Never really thinking himself as an LGBTQ+ ally other than having a heart for human beings, he was distraught with how something as seemingly small as hugs impacted so many people.
"You could tell they hadn't had something as simple as a hug from their dad in a long time. That broke my heart," he said.
Afterward, he was righteously upset. So he let it fly, telling the story of the day briefly, complete with how it impacted him and admonishing parents who have all but disowned their kids because of who they are.
"Imagine that, parents. Imagine that your child feels SO LOST FROM YOU that they sink into the arms of a complete stranger and sob endlessly just because that stranger is wearing a shirt offering hugs from a dad. Think of the depths of their pain. Try to imagine how deep those cuts must be. Please don't be the parent of a child that has to shoulder that burden. I met WAY too many of them, of all ages, today," the post said.
Other than venting, he didn't expect his post to make any waves. With his message and the number of mobile search users slated to hit 221 million by 2020, the post quickly went viral. Approximately 248,000 shares and 341,000 likes later, the post made big waves. He reported receiving over 1,500 responses from parents around the country who were broken by his words because he was speaking directly to them.
"I've had so many parents reach out to me saying they've been crying for days, saying they've been those parents, and they've reached out to their children they haven't talked to in years," said Dittman.
He reported that one young person reached out to him saying that he'd saved their life that day with his post. Stirred, he isn't planning on ceasing with being an active ally and free Dad hugs. That day helped so many people and, before he went there, he'd merely assumed his shirt would get some smiles. That day changed him and his perspective.
"It's humbling, but it's sad," he explains. "It's sad that some guy in some small town western Pennsylvania is having that much of an impact when that impact should've been made and when they shouldn't have even needed it because they weren't abandoned in the first place."
As we age, more than half of adults over 50 agree that our smiles remain our most attractive physical features. Dittman didn't know he'd cause so many smiles that day. The point to which it humbled and angered him, marks the internal shift that more people need to feel. A little anger and a lot of love go a long way.