The COVID-19 pandemic and resulting quarantine have forced many people and organizations to adapt to a world based on virtual communication in order to survive. Workers now doing their jobs from home have adjusted to using video chats for all meetings. Those who no longer have jobs have to rely on online forms and portals to receive unemployment and Temporary Disability benefits. Businesses have had to make their goods and services available online or else face bankruptcy. Out of these obstacles, however, many individuals and organizations have found ways to thrive.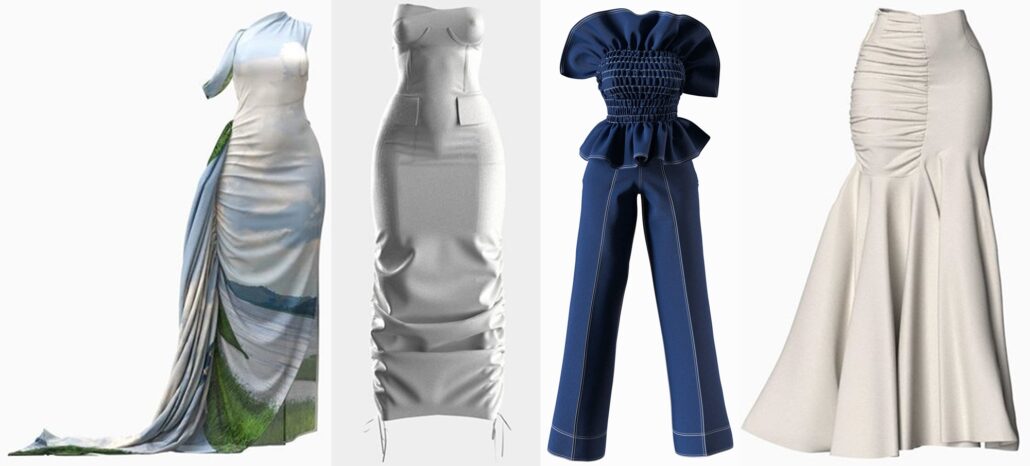 One fashion brand has made a virtual splash that could change the future of fashion, but the designer behind it had planned her unique launch before the coronavirus pandemic made it essential. Designer Anifa Mvuemba debuted the newest collection from her brand, Hanifa, with 3D digital models on Instagram Live on May 22. The runway show, which featured her Pink Label Congo collection, pulled in over 500 viewers and changed preconceived notions about how you could put on a fashion show.
Mvuemba first had the idea for a virtual runway show five years ago, but she had limited technical knowledge to pull off the ambitious plan. To learn more about 3D modeling, she turned to Google and YouTube. Using the same determination she had when learning how to sew from the same search engines, Mvuemba studied 3D design software while she designed the physical collection.
"I'm just the type of person that when I want to learn how to do something, I'm going to learn it even if that means I have to be up 24 hours for a week straight," said Mvuemba.
She finished the collection's looks in November 2019 and in January 2020 she decided that she would make her vision of a virtual fashion show come true. She started with testing out curvy 3D models on Hanifa's Instagram, replacing the brand's real-life models to preview the upcoming looks.
Soon after, the spread of the coronavirus created another obstacle for Mvuemba and her brand. As she admits in an interview with Teen Vogue, the designer was initially hesitant to move forward with her virtual runway show.
"The news came out about how serious things were and I started to feel a bit anxious about everything going on. I started feeling like maybe it would be insensitive to create and share a new collection online while people were facing very difficult realities," Mvuemba told Teen Vogue.
However, Mvuemba began to see the unique opportunity she had to launch a runway show that could transform the fashion world. Traditional runway shows tend to happen at major events like New York Fashion Week, making them inaccessible to much of the world. Not only are invitations to these events exclusive, but many people cannot afford or are not physically able to travel to the events to even have a chance at seeing the shows. This can exclude people in lower economic classes, people with disabilities, and people who are older — the global population of which is expected to reach 22% by 2050 — from the events where major fashion moments happen. By debuting a runway show on Instagram rather than in an inaccessible NYC venue, Hanifa opened up its show to anyone of any age and ability in the world.
Making the show accessible to anyone who wanted to watch it was also important because of the show's content. The Pink Label Congo live stream started with a mini-documentary on the Democratic Republic of the Congo. Viewers saw clips of news articles on the illegal child labor and abuse of power that occurs in the Congo in the name of mining Coltan, which is used to produce cell phones. Mvuemba wanted to contrast this abusive part of the Congo's history with its beautiful scenery and citizens, represented by the stunning collection.
The runway portion of the live stream showed curvy, body-less models strutting down a virtual runway. Although there were no bodies making the clothes move, the Congolese-inspired pieces draped on the 3D models, showing every curve and bend. The runway was set to upbeat electronic music that accentuated the show's celebration of culture and joy. Even viewers who were among the 15% of adults who have a form of hearing impairment, however, still saw that joy through the beautiful runway pieces. From pieces like the Kinshasa dress, a red, blue, and yellow pleated mini-dress that celebrated the colors of the Congolese flag, to the show's finale look, the Mai Maxi that features the Congo river, the runway was a proud display of Congolese culture.
After the show finished on Instagram, the Internet sang the brand's praises. Hanifa became a trending topic on Twitter, the first time the brand has ever done so, and the show became the subject of headlines across media outlets. Fans across platforms marveled at Mvuemba's creativity and innovation and went wild with pride from seeing a black woman taking this monumental step in fashion history.
Whether you want to celebrate black women — yet again — changing the world for the better or you're inspired by the gorgeous clothing, you can shop the full Hanifa Pink Label Congo Collection on its website. If you'd like to help people directly in the Congo, check out the collection's Colette T-shirt. Hanifa is donating 20% of sales of the shirt to support Congolese families who have been affected by the illegal Colton mining. And of course, keep an eye on what else is to come from Hanifa. We certainly will be and we can't wait to see what world Mvuemba will invite us into next.