Welcome to the season of Virgo, the sixth astrological sign of the Zodiac. We're back with our next zodiac-inspired drink recommendation from Drizly, the alcohol delivery service, in our Mixology Astrology by Drizly series. We're saying hello the season of the virgin maiden, also known as the goddess of the harvest, and goodbye to the summer season with the delicious Elder-Peary Sangria cocktail. As fans of Sangria and St-Germain in general, we know this is one delicious libation. Scroll down to create the second Mixology Astrology by Drizly cocktail  for yourself.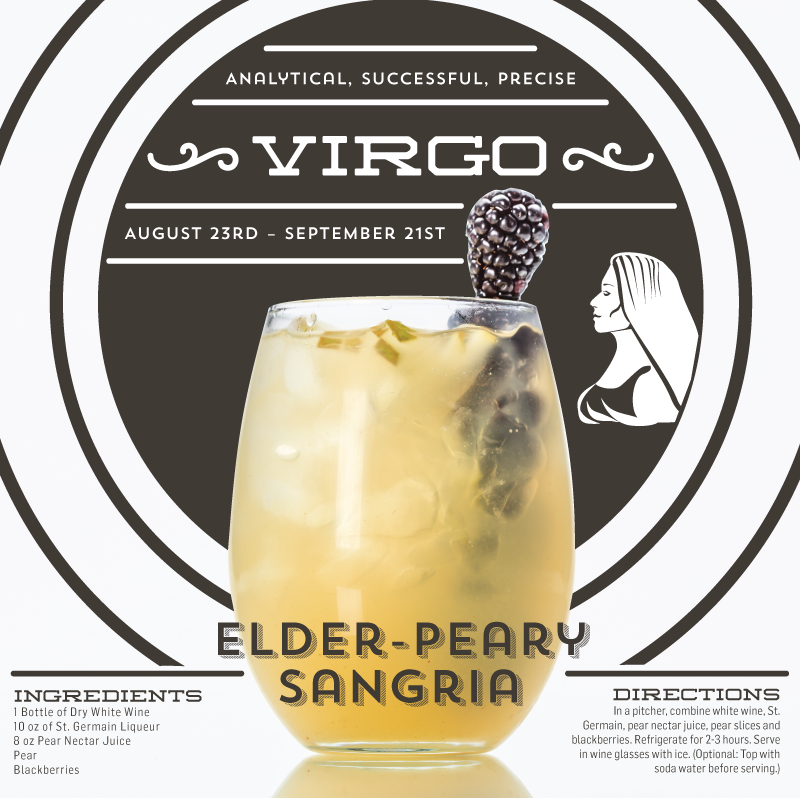 1 bottle of Dry White Wine
10 oz of St. Germain Liqueur
8 oz Pear Nectar Juice
Pear
Blackberries
In a pitcher, combine white wine, St-Germain, pear nectar juice, pear slices, and blackberries. Refrigerate for 2-3 hours. Serve in glasses with ice. (Optional: Top with soda water before serving).
As you can see, this is an easy-to-make sangria. The combination of simple ingredients combines late summer flavors for a very drinkable concoction that's perfect to share with friends. We think the simple ingredients perfectly compliment Virgos, because they are said to be modest, preferring not to be the center of attention. They are also champions of health and wellness, so it's no surprise that ingredients such as blackberries, known for having the highest antioxidant levels, and pear, known for its dietary fiber are in this cocktail. You can recreate this heavenly cocktail with either pear juice or pear nectar, but take not the nectar gives it a more fresh flavor with less sugar.
So all you Virgos, what are your thoughts on this Mixology Astrology by Drizly cocktail. Is the Elder-Peary Sangria right up your alley? To learn more about the alcohol, including the ingredients for this cocktail, that Drizly can deliver right to your door in an hour or less, visit www.drizly.com. Cheers to you Virgos!