So many things can affect how your skin behaves: stress, the environment, diet, etc. Unfortunately, as we're seeing yet another increase in Covid-19 cases, we have to continue taking precautions. That means suffering from Maskne, dry hands from frequent hand washing, stressed skin, and dull complexions. The pandemic has made it difficult to make in-person dermatology appointments, and while telemedicine appointments are available, trying to clearly show your skin issues via computer or phone screen is not the same as in-person. The solution? Using skin care products that are recommended by more than 6,000 doctors. CLn Skin Care is a range of effective products to help sufferers of reactive skin conditions like Eczema, Acne, and Folliculitis (Razor Bump or Burn).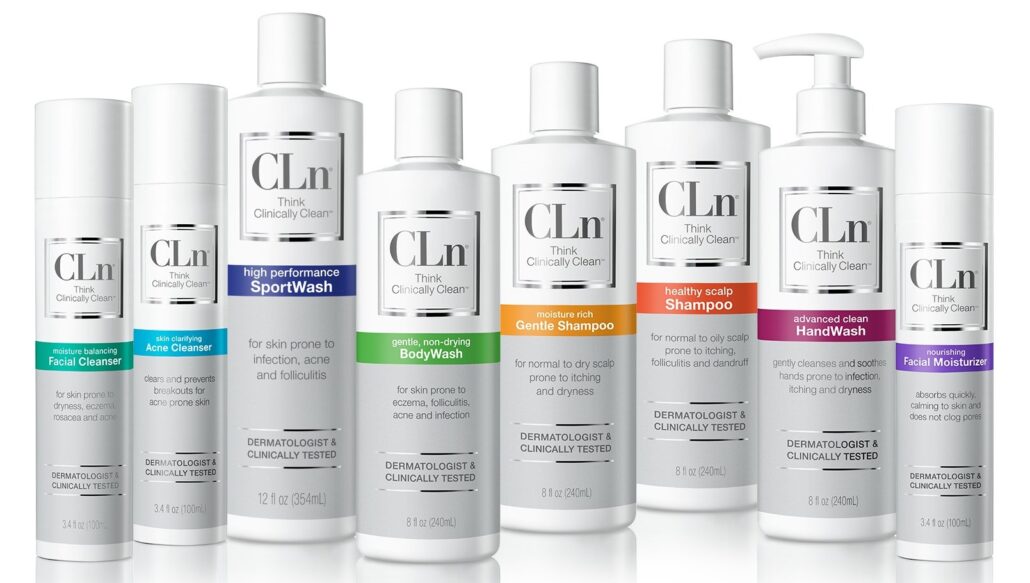 The colder season brings lower temperatures and drier air, both of which affect your skin. Today, we're highlighting three of the CLn Skin Care products – CLn Acne Cleanser, CLn BodyWash, and CLn HandWash. CLn Skin Care's sodium hypochlorite cleansers help wash away skin triggering microbes, bacteria, and allergens without impairing the skin barrier to allow the skin to heal itself.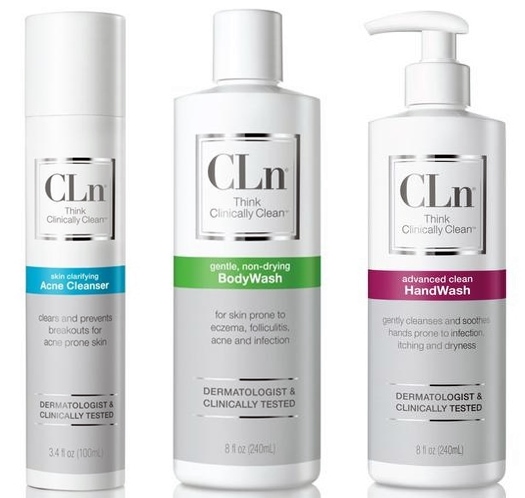 Let's face it (pardon the pun), with layers that may include primer, foundation and powder, finishing spray, and a mask with filters, your skin might have trouble getting enough fresh air to breathe. The CLn Acne Cleanser is designed to penetrate pores to stop new breakouts before they begin, yet avoids the drying effects of many topical treatments.  Advanced cleansing is the first step to a healthy complexion. The CLn Acne Cleanser clears breakouts by eliminating clogged pores, killing acne-causing bacteria, and soothing skin. Thanks to this cleanser, we've stopped our breakouts dead in their tracks, even hormonal acne (a huge issue for us). We also noticed this acne cleanser doesn't dry out our skin. We don't have to follow this acne face wash with a heavy moisturizer as we did with others. Finally, an acne wash that doesn't have side effects.
CLn BodyWash is a physician designed gentle formula for hands and body prone to infection, eczema, rash, redness, irritation, and folliculitis.  With continued use, CLn leaves skin looking smooth, clear, healthy, and refreshed. As we mentioned above, hormonal acne is a big issue for us. Add in regular stress acne and the skin on our body gets angry. We used this body wash on backne on our upper left side and our regular cleanser on the right; almost immediately we started seeing results from the CLn BodyWash. Within 3 days, that side was clear; this is a definite must for body acne sufferers.
The CLn HandWash is formulated with sodium hypochlorite and glycerin, making it tough on germs, yet gentle on skin – especially for frequent hand washing.  Designed by dermatologists, this non-prescription cleanser is tough on microbes but easy on the skin. It can be used for frequent hand washing that can cause sensitive skin to over dry and crack.
"One of the reasons I was drawn to CLn was its amazing efficacy for my patients suffering from eczema and acne," said Dr. Sklar. "The far-reaching abilities of this patented sodium hypochlorite cleansers are astounding. I am very proud to be involved in the cultivation and success of CLn because I strongly believe in its ability to revolutionize skincare for everyone." Jerald Sklar, MD, CLn Skin Care Board of Directors
Over the years, the team at CLn Skin Care has had several tests conducted for kill rates of their products; the results are below:
99.9% kill rate of P. Ances at 30 and 60 seconds
98% kill rate of S. Aureus at 2 minutes
99.9% kill rate of S. Aureus at 3 and 5 minutes
99.9% kill rate of Coronavirus at 15 and 30 seconds
If you're battling Maskne, dry hands from frequent hand washing, or looking for a solution to treat dry, flaky skin, get acquainted with the products from CLn Skin Care.