What a relief to say goodbye to the previous year and welcome brighter and hope-filled days of the new year. As we are only a few days into the new year, we're still experiencing the effects of the old year. While we adjust to this possible new (hopefully temporary) way of life, we can still combine a fashionable aspect to our function and safety requirements. We've been utilizing one company's wonderfully fashionable and functional products to make sure we're safe during the pandemic and beyond. Finders Key Purse features stylish purse accessories that decorate the outside of your bag to prevent keys from falling to the bottom, personal pepper sprays, contact-free tools, and personal panic alarms.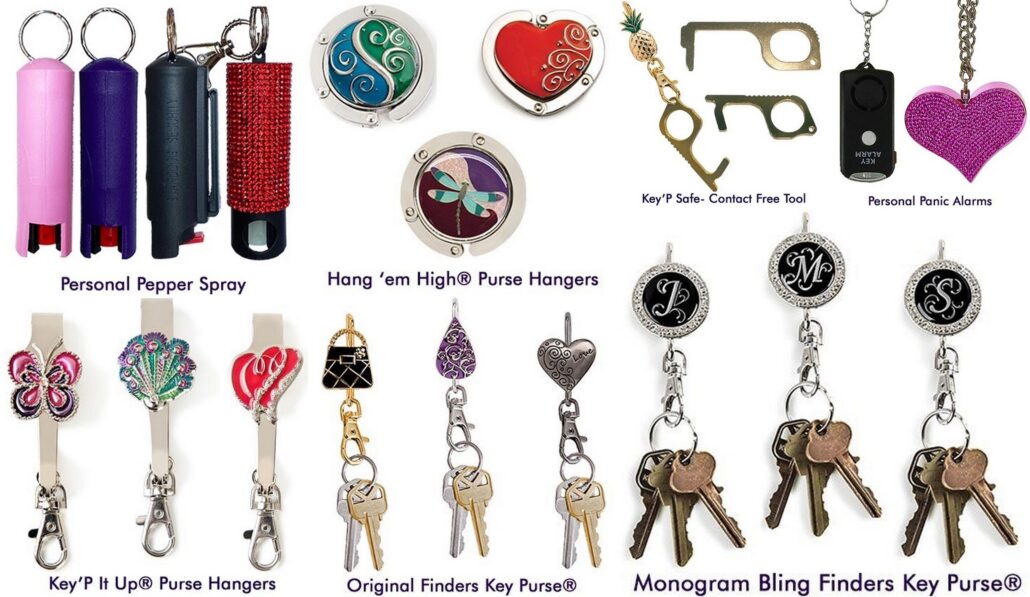 The Finders Key Purse accessories provide a simple solution to old and new everyday problems. Their range of products includes Finders Key Purse Keychains, Purse Hangers, Key'P Safe Contact Free Tools, Personal Panic Alarms, Personal Pepper Sprays, Drink Test Kit, and even Purse Protectors. Whether you just need to quickly and easily find your keys; reduce your germ exposure with contact-free touching when using hook-handle doors, ATM touch screens, elevator buttons, gas station & checkout touchpads, and more; and alert people to possible predators and protect yourself from assailant attacks.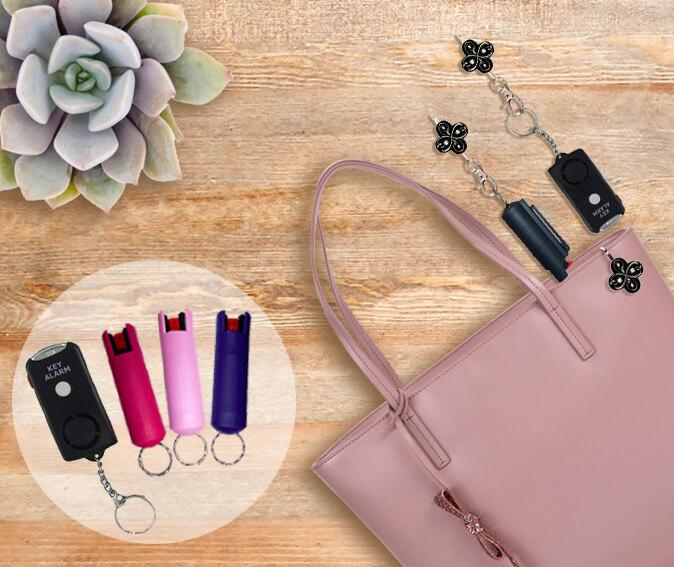 During this pandemic, we've been using the Key'P Safe Contact-Free Tool to open doors, press elevator buttons, and doorbells. Check out our use of their Contact-Free Tool in action on our Instagram. Our tool is attached to a Monogram BLING  Finders Key Purse which features shiny silver letters on a black background, bordered by swirled shiny nickel and crystal details. Like the alphabet, there are 26 offerings in this collection. You can also get the original designs, Bling designs, and ones made with Swarovski Crystals. There are options for fashionistas, shoe lovers, brides, dog and cat lovers, Breast Cancer survivors & supporters, and so much more. They are so popular that over 11 million have sold.
The Pepper Spray offerings are made with the same ingredients used by law enforcement. It shoots up to 16 feet away and contains invisible UV dye for assailant verification days after use. It also features a locking mechanism to prevent inadvertently spraying. The Personal Alarm features a 120 Decibel alarm, bright LED flashlight, replaceable battery (12V alkaline), and has a keyring attached.
Like the Finders Key Purse Keychains, the Purse Hangers come in a wide variety of designs, including the Monogram BLING. All of these items are wonderfully affordable and they make excellent gifts for any occasion. Visit www.finderskeypurse.com for more information on everything they offer.