We love discovering new, amazing places to dine, and our latest favorite culinary indulgence,
Burger & Lobster NYC
, is an UK import that offers two only entrees – Burgers and Lobsters (hence the name), at what is a beyond an amazing price. The gigantic restaurant is perfect for a night out with family, friends, or that special someone. And since it's Valentine's Day, what better time than to indulge your sweetheart to a fantastic meal for only $20.00 per entree. My blogger buddy,
Christine Ongsueng
, accompanied me to experience this simple but memorable menu. Although there is a menu for drinks, a physical menu for the entrees is not needed, rather the servers become walking menus, delighting you with tales of their experiences while indulging in the amazing culinary offerings. Below is our take on everything from the food, to the decor, to the super friendly and inviting staff.
Steak Burger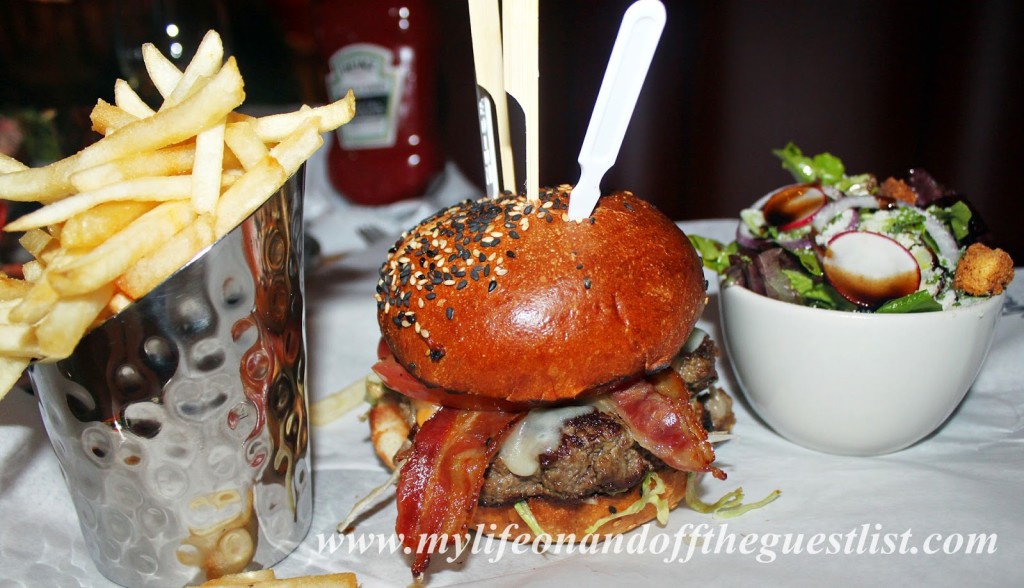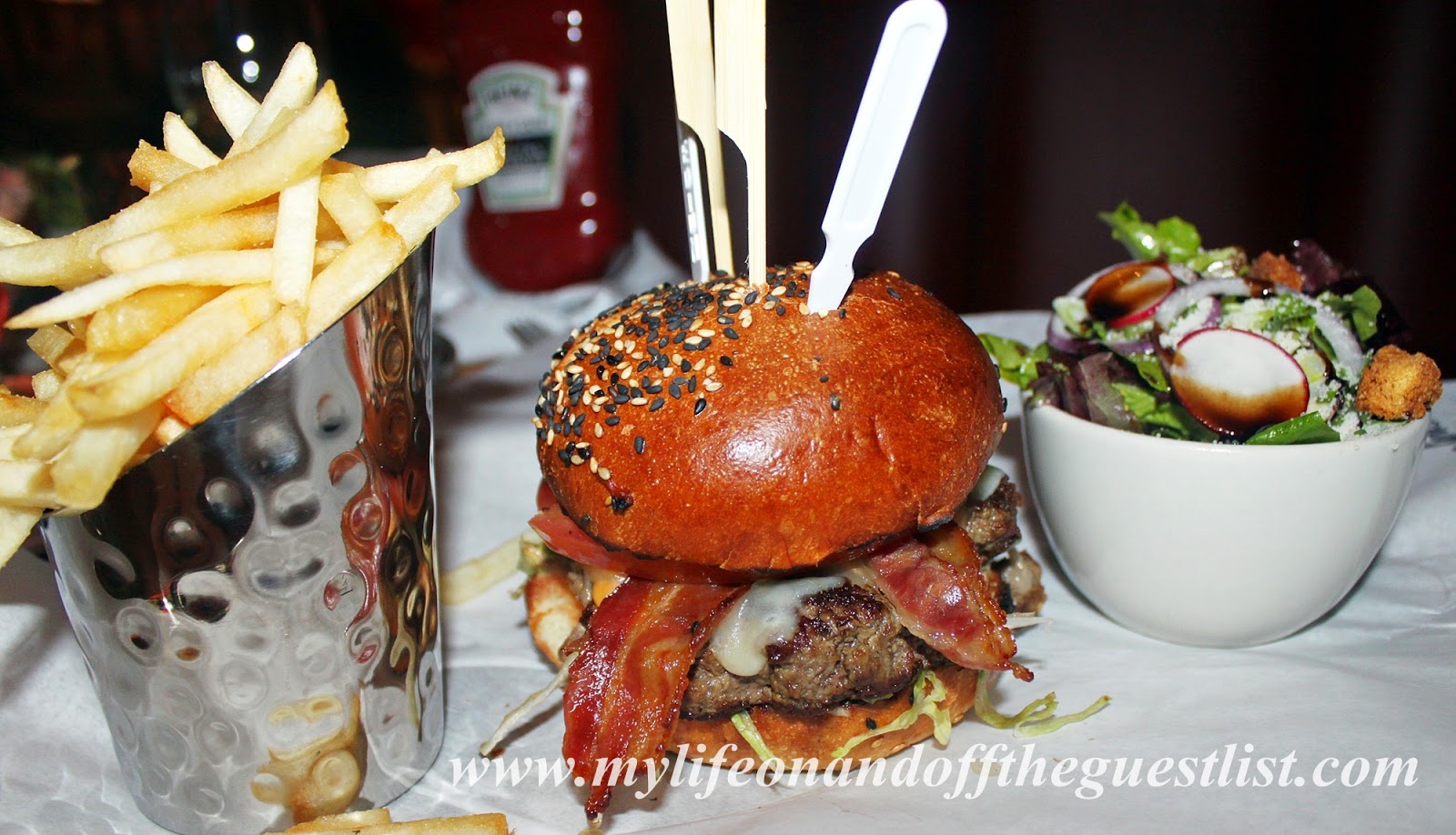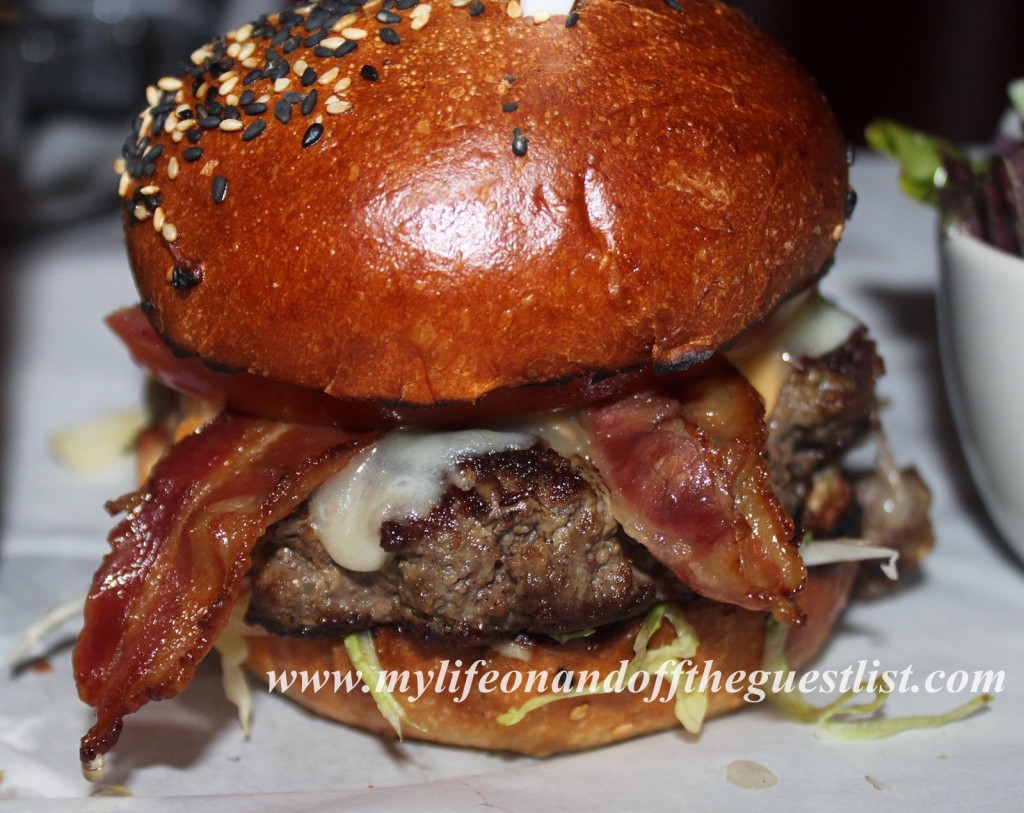 Glasgow/Chris: The burgers are so flavorful and delicious, it should be a sin to indulge so greatly. Made from three cuts of steak – 60% Chuck, 20% brisket, 20% tri-tip, and topped with cheese and bacon in a bun that's good enough to be consumed by itself, you may just find yourself surrendering to this Juicy, tender, and flavorsome burger.
Lobster Roll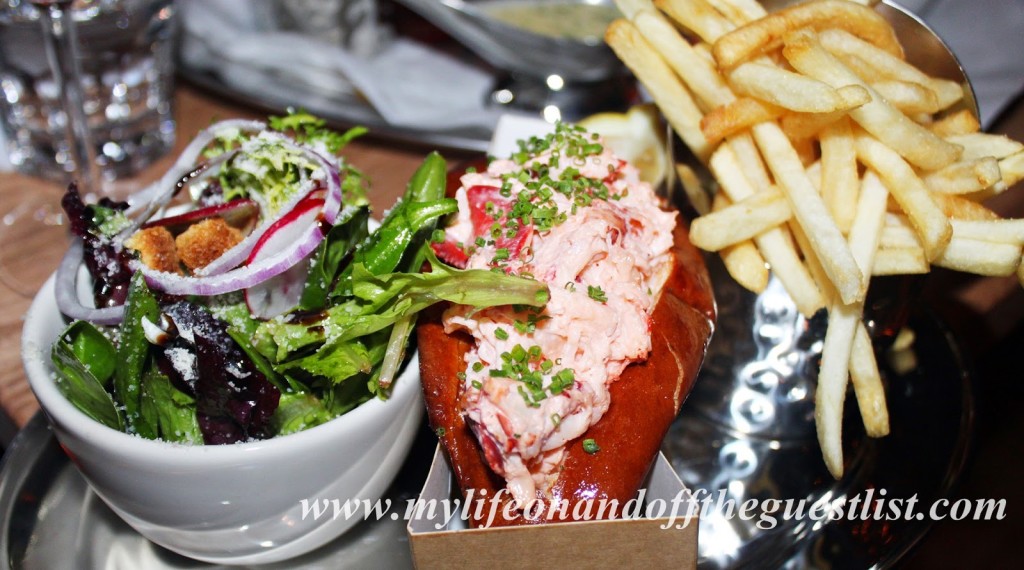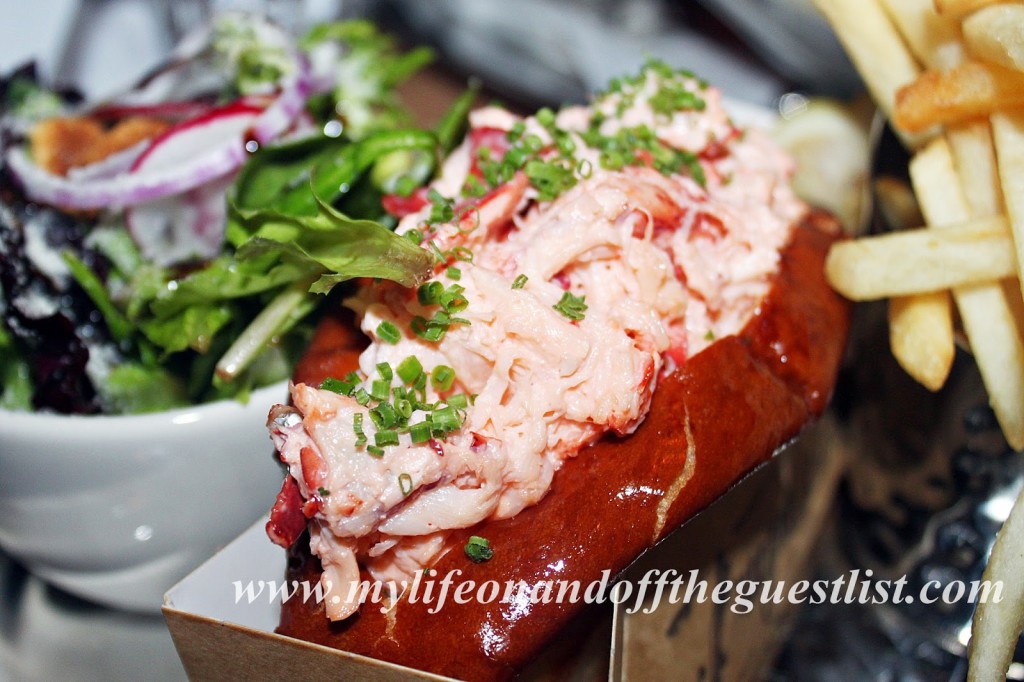 Chris: This is not your average $20.00 rinky dink lobster roll slathered in mayo. This is the best lobster roll I've had to date and I've tried quite a few around the city. First off, every square inch of the bread is covered in huge chunks of lobster meat. There was no stinting here! Most places give you a scoop full of lobster slathered in some thick goopy dressing. These lobster rolls are not heavy on the dressing. In fact, the sauce enhances the flavors of the lobster instead of masking them.
Glasgow: Where do I begin? Shall I begin with the brioche bun that will make you want everything you ever eat from now on to come on a brioche bun, or maybe the instant feeling of "this is what my life has been missing" upon the first bite, or how about the 1/2 pound of the most succulent, buttery lobster I've ever experienced. Yes, I can talk about all these things, but nothing could properly prepare you for that magic moment when your taste buds surrender to this savory decadence.
Grilled Lobster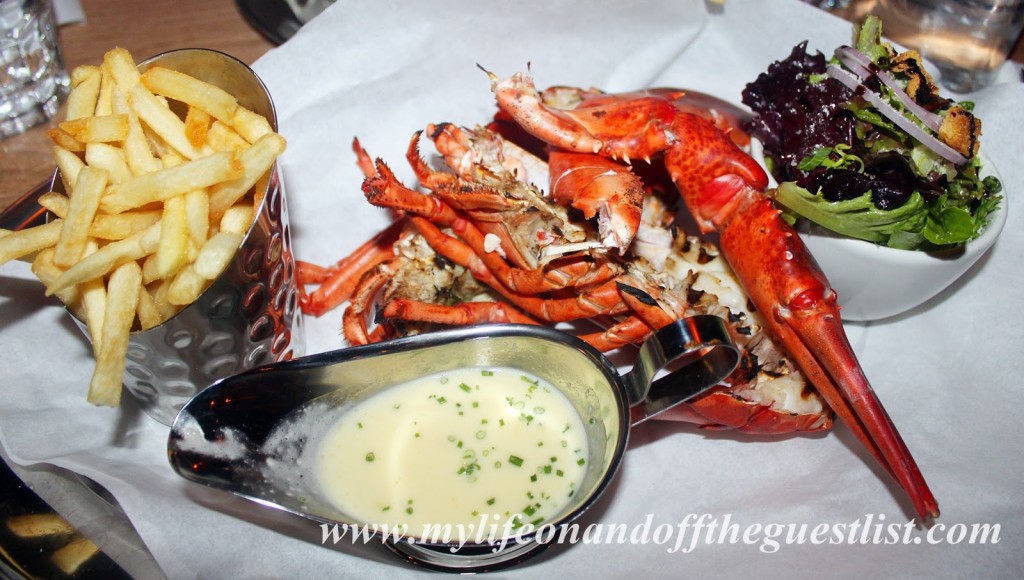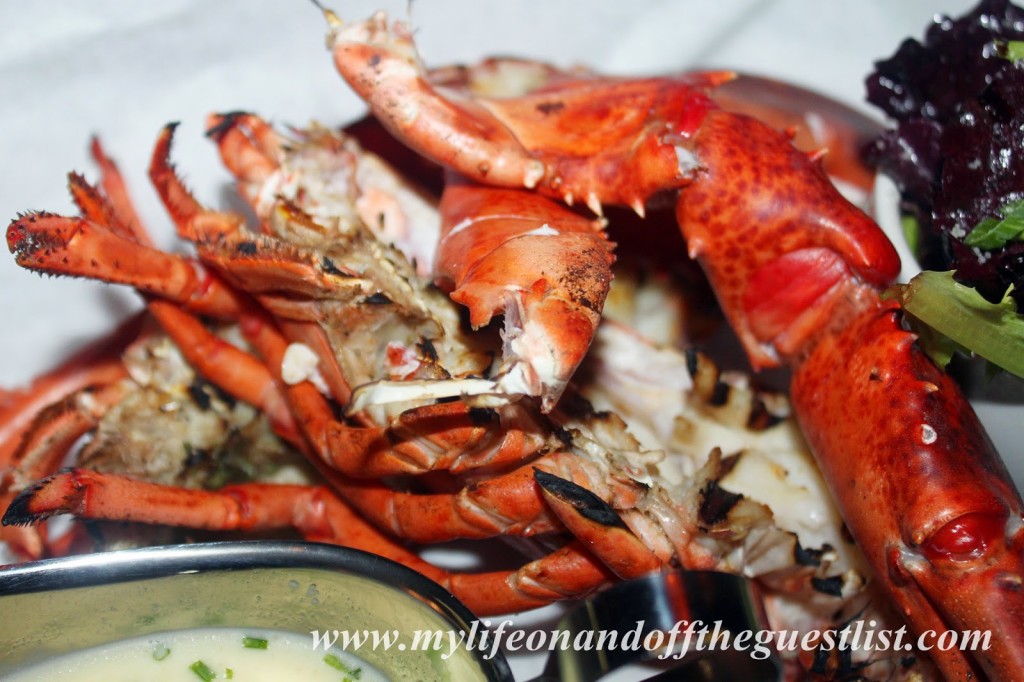 Chris: You can have the lobster your way– steamed or grilled. We opted for the latter and couldn't have been happier with our choice. Yet another behemoth of pure tastiness. This was no junior lobster. This was 1.5lbs of grilled goodness. The natural taste of the lobster meat is elevated by the smokey grilled method. But as if things could not get any better, there's the golden butter garlic sauce in which to bathe your lobster in. More than just melted butter, this dipping sauce contains a mix of seasonings that are embedded into the butter without coagulation.
Glasgow: This was the best tasting and freshest Lobster I've ever had. The two choices of lobster preparation will leave you in a delicious conundrum. Fans of steamed lobster will surrender to the intensity of flavor that the smokiness of fire brings forth in the grilled version while fans of grilled lobster will want to savor the sweetness and tenderness of the lobster meat that steaming provides. Whichever one you choose, you can't go wrong, although you will find yourself wanting to try both.
Ambiance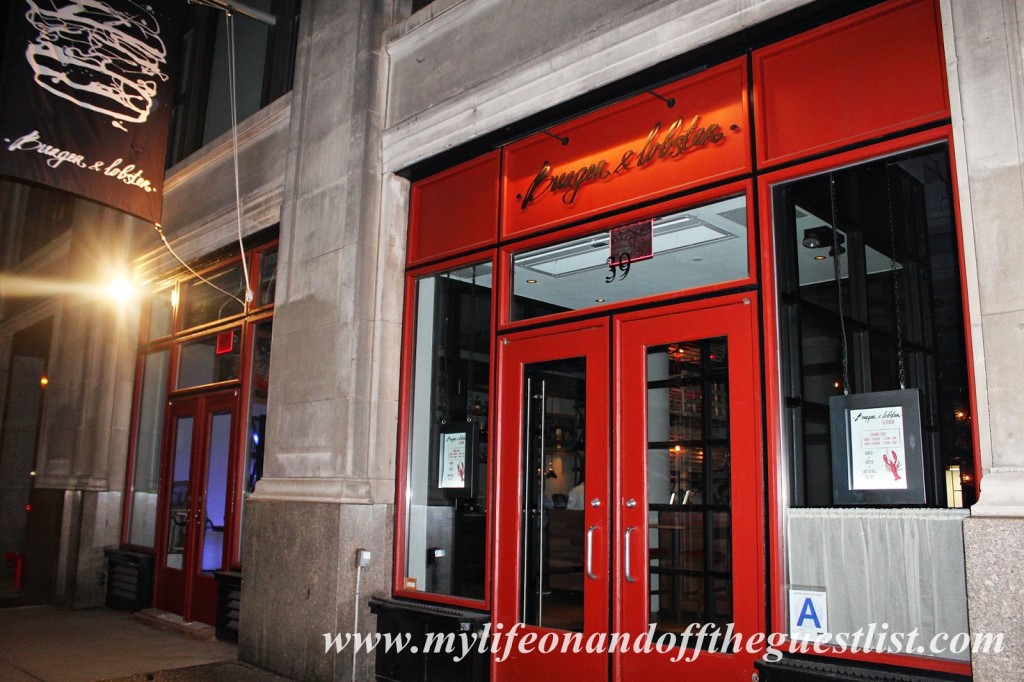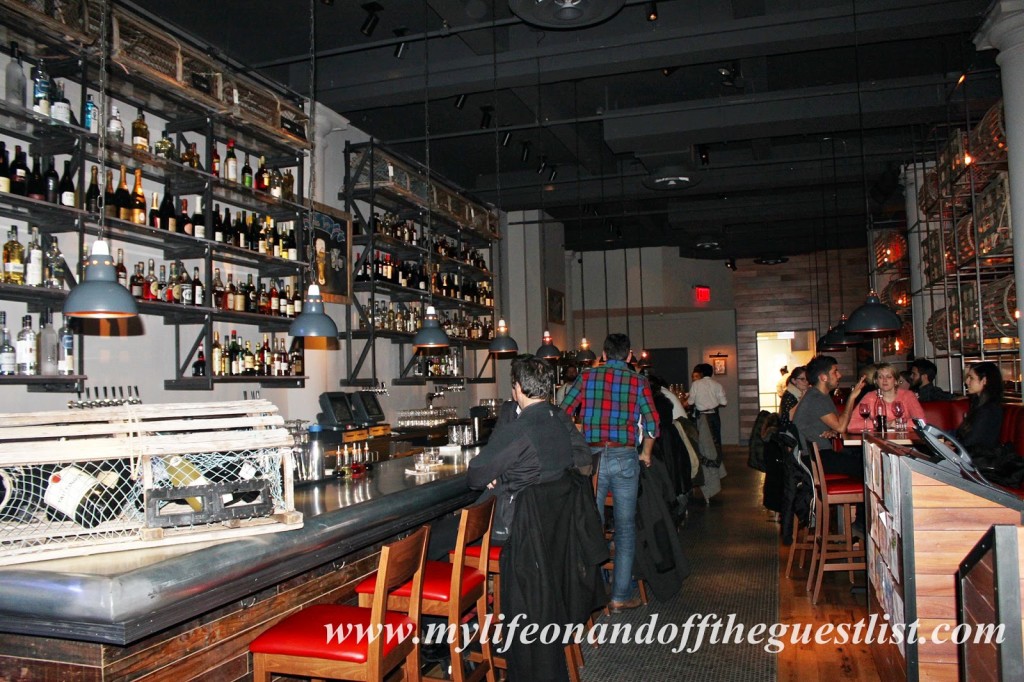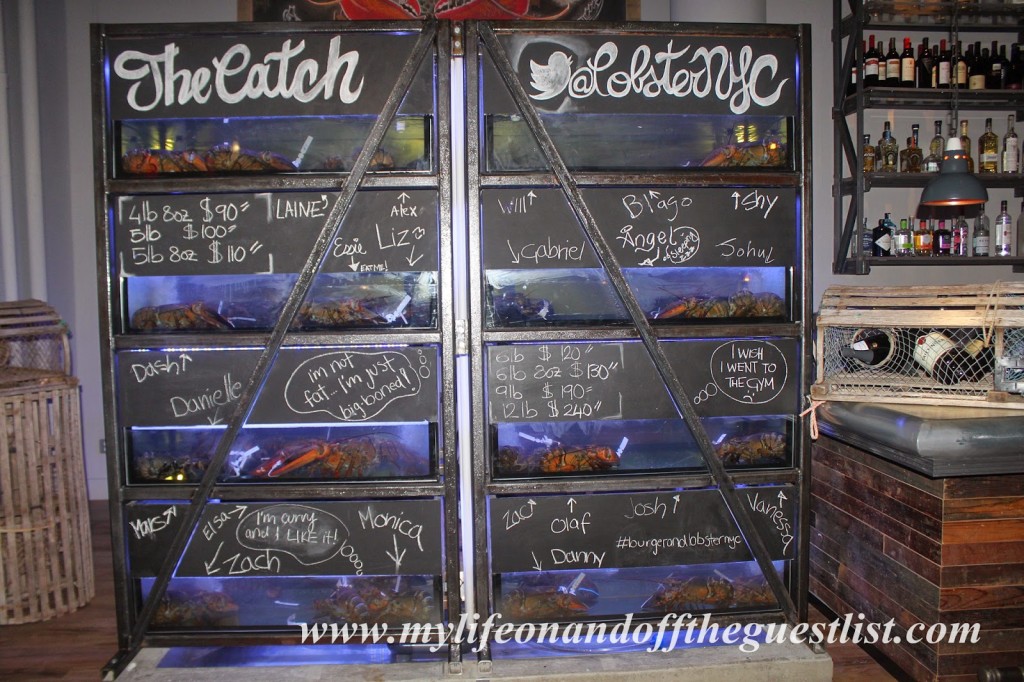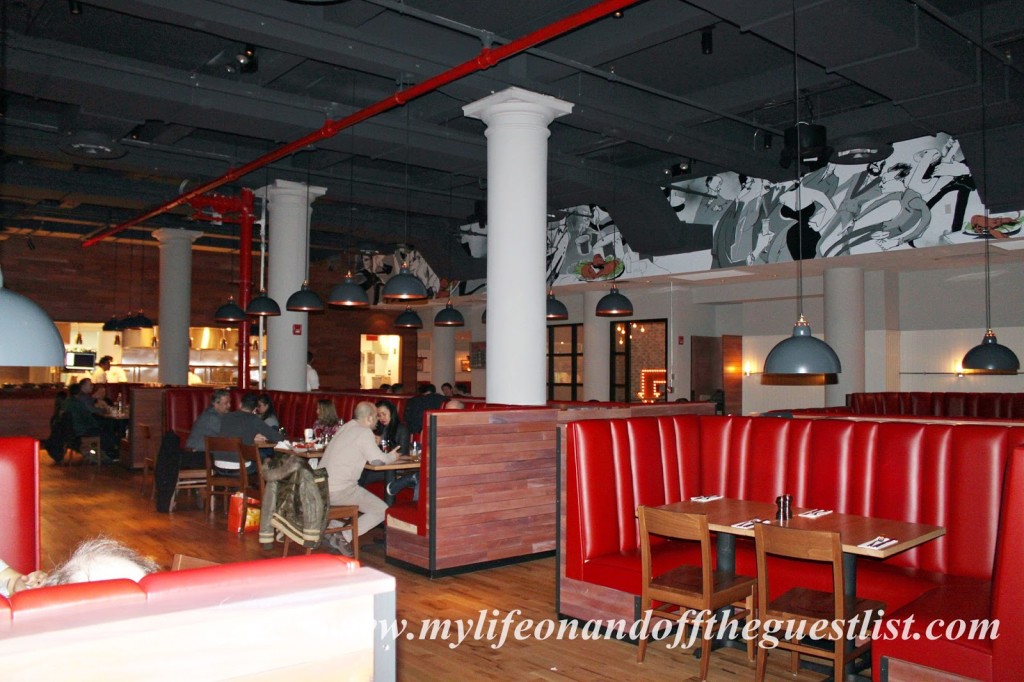 Chris: Normally, huge restaurants run the risk of being too bare or being over saturated with tacky decor. Thankfully, that was not the case at burger and lobster. Although I still think a classic neon sign would fit in well. Upon entering, one is greeted by a huge tank of lobsters whose names are cheekily written in chalk above their heads. The long bar is impressive in its size and sleekness; makes waiting for a table more tolerable and less likely to get you jostled while ordering a drink. Lobster traps are used as a subtle but impressive wall barriers. The wide aisles in between the booths make it easier for servers balancing platters of deliciousness to pass through without having to disturb the customers. There's also a downstairs seating area complete with its own bar and a full view of the lobster containers—over 4,000 lobsters can be housed in climate-controlled blue crates!
Glasgow: I was amazed to find how a space so incredibly huge can be so intimate and open at the same time. It really is the perfect place to have a group dinner, romantic meal (another reminder it's Valentine's Day), or get-together with friends. The layout offers the option of a private dinner and neighbor interaction, it's up to you. One very notable moment was getting up close and personal with one of Burger & Lobster NYC's Big Boys. They are huge and have the most adorable phrases written on their tanks.
The Staff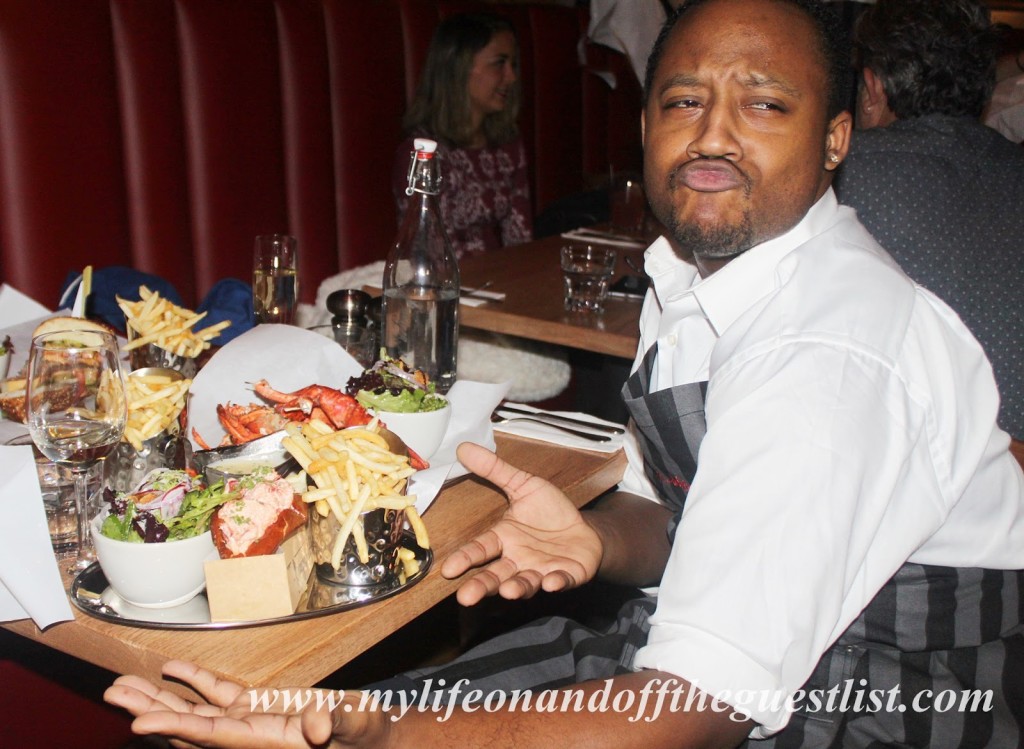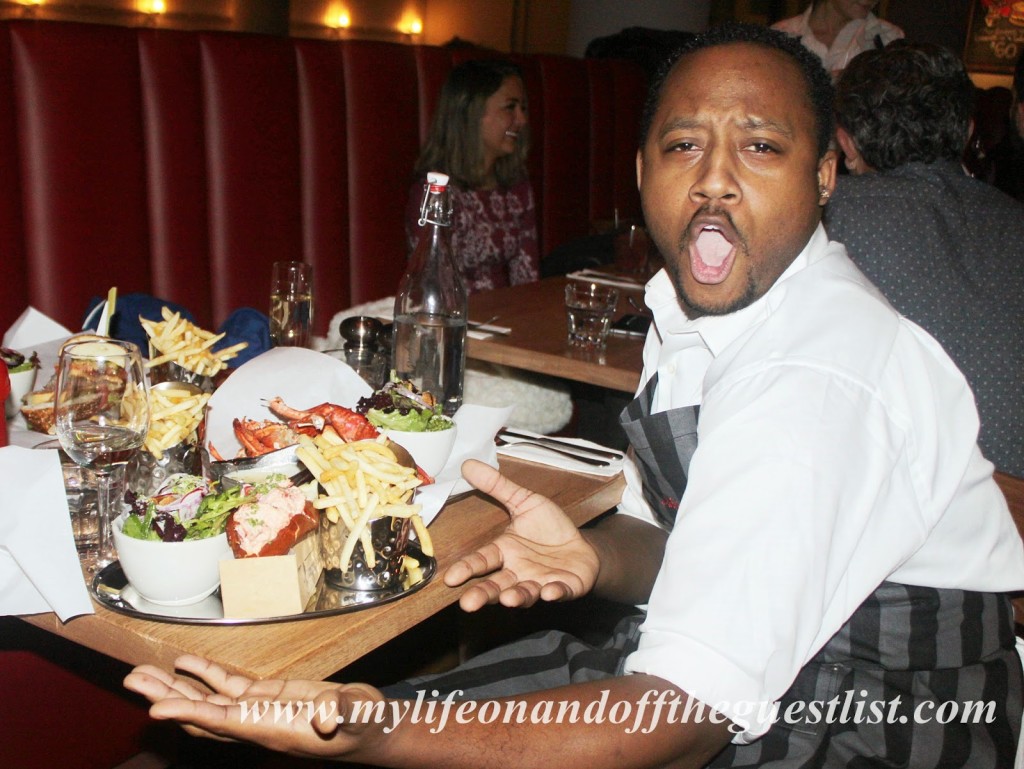 Chris: The staff is one of the nicest I've ever encountered. From the pure jovial nature of the hostess to the knowledgeable and entertaining waiter. The staff at Burger & Lobster NYC know just how to make their customers feel special and at home. They are attentive without overbearing and their attitudes were authentic and sweet. Through our server, Edward, we learned all about the food we were being served as well as the fact that they treat the staff very well. It's no wonder they came across utterly genuine.
Glasgow: Let me begin by saying we both fell instantly in love with Edward and didn't want to share him with the other diners. We asked to take a photo with our meal and the above is what we got…how can you not love him for that? It felt like we were having dinner with an old friend as he told us which meal was his favorite, the "problems" of having to taste test everything (hilariously sarcastic), and the love of his job. And though Edward was our server, we were visited by other staff who just wanted to say hello and laugh with us a bit….such an amazing friendly environment and people who really love what they do.
Artwork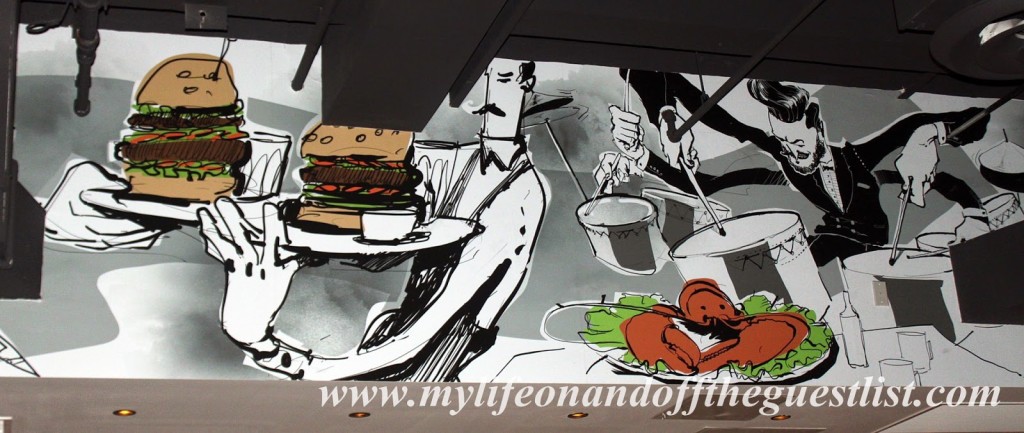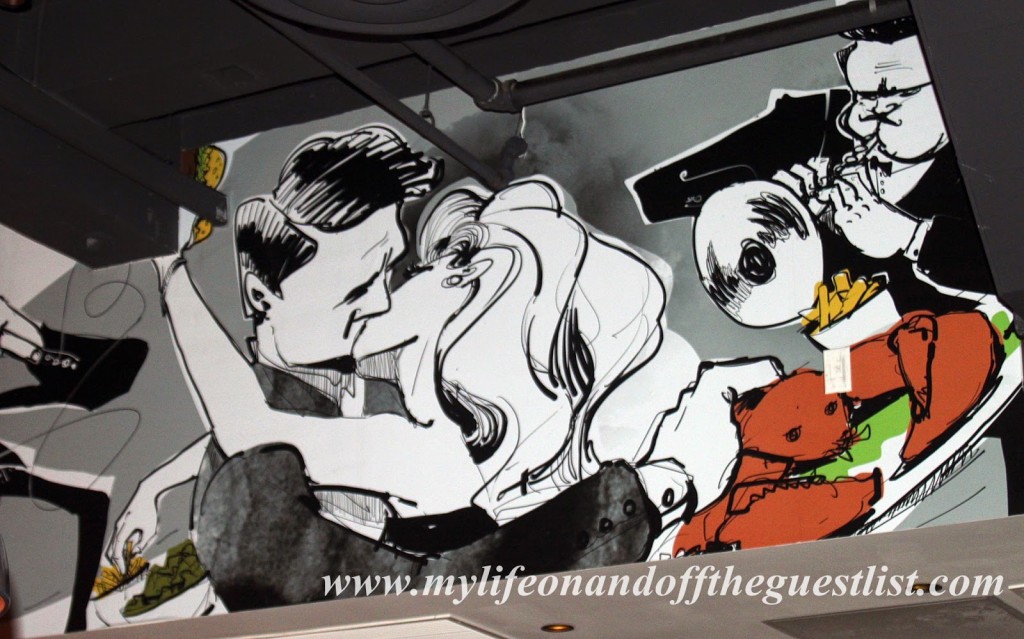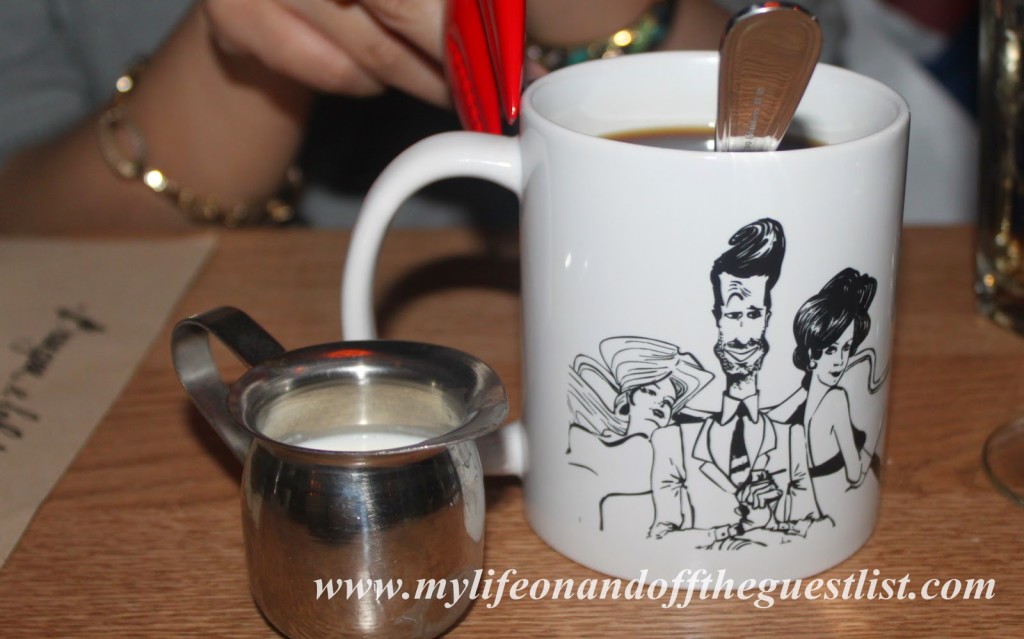 Chris: Russian artist, Alexandr Grigorev, has been commissioned by Burger & Lobster to do all of their artwork. Everything from the logo to the bibs to the murals that grace the sides of the high ceilings are done by Alexandr Grigorev. I absolutely fell in love with his oddly classic but modern caricatures of an array of different people.
Glasgow: Chris definitely says it best here on the artwork. As for me, what can I say? I love all things cheeky, and the raised eyebrow shown on the mug is dong things to me lol. I see so much in these pieces from Alexandr Grigorev and I think that's the point.
So there's our take. All of this is what you get the low cost of $20.00 per entree at Burger & Lobster NYC. I bet you to find a better deal or better meal for that price. trust us, your Valentine's Day date will be highly impressed.