If you've been paying attention to current trends, there are many times what's old is new again. But, while we're welcoming some oldies but goodies, we're also making way for new iterations of our classics. A great example of this is the reintroduction of Benefit Cosmetics' Wanderful World Blush Collection. This blush collection features a box of 12 new powder blushes and a blush brush. Why re-launch our entire collection? Every one of their existing blush shades is being retired (except for Dandelion) to make way for their 11 new shades; these blushes boast new, high-performing formula with a more inclusive shade range and upgraded packaging to eliminate waste.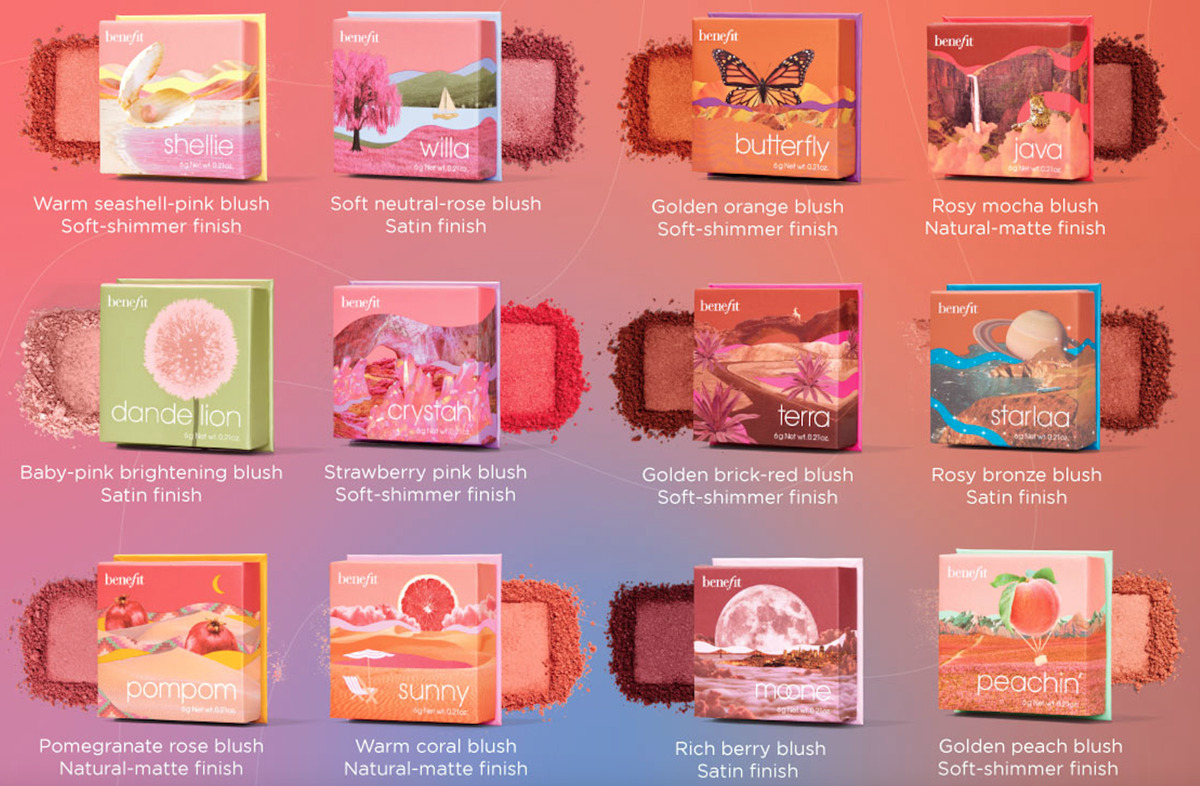 The Benefit Cosmetics' Wanderful World Blush Collection, launching on May 24th, is inspired by the colors and personalities found in natural objects big and small, near and far, real and fantastical. This blush collection is sure to bring your cheeks to life with its variety of stunning colors. Expect silky-soft powders, a smudge-proof, humidity-proof, sweatproof, and non-comedogenic formula, an ultra-fine and weightless feel, the ability to blend seamlessly and build effortlessly, and an airbrushed, soft-focus blurring effect. The 12 Box o' Powder Blushes in the Wanderful World Blush Collection include:
11 NEW Blushes (+ fan-favorite Dandelion in new packaging). **The Starlaa will launch sometime after (we will share an update when it is available).

A variety of curated shades from sweet pinks and everyday neutrals to bright corals and rich berries.
A variety of finishes from natural matte to soft shimmer to satin.
Every shade is suitable for every skin tone, with NO white cast, thanks to:

A translucent base is used in each shade vs. the traditional white/pink base in most powder blushes,

for truer pigment saturation and richer payoff with no chalky appearance.

Each shade's pressed powder is pressed to a different degree, for the opportunity to build and blend as desired no matter what shade you're using. 

An entirely new formula

Freshwater pearl and synthetic sapphire for a luminous, light-reflecting glow
Smudge-proof, sweatproof, humidity-proof & non-comedogenic
Triple-milled powder for even payoff and a silky texture

New & improved packaging

Each Wanderful World Blush Collection blush box is made of 100% recycled paperboard.
Benefit Cosmetics removed individual brushes, plastic brush sleeves, and plastic trays from each box.
They downsized the box to be slimmer and sleeker, for a smaller full-size box with the same amount of product, resulting in 20% less paper.
Benefit Cosmetics is also passing savings onto you with a new full-size blush that is $1 less than their existing blushes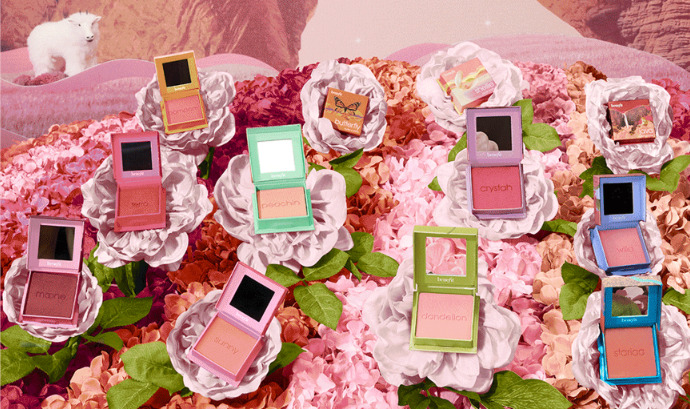 The Benefit Cosmetics' Wanderful World Blush Collection is available in two collection sizes, $29.00 for full size and $17.00 for minis. Accompanying the blush collection is the coordinating cheek brush, the perfect partner to this gorgeous array of blush colors.
THE BRUSH: Multitasking Cheek Brush ($32.00)
On-the-go application perfected with this retractable brush that keeps bristles protected and clean. Eliminates the use of throw-away brushes in all boxes of powder, as it's perfect for all of your BOPS: blush, bronzer, and highlighter.
Get your hands on these 12 silky-soft powder blushes on www.benefitcosmetics.com.