Purposeful tools create purposeful kitchen moments, and the Beautiful Kitchenware 12 Piece Knife Block Set is designed to do just that. This comprehensive set of knives and all-purpose shears equips home cooks with the right tools to slice, dice, mince, cut, and more, elevating their culinary experiences. Add in the fact that it visually embodies its brand name and you can't help but fall in love. We certainly did.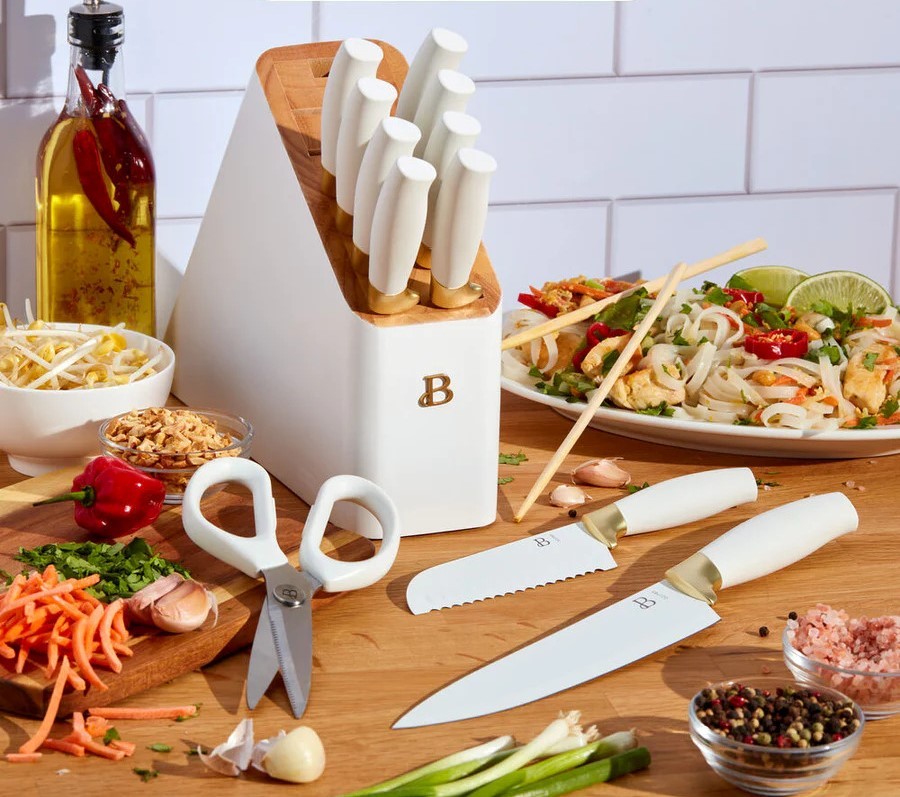 There's much to love about this brilliant white knife set from Drew Barrymore. The Beautiful knives and shears in this set feature white soft grip ergonomic handles with signature gold accents. This adds an elegant touch and ensures a comfortable grip during use. The ergonomically designed handles fit perfectly in your hand, minimizing fatigue and enhancing precision.
Crafted from durable stainless steel, the blades of these knives boast a stick-resistant, resin coating. This unique feature prevents food from sticking to the blade, resulting in smoother and more efficient cutting. As home cooks, you'll be able to breeze through food preparation without worrying about annoying food residues clinging to the knives.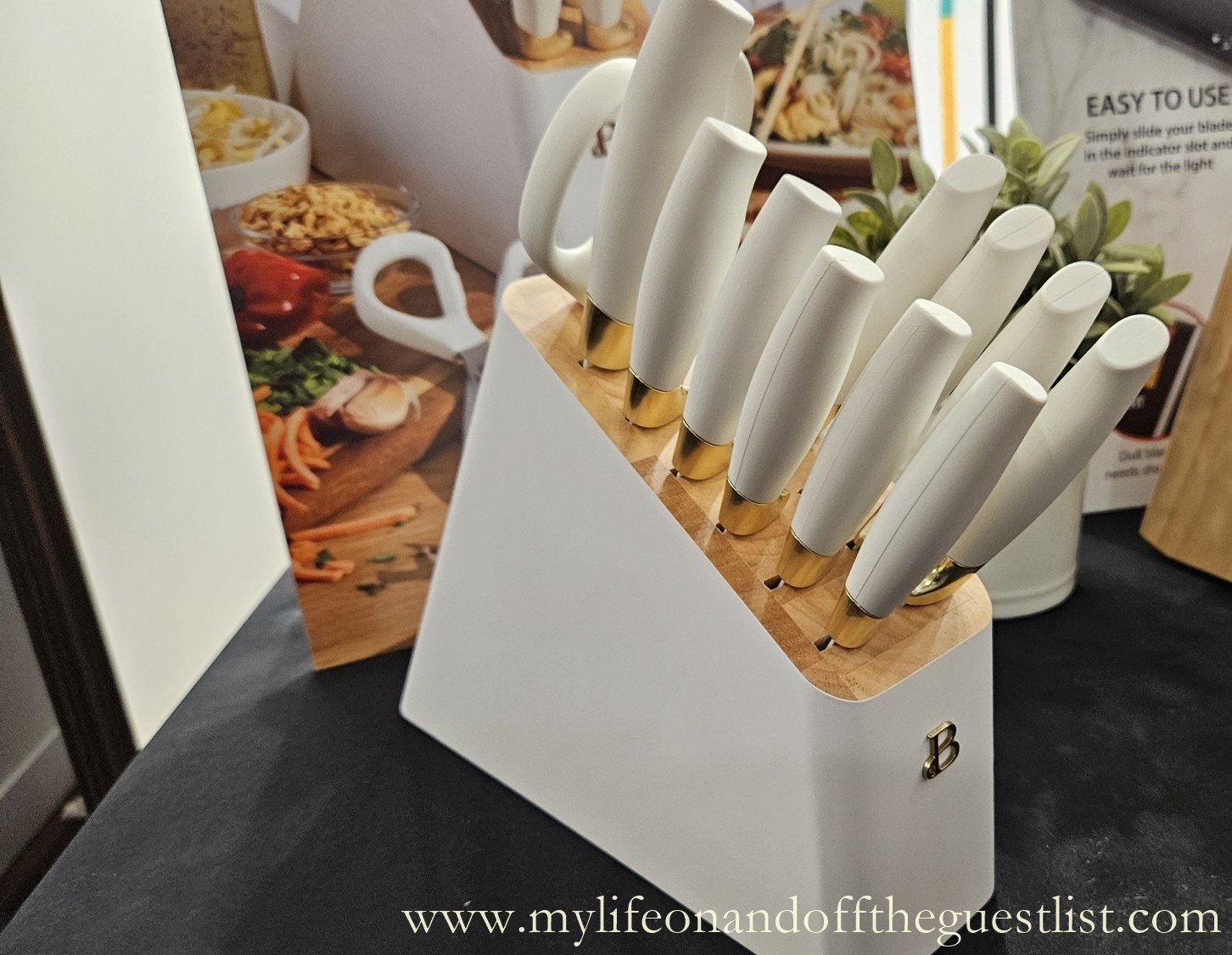 The Beautiful Kitchenware 12 Piece Knife Block Set is carefully curated to suit various cooking tasks. It includes essential knives like the 8-inch chef knife, a 5.5-inch serrated utility knife, a 5-inch Serrated Santoku knife, and a 3.5-inch paring knife—additionally, the set features six 4.5-inch steak knives for delightful dining experiences. The all-purpose shears are an excellent addition, making tasks like trimming herbs or cutting open packages a breeze.
For added convenience, the set comes with a stylish and functional knife block that not only keeps the knives organized but also enhances the kitchen's aesthetics. Store and display this set on your kitchen counter, and it will undoubtedly catch the eye of anyone who enters your kitchen.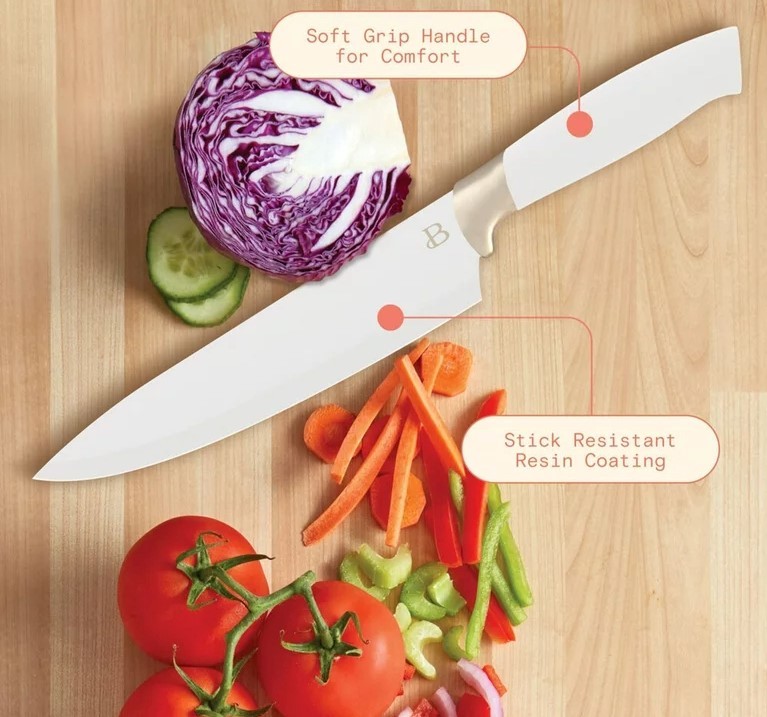 Moreover, the high-carbon stainless steel blades ensure the knives maintain their razor-sharp edge, allowing for effortless and precise cutting over time. The knives are designed to stand up to the demands of daily use and promise long-lasting performance.
To ensure the longevity of these beautiful kitchen tools, hand washing with warm water and mild detergent is recommended. While the knives and shears are not dishwasher safe, proper care will maintain their excellent condition for years to come.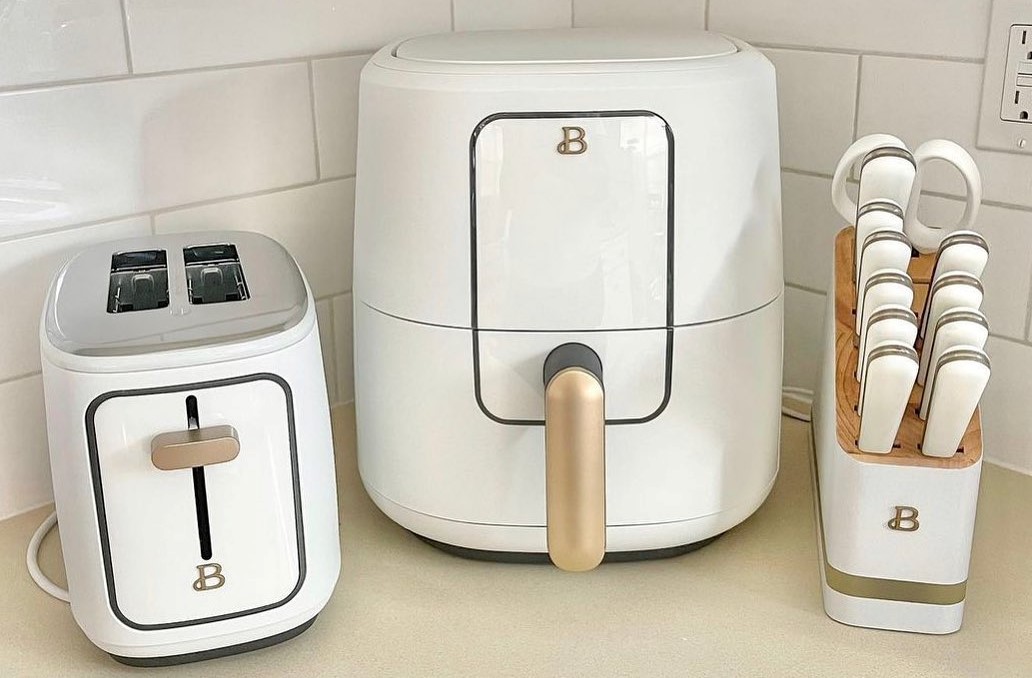 With a lifetime limited warranty, the BPA-free Beautiful Kitchenware 12 Piece Knife Block Set, $54.00, offers both quality and elegance and peace of mind for the sophisticated home cook. Upgrade your kitchen with this purposeful toolset and create more purposeful kitchen moments filled with joy, creativity, and delicious culinary creations.
You can find this knife set and other cooking tools from the Beautiful Kitchenware by Drew Barrymore at Walmart.