Pretty City
and
Veet
hosted an event for Veet's new Spray On Hair Removal Cream. The event was held at M2 Ultra Lounge in Chelsea and boy was it crowded.
Kim, Zia*, Alexandra* and I arrived to find Veet displays/signage were everywhere (like the paper lamps hanging from the ceiling above) and the Veet products which lined the walls (funny thing is, when I entered I took these photos but by the time we left, they were all gone)
When we arrived, we were each given two drink tickets, so after we got seats, we headed to the bar to indulge in one (ok, two) of the below drink offers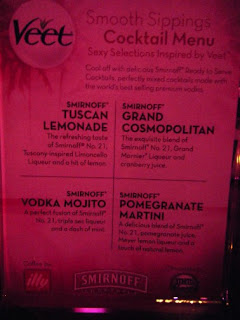 After we got drinks, I walked around to take a few photos. The first thing I saw was an artist (I think he was) doing graffiti…digital graffiti to be exact
I even got a chance to take some video of him in action (he was very good in indulging me)
Afterwards, I then moved on to the other room to find fun activities in full effect – airbrush tattooing and face painting to be exact (yes, I guess some adults do enjoy face painting as well)
Along with some video of an attendee getting an airbrush tattoo, I also got photos of some two women after they got their tattoos and another after she got her face painted
Along with those fun activities, there was also a raffle. Five women (who were not me or any of the gang) won bags full of Veet products
Now for all you women with fabulous legs (note: I'm jealous), Veet is actually sponsoring a contest for smoothest legs. All you have to do is go to the Veet Contest Page, upload a photo of your fab legs and people will vote for you. The winner wins tickets for two to the beautiful island of Barbados..how great is that!!!!
Although we didn't stay for it (had to go to another event), there was also a performance by R & B artist, Shontelle. She was scheduled to take the stage an hour or so intot he event but we only planned to stay for half an hour, 45 minutes max. So we went to get our giftbags, which thankfully contained a can of Veet's Spray On product and bonus….M&M Premiums – yum!!