Usually a new designer comes roaring out the box with an over the top collection that leaves buyers and editors toting them as the next this or that. That's all fine and well, but Helmut Lang was once quoted as saying that it can take a good 10 years for even a talented designer to make a mark. That's may be due to the fact that it takes time to cultivate and consistently get it right in the public eye. This in turn creates a following from buyers and the public alike. That in turn creates sales and growth for the designer and their house.
Pamella Roland busted onto the design scene in 2002 as a designer who make sophisticated dresses that had the appeal of 80's sophistication with the streamlined appeal of the 90's. Add the youthful ease of the new millennium and Roland was instantly heralded as a talented designer on the rise to bring women back to lovely high occasion frocks that they would wear more than once. Her induction into the Council of Fashion Designers of America (CFDA) is only one indication that her philanthropy and entrepreneurial backgrounds made a great pair for her hands-on design savvy. Just ask the A-list celebrities who don her clothing on the red carpet or simply check out the photos below from her spring 2011 presentation.
The Spring 2011 Pamela Rolland collection, inspired by her travels to the majestic beauty and allure of the Greek Isles, was filled with what she does best. Ms. Roland is an American designer and brings her aesthetic to her wonderfully tailored American sportswear and gowns alike. She has a knack for beautiful yet understated prints which she showed on chiffons in fire-burst orange prints that were as sexy as they were sweet.
She definitely turned up her red carpet 'umph' appeal with luminescent silver, black and white sequined and lame gowns and beautifully draped neutral tone ones as well. Her array of nude colored sportswear was an ultimately sell-able collection complete with embroidered cut-out shifts and coat dresses and draped trousers and mini-dresses and in vibrant navies and navy prints.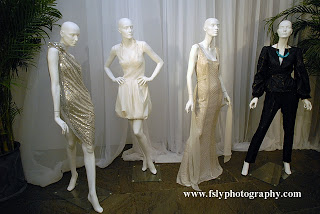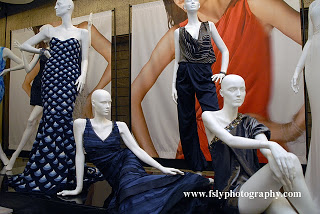 My particular favorite was a full length laser cut tiered navy gown that if I don't see on someone on the red carpet in a few weeks, I'll shout injustice.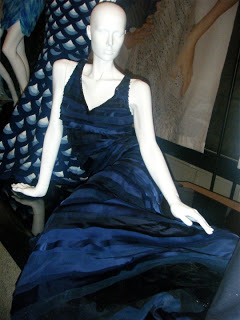 Kudos to Ms. Rolland and her growth as a designer. Her choreographed rise is creating a broader path for her to go in many directions for the continued growth of her collection. Men's maybe, kids maybe? Who knows. However, whatever the direction, expect more gorgeous dresses and for them to not be on the rack very long.
Several celebrities were in attendance to take in Pamella Roland's vision including Hilary Swank, Lori Loughlin, Ramona Singer, Charlotte Ross, Gail Simmons, Denise Richards (not pictured), etc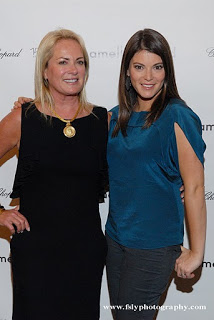 DW
PHOTOS BY GLASGOW SKINNER AND FRED SLY PHOTOGRAPHY