Adidas Originals and Diesel, who originally joined forces to create a special denim collaboration in 2008 has come together again to develop an exclusive Diesel/Adidas Originals sneaker collection: five classic Adidas styles re-designed by Diesel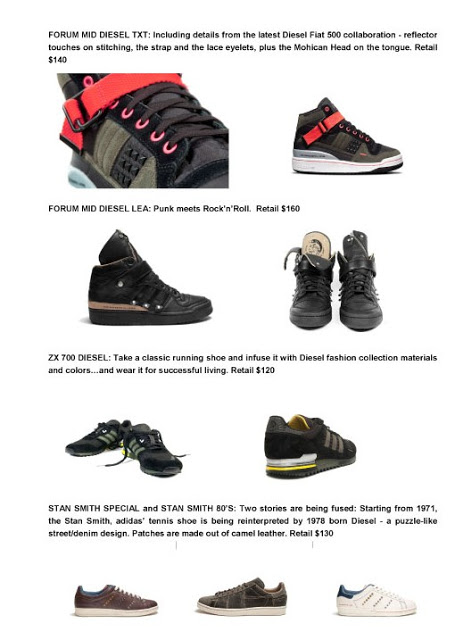 This limited edition footwear series launched January 20th 2011, with only 10,000 pairs available globally. You can also check out diesel.com starting Thursday, January 27th, 2011 to be the first successful owner of one of the 10,000 Diesel/Adidas limited editions.
"Stefano Rosso, responsible for Strategic Brand Alliances of Diesel (and son of the company's founder) says "I am a huge fan of Adidas, they inspire me and they were my myth when I was growing up. After the amazing denim collaboration, when Diesel's know-how was infused by Adidas' spirit, we are now starting a new chapter of the partnership: the heritage of the two brands will come together applying our spirit on Adidas classic kicks!"

Ben Pruess, VP Adidas Originals: "Our two brands continue to share a great relationship built on our mutual respect and admiration for each others business and expertise. Following the recent collaboration in which we used the Diesel expertise in denim to create a new segment for Originals, this new sneaker project allowed us to approach the product creation in reverse. Working together with Diesel always results in a positive sharing of ideas. Their perspective makes for great products and gives us a better understanding on how others would interpret our collection."
The carefully selected iconic Adidas silhouettes build on the inspiration deriving from the combination of the most recognizable and exclusive details from both brands.
Which Diesel/Adidas sneaker is more you? I'm loving the Forum Mid Diesel Lea where Punk meets Rock-n-Roll.