I had the pleasure of attending the grand opening and media tasting event for family-owned, Contorno's Restaurant, a rustic Italian Ristorante and wine cellar on West 31st Street located inside the new boutique Holiday Inn Express just steps away from the Empire State Building and the hustle and bustle of Herald Square. The open layout (with seating for 110) allowed guests ample space to explore and mingle.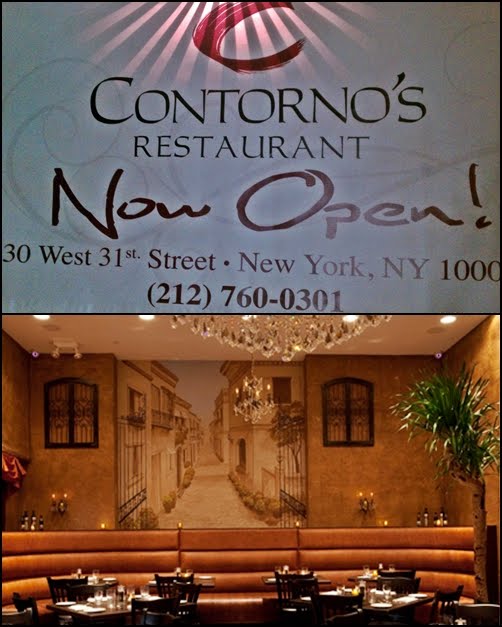 Contorno's is the passion project of the Impagliazzo family, who were looking to introduce NYC to the tastes and feel of their traditional Sunday Family Dinners; a time for family and friends to come together at the dinner table to talk, laugh, and share many small Italian tapas-style dishes of traditional, old world Italian food paired with fine Italian wines. Fellow guests and I enjoyed wine tastings as well as a selection of amazingly delicious "small plate" hors d'oeuvres from the menu developed by executive chef David Buico which included some of the following:
Hand Rolled Ricotta Gnocchi w/ Wild Boar Bolognese & Shaved Dry Ricotta, Gorgonzola and Fresh Honey Comb served on toasted Raisin Walnut Ciabatta, Old fashion Veal Meatballs w/ Chick Pea Puree, Shrimp Al Pancha w/ White Heirloom Beans, Homemade Fettuccine w/ Porcini Mushrooms, Grandma's Homemade Spaghetti, etc. Featured in the photo below are just a few of the must-have entrees available at Contorno's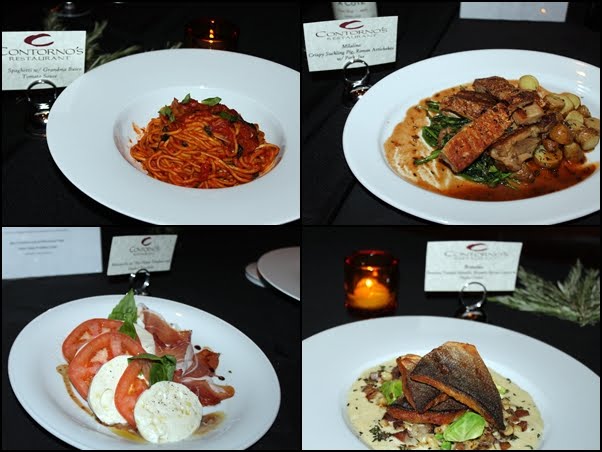 Some of the wines, led by some of Contorno's favorite sommeliers, indulged guests with wines from around the world.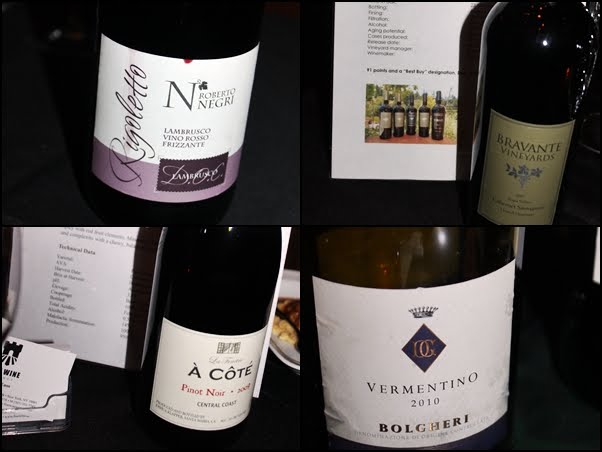 Dessert was heavenly, a wonderfully delicious way to end the savory and hearty meal we experienced at Contorno's, you must experience the below Milk Chocolate & Pistachio Tart and New York Cheese Cake

On February 28th, Contorno's introduced Wine Flight Tuesday's. Each week GM/Sommelier Marta Cisneros will lead customers in sampling a red or white wine flight from a different region, and help them learn about the wine and how to pair it with different dishes. Contorno's also recently introduced a late night bar menu as well as a weekly Happy Hour Special from 4:30pm-6:30pm— all house wine, well drinks and beer are just $5.00
Contorno's Restaurant is located at 30 West 31st Street in New York and is open for dinner seven days a week, Sunday-Thursday, 5 pm-10:30 pm and Friday & Saturday, 5 pm-11:30 pm. Contorno's is also open for lunch and weekend brunch.
For more information about Contorno's, please visit: www.contornosrestaurant.com.