Hey girls, you know I've been raving about
Living Proof's Restore Hair Care
, the collection of hair products that turns back time on your hair and brings it back to its original healthy condition; well, it's time for you to indulge in all these amazing products. To celebrate the launch of the new Restore products, which hits Sephora stores next week, Living Proof will introduce
"The Restore the Love Bus"
, a
Restore Mobile Consultation Station
which will be in NYC for three days to kick off a nationwide Restore 14 Day Hair Challenge. The three day event, and pop-up shop selling Living Proof's full popular collection, will take place this Friday through Sunday. Living Proof Restore will show how you can undo the damage and transform your hair in just two weeks.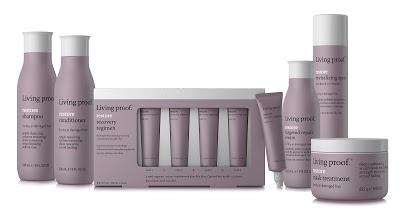 For this station, Living Proof brand ambassador and celebrity hairstylist, Tim Rogers (clients include Blake Lively and Carrie Mulligan) will be giving hair analysis, quick touch-ups, and personalized hair Rx. It's emergency hair repair without the sirens and a jump start to summer by restoring the love for your hair! The events also provide a perfect opportunity for everyone to get their hands on a 14 day trial kit, register for the Restore 14 Day Challenge on Facebook and enter into a sweepstakes to win an all-inclusive, 4-night stay for two at Canyon Ranch in Tucson, Arizona.

To get started, purchase the $29.00 Restore Discovery Kit, which provides a 14 day supply of Restore. Then document your hair's journey by registering for the Restore the Love Challenge on Living Proof's Facebook page. Every day you upload a photo/video/comment on your Restore experience, you will unlock rewards including Sobe Lifewater, discounts for Beyond Yoga and Cosabella, a subscription to Fitness Magazine, a $29 credit on Living Proof.com and of course an entry for the Canyon Ranch giveaway in Tucson, Arizona.
The "Restore the Love Bus" will be located at Sephora in the following locations:
Sephora Soho on Friday, May 18th – 11am to 7pm
Sephora Meatpacking District on Saturday, May 19th – 11am to 7pm
Sephora 86th and Lex on Sunday, May 20th – 10am to 6pm