Normally bloggers and editors get invited to the most coveted fashion shows to view the latest collections that designers send down the runways. Based on what they see, these same bloggers and editors choose what they want to write about and what pieces will make it onto their trend lists. StyleList X NMRKT switched it up a bit and put twenty bloggers and editors into the role of stylist and allowed them to send their own interpretations of what Spring/Summer 2014 might look like down the runway. You can "meet" StyleList's stylists HERE. While style is subjective, I think the chosen twenty did a great job capturing an essence of what spring and summer will look like from a street style perspective. My personal four favorite looks were the following: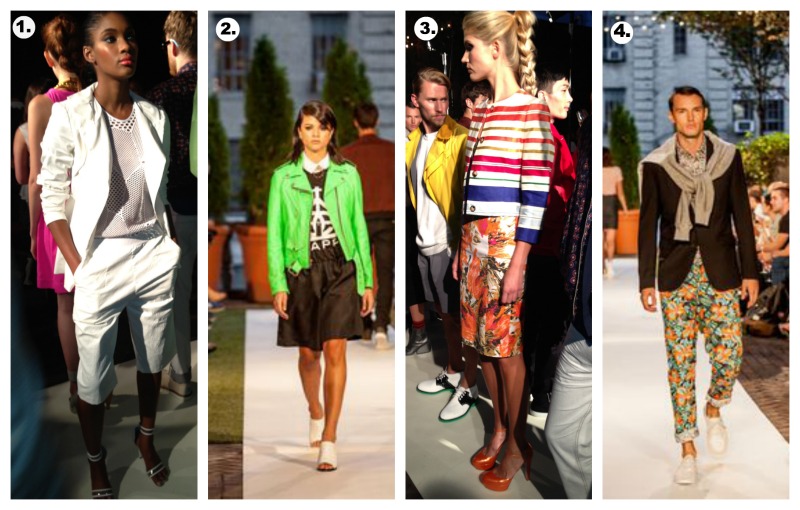 1). Styled by Danielle Bernstein, We Wore What
Tank, Skirt, and Blazer – Kaelen, Shoes – Sol Sana
2). Styled by Hana May, Hearty Magazine
Shorts and Top – Daniella Kallmeyer, Tee – COI NYC, Jacket – MadeMe, Shoes – Sol Sana
Photo Cred: StyleList.com
3). Styled by Emily Jackson. Ivory Lane Dress, Erdem Jacket – Stella McCartney, Shoes – Nicholas Kirkwood.
All available at THEOUTNET.com
4). Styled by Alexander Liang, KENTON Magazine. Clothing – Shades of Grey by Micah Cohen, Shoes – Tretorn
Photo Cred: StyleList.com
To see more of the looks style by industry leaders, check it out on StyleList. What do you think of these looks? Which are your favorites?
***Thanks to Beauty Contributor, Laura A. Floyd of Blush and Beakers for covering the StyleList x NMRKT Spring 2014 Runway Show for My Life on and off the Guest List. Make sure to check out her blog.