Anyone who knows me (or has looked up my Starbucks card order history), knows Chai is my favorite tea. Chai is known as a type of Indian tea, made by boiling the tea leaves with milk, sugar, and cardamom. But did you know Chai actually means tea in Hindi? Which mean when you order a Chai tea, you're actually asking for tea tea….which is a bit funny. Anyway, I love getting creative with my chai, I usually do chocolate chia in the fall and gingerbread chia in the winter and summer it's all about refreshing cold chai drinks. This is why I love the Chai variants from Good Earth, they're not afraid to fuse chai with various fruits, spices and roots to create new exciting flavors. The three Good Earth Chai flavors, whose names I absolutely adore, are featured below:WILD CHAILD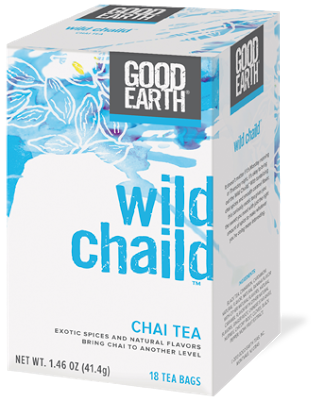 With tantalizing chai spices and smooth caramel flavor, the curiously exotic Wild Chaild gives you the sweet you need with just the right amount of spice to make whatever you're doing more interesting. We love the subtle taste of ginger, nutmeg, cloves, black pepper, and star anise that add to the exotic flavor mix of this bold chai.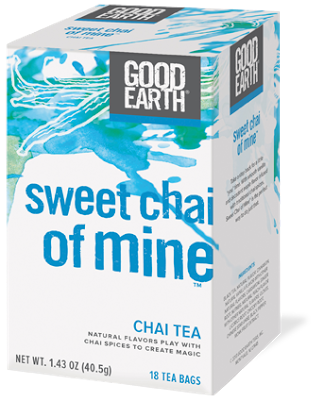 With smooth vanilla and decadent maple flavor infused with traditional chai spices, Sweet Chai of Mine is the perfect way to enjoy some "me" time. Ginger, natural peach flavor, and licorice root are just a few of the ingredients which adds to the smooth and delicious flavor of this tea.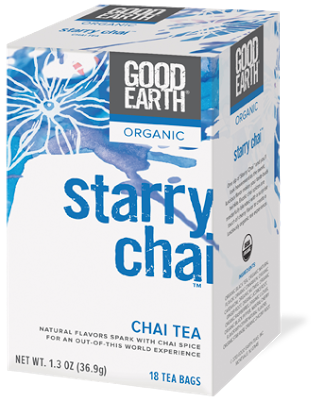 Ready for an amazingly exotic chai that's organic? Featuring organic spices that are masterfully blended with a surprise touch of cherry flavor to create a decadent tea experience, Organic Starry Chai will blow your mind. With its mix of organic raspberries and natural cherry flavor mingling with the likes of organic cinnamon, organic nutmeg, organic ginger root, organic licorice root, and organic black pepper, you are sure to enjoy ethereal moments of elation with every sip.
All three Good Earth Chai flavors are available on their website. A box of Wild Chaild and Sweet Chai of Mine retails for $4.49 each, while Organic Starry Chai is $4.79 each. Each box contains 18 tea bags.