What better topic to follow our Halloween and Day of the Dead cocktail recipe posts than an event that promises a wonderful evening of non-stop cocktail enjoyment. It's almost time again for The Village Voice 3rd Annual Holiday Spirits Cocktail Cruise, a night of  merriment, delicious cocktails, and great entertainment. On Thursday, November 19th, 25+ distilleries, wineries & more from New York City and beyond will come together on The Hornblower Infinity Cruise Ship at Pier 40 @ West Houston Street, from 6:00 pm – 10:00 pm, for an evening of spirit sampling, complimentary dinner, and an evening cruise around Manhattan, the New York Harbor, and Statue of Liberty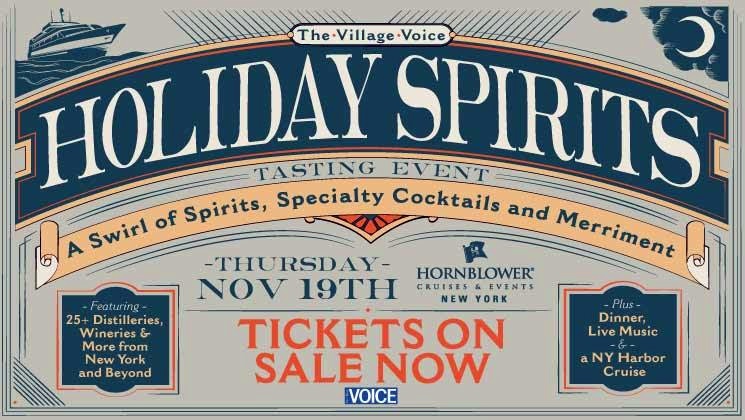 As previously stated, 25+ distilleries, wineries, etc will participate, including Atsby Vermouth, Breuckelen Distilling, Brooklyn Gin, Brooklyn Winery, Jack from Brooklyn, Queens Courage Gin, Port Morris Distillery, Prairie Organic Vodka, Scorpion Mezcal, Tanteo Spirits, Asahi Beer, Barefoot Wine & Bubbly, Barrow's Intense Ginger Liqueur, Denning's Point Distillery, Hood River Distillers, Iron Smoke Whiskey, Kings County Distillery, Prohibition Distillery, Rums of Puerto Rico, Sag Harbor Rum, Tuthilltown Spirits and Van Brunt Stillhouse.
Tickets are on sale now for this innovative tasting experience, with boarding beginning at 6 pm and ending at 7:30 pm sharp, with the ship setting sail for the open waters at 8 pm. As in the previous years, this year's Holiday Spirits features two tiers of ticket options – general admission tickets ($55.00) and VIP tickets ($70.00), which includes unlimited sampling, a souvenir tasting glass, complimentary dinner featuring passed hors d'oeuvres, four food stations featuring pasta, barbecue, Asian fusion and a carving station, plus dessert, coffee & tea and more, along with the Harbor cruise. The VIP ticket will grant access to a private VIP lounge located on the top level of the ship, which includes a private bar, as well as VIP gift bags. For more details on this year's two ticket options, visit: www.villagevoice.com/holidayspirits/2015.
Entertainment will be provided on all three decks, with a live salsa band on the top deck, Rums of Puerto Rico Lounge and DJ sets all night by Tim Martell. Sponsors for Holiday Spirits 2015 include: Rums of Puerto Rico, Asahi Beer, Whole Foods Market, Jarritos, Hood River Distillers, Califia Farms, Zico, Fuerza Bruta, McClure's Pickles, Barefoot Wine & Bubbly, Trip of Love and Green Mountain Energy.
Want a sneak peek at some of the delicious cocktails you will be enjoying while at the event? Check out a sneak peek at the event's drink menu from some of the participating distilleries below:
Atsby Vermouth
Atsby Armadillo Cake Vermouth
Barrow's Intense Ginger Liqueur
Barrow's Intense Ginger Liqueur and Hot Apple Cider
Breuckelen Distilling
77 Hoot Toddy – 77 Whiskey, Owl's Brew The Classic, Served Warm or Chilled
Brooklyn Gin
The Bee's Knees – Brooklyn Gin, Fresh Lemon Juice and Honey Syrup
Brooklyn Winery
2013 Chardonnay – Unoaked and 2012 Cabernet Sauvignon – Sonoma
Iron Smoke Whiskey
Rattlesnake Rosie's Apple Pie – artisan corn whiskey, upstate New York apple cider, cinnamon, vanilla, and brown sugar
Kings County
Moonshine, Bourbon, and Chocolate Whiskey
Port Morris Distillery
The Yacht Club – Pitorro Shine, Quava, Lime & Splash of Pineappple
Scorpion Mezcal
Hot Smokin' Chocolate
Tanteo Tequila
Tanteo Jalapeno Margarita
A portion of proceeds from Holiday Spirits will benefit Lifebeat, the leading national nonprofit dedicated to educating America's youth (13-29) about HIV/AIDS prevention. Lifebeat mobilizes the talents and resources of the music industry to deliver HIV/AIDS and STDs awareness messages through broadcast, print, social and digital media, and distributes educational literature and condoms at concert venues, music festivals, clubs, and other events. Lifebeat also provides quality of life services and support, such as musical performances, for people living with HIV/AIDS and their families. For more information, please visit www.lifebeat.org.