It's officially here, April 15th aka Tax Day. After probably stressing out over getting your taxes done, wondering whether or not you owe or getting a refund, you may need a cocktail. This cocktail can be used to celebrate a refund, drown your sorrows if you owe the government or to just celebrate surviving yet another Tax Day. One great cocktail to turn to is the
Basil Hayden's® Refund Spice, created by Marie Zahn
and made with
Basil Hayden's® Bourbon
. The American-made, Basil Hayden's® Refund Spice, is a modern twist on two classic bourbon cocktails that have been around longer than Tax Day itself. The cocktail combines the spicy, trademark finish of Basil Hayden's Bourbon with sweet honey syrup, tangy raspberry vinegar and tart grapefruit juice to make the perfect cocktail to end the dreaded tax season.
Basil Hayden's® Refund Spice,
created by Marie Zahn (Louisville, KY)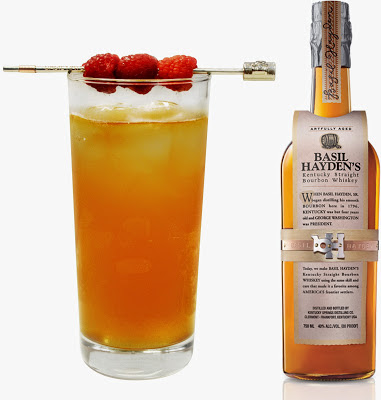 2 parts Basil Hayden's® Bourbon
1 tsp. Honey Syrup*
1 tsp. Raspberry Vinegar
Grapefruit Soda
Add Basil Hayden's® Bourbon, honey syrup and raspberry vinegar over ice in a Collins glass and stir. Top with grapefruit soda. Garnish with a grapefruit peel.


*Honey Syrup Preparation:
1 cup Honey
1 cup Water
In a small saucepan, heat the honey and water.
Stir until fully incorporated, then let cool and refrigerate.
So whether you get a refund or not, just celebrate the fact that this day is almost over. Cheers!