Who says Easter treats only have to just have to taste delicious; they can smell delicious too! If gorging on sweets, tirelessly egg painting, and egg hunting this Easter is not your thing. Why not settle for a relaxing goodie basket filled with skin soothing
Yardley London Bath Bars
in a variety of yummy scents.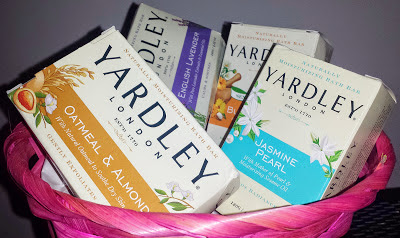 Established in 1770, Yardley London is one of the oldest cosmetics, perfume and toiletry companies in the world; their bars are made with essential oils and skin loving ingredients that help smooth your skin and soothe your mind; their creamy body washes and fragrant shower gels boasts gentle, natural extracts and rich moisturizers that pamper the skin in sumptuous aromatherapeutic pleasure. Their bath bars come in two collections, Botanical Bath Bar Collection, and Premium Bath Bar Collection. Today we highlight scents from the Botanical Collection, including a favorite we grew up with, the Oatmeal & Almond bath bar, a rich, exfoliating bar with enriched with sweet almond and oatmeal.
These sweet-scented bars of cleansing delights come in a total of seven varieties including:
NEW Shea Buttermilk Sensitive Skin

Jasmine Pearl

English Lavender

Oatmeal & Almond

Fresh Aloe & Cucumber

Lemon Verbena

Pomegranate Rose
All varieties are available for $1.49 each at mass retailers nationwide.