You know a fruit spread is amazing when you pass on all breads, crackers, etc and dive right in to the jar with a spoon. That was our immediate reaction the first time we tried the delicious Crofter's Organic fruit Spreads. Crofter's Organic boasts more than 20 certified organic, Non-GMO Project verified spreads,
fair trade cane sugar sweetened Premium Spreads
,
high antioxidant Superfruit spreads
, and
Just Fruit Spreads
, with no added cane sugar made from high-quality ingredients from the best sources on earth. The Ontario-based, family-owned manufacturer, he largest organic jam manufacturer in North America, has been gifting the public with premium fruit spreads for the past 25 years. We had the pleasure of sampling a few of their organic fruit spreads, which we can tell you, didn't last long in our refrigerator.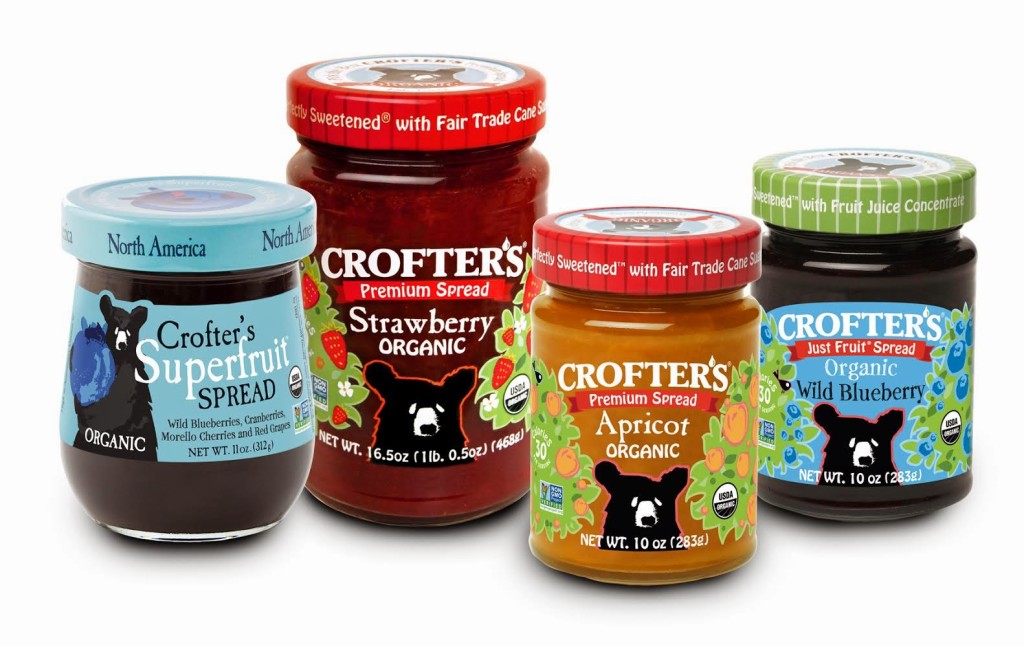 Crofter's Organic offers nutritious spreads that features 1/3 less sugar than traditional preserves, and are free of preservatives. The Premium Spreads come in thirteen varieties, from classics like strawberry, and blueberry to unique and exotic flavors like morello cherry, and mango, and are sweetened with Rainforest Alliance certified organic cane sugar sourced from the Green Cane Project. These premium spreads are available in 10 oz jars, with some flavors in 16.5 oz jars, and are only 30 calories er serving.
The Superfruit Spreads features a delicious blend of four unique superfruit combinations, and ten powerful antioxidants from four continents – Asia, Europe, North America, and South America. Each jar boasts 1 pound of premium organic fruit and is also sweetened with fair trade sugar and contains one-third less sugar than jam. The Asia blend features yumberries, raspberries, morello cherries, and red grapes; the Europe blend features pomegranates, black currants blended with red grapes, and morello cherries; the North America blend features wild cranberries, wild blueberries blended with red grapes, and morello cherries; and the South America blend features maqui berries, passionfruit blended with red grapes, and morello cherries. The Superfruit spreads are available in 11 oz jars and are only 30 calories per serving.
Last but not least, the Just Fruit Spreads are available in eight varieties – Apricot, Black Currant, Blackberry, Raspberry, Seville Orange, Strawberry, Superfruit (red grape, morello cherry, açai berries, and pomegranate), and Wild Blueberry. They are made with 100% fruit ingredients, and sweetened by concentrated organic grape juice, sourced from an Italian winemaker. These all-fruit spreads will wow you with their delicious taste, texture, and spreadability, although as previously stated, you say be enjoying with a spoon and may not care about spreadability. Like the Premium Spreads, the Just Fruit Spreads are also available in 10 oz jars and only 30 calories per serving.