With Thanksgiving happening this week, we have one thing on our minds: FOOD! The star of the Thanksgiving dinner is of course, the turkey. We have great news: The well known
Shady Brook Farms
and
Honeysuckle White
have been working with over 700 independent farmers to bring you fresh, whole bird turkeys raised without growth promoting hormones antibiotics – at an affordable price! Shady Brook Farms and Honeysuckle White believe that everyone should have access to healthy, organic food that hasn't been pumped with chemicals and hormones.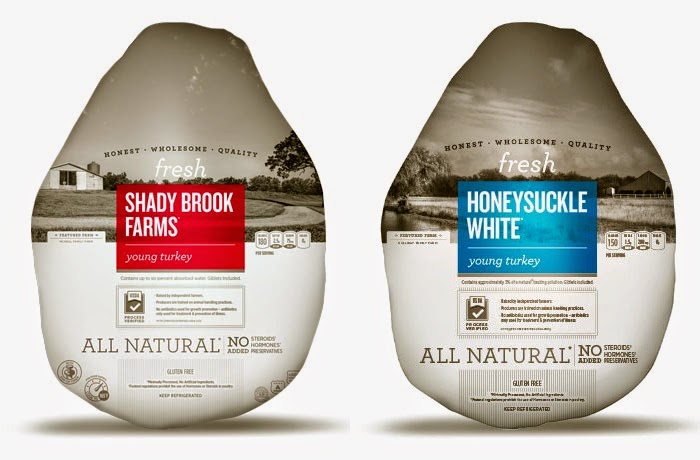 Look out for this packaging at your local grocery store when turkey shopping!

This is huge and amazing news – they are the first major turkey brands to implement this change on such a large scale. By buying a turkey this year from these brands, you can take a step in the right direction toward healthy and organic eating this Thanksgiving. We had the chance to sample this Gluten-free, MSG-free turkey from Shady Brook Farms and it is superbly delicious!
Now you can feel a little better about stuffing yourself on turkey day, because your turkey will be hormone antibiotic free! Living in a time where we barely know where our food comes from and how the animals that we consume are raised, Shady Brook Farms and Honeysuckle White taking the initiative to give us turkey that is raised the healthy way is a breath of fresh air. You can look forward to even more turkey products without growth promoting antibiotics soon, because they will be removed from all turkeys by 2015. With Shady Brook Farms and Honeysuckle White, you can be sure that you are serving your loved ones something that not only tastes great, but is great for them.