Is there anything better than the deep-fried and sweet mounds of yumminess that are doughnuts? If there ever was a sweet treat to be celebrated, it is doughnuts. It's impossible to dislike them, and thankfully we got to properly celebrate the dessert! In honor of this very important desert food, acclaimed mixologist Adam Seger hosts Drunken Doughnuts at The Tuck Room NYC, the newest hotspot located in New York's South Street Seaport EVERY Thursday evening. The months' old bar (it's just a little over 6 months old) is lively and intimate all at once. We had the pleasure of partaking in this amazing blend of confectionery and cocktail heaven just in time for National Doughnut Day.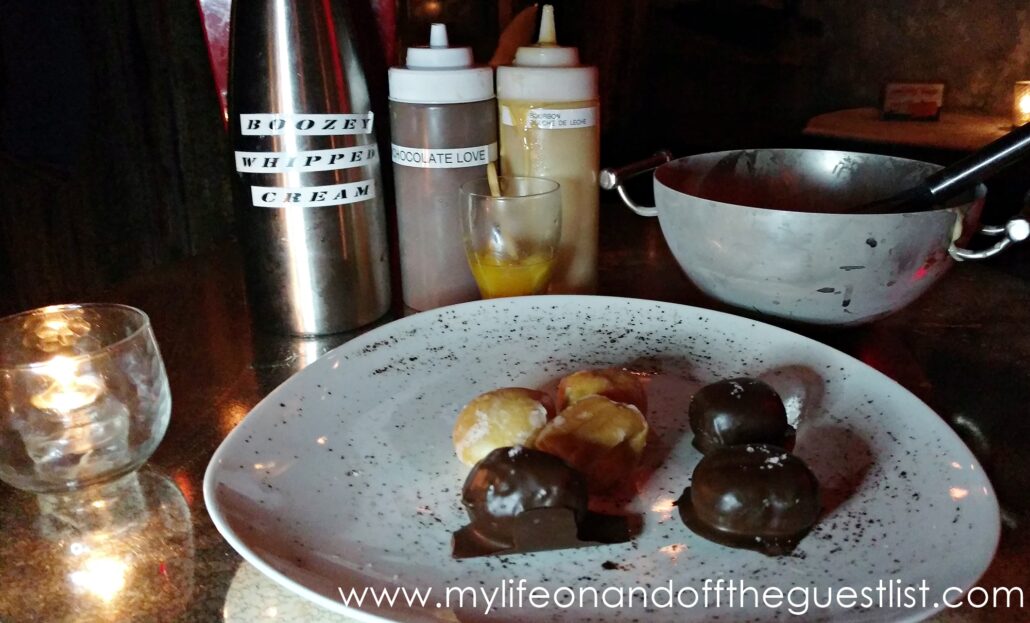 These alcohol-infused, bite-sized doughnuts bring new meaning to the term Amuse-bouche because your mouth (along with your taste buds and stomachs) will be so happy once they indulge in these boozy doughnut holes. Our night's indulgence included two types of doughnut holes, Old-fashioned Glazed, and Double Valrhona Fleur de Sel (chocolate covered holes topped with sea salt). What makes these doughnuts "drunken" are the accompanying boozy sauces and sides including the decadent Bourbon Dulce de Leche Sauce, Boyd & Blair 151 Vodka Cardamom Whipped Cream, Pimm's Spiked Mango, Pineapple, Habanero Marmalade, Dark Rum & Cognac Chocolate Sauce, and last but certainly not least, a boozy Cereal Milk Ice Cream.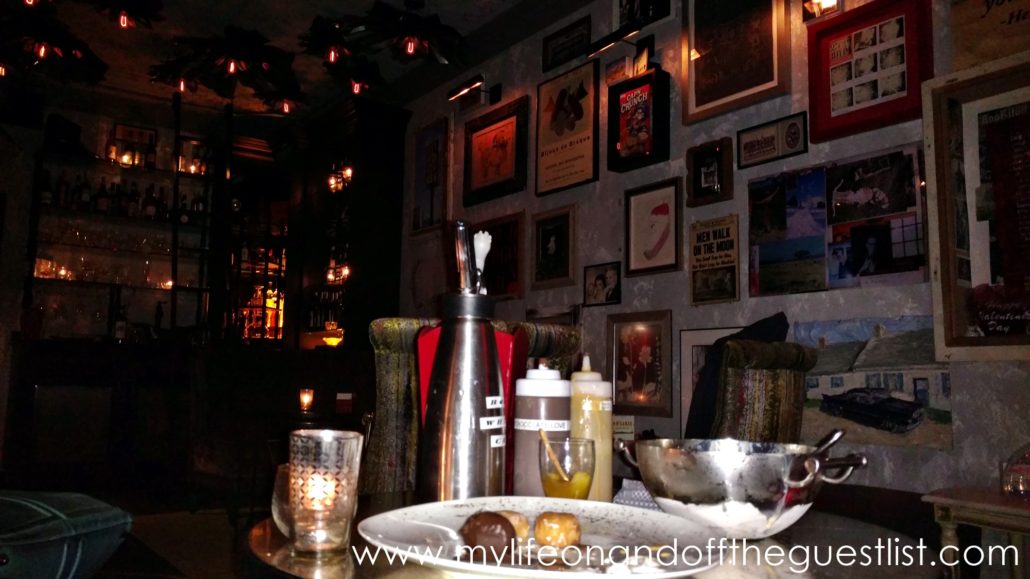 Fair warning to those of you who will no doubt enjoy this experience, these boozy sauces, and sides do not have "essence of alcohol" or "flavored with alcohol", these are made with full on booze, you can definitely get tipsy off this experience. The whipped cream and marmalade by themselves are enough to knock you off your sober feet. To experience Drunken Doughnuts at The Tuck Room NYC, you're escorted to a secret room behind a bookcase called the Green Room, a dimly lit hidden enclave few will notice if not paying attention.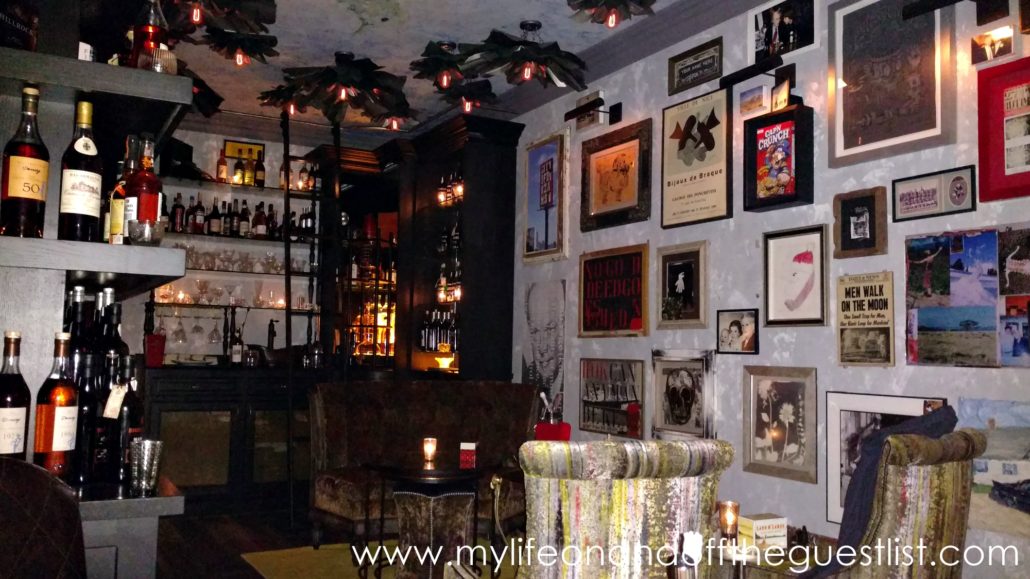 Surrounded by bottles of alcohol, walls filled with photos of iconic, framed photos, and a vast library of infused spirits curated by Master Bartender and Advanced Sommelier Adam Seger, created with The Tuck Room's Heizenberg machine, you and your guests will greatly enjoy this modern speakeasy's secret room.
All this was enjoyed at the end of this adventurous evening. Our evening of Drunken Doughnuts at The Tuck Room NYC begun with some very interesting and amazing Heizenberg infused cocktails. We decided to go with whatever cocktails were placed in from of us by the wonderful and attentive bar staff, Adam called it "Autopilot".

The cocktails we enjoyed included the DrinkupNY, consisting of Balsam Magnolia Blossom Oolong New York Aperitif Wine, Perrier, and lemon; a modern interpretation of a Sidecar, featuring an infusion of Luxe Pierre Ferrand, California Nectarines, Nutmeg, and Sage with a float of Prosecco on top; a libation inspired by an English cocktail with Ginger bitters, Chartreuse, Cognac, and Fresh Lemon Juice; and a cocktail infused with Tequila, Fresh Cherries, Pomegranate, and lime. Since man can't live by cocktails alone, we dined on wonderful starters by James Beard Award-winning chef Sherry Yard.
REUBEN CROQUETTES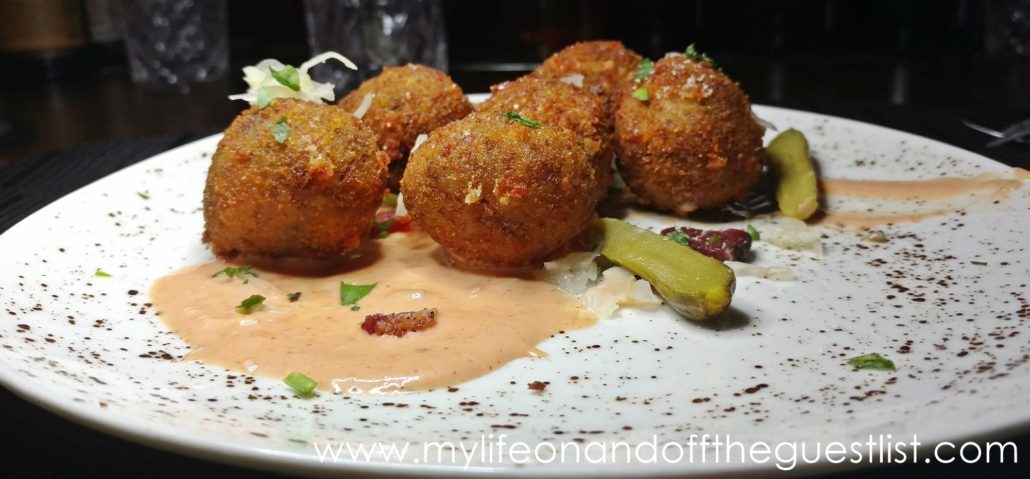 These savory balls of yumminess were the perfect foodie delights to begin our culinary journey with The Tuck Room NYC. Each bit is filled with delicious crispy pastrami, swiss cheese, sauerkraut, and sits upon a "thousand island" sauce.
BRIOCHE CRUSTED CRAB CAKES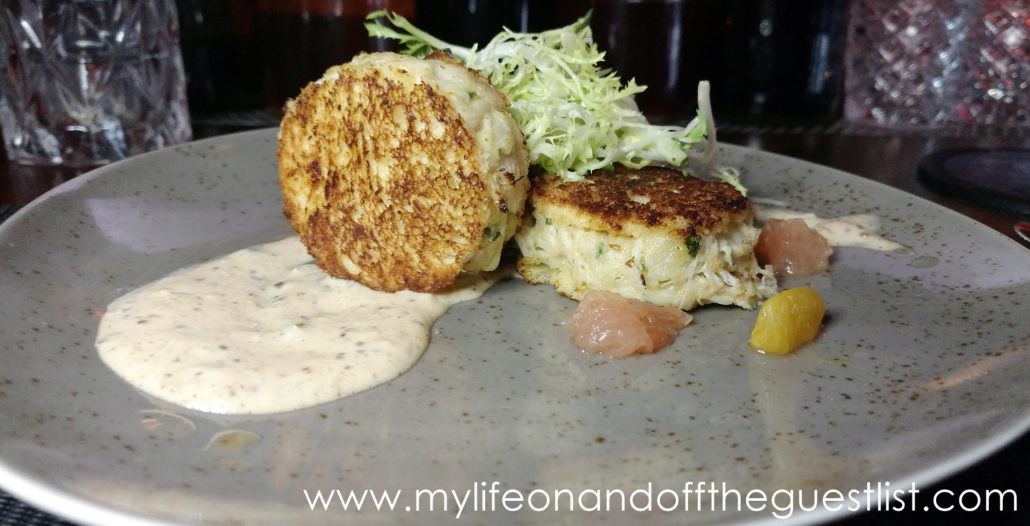 Just when I thought I'd tasted heaven with the Rueben Croquettes, the crab cakes, which featured Old Bay Remoulade, Frisée + Citrus Salad, and Yuzu Vinaigrette took that feeling to another level.
SPICED + SWEET PORK BELLY WRAPS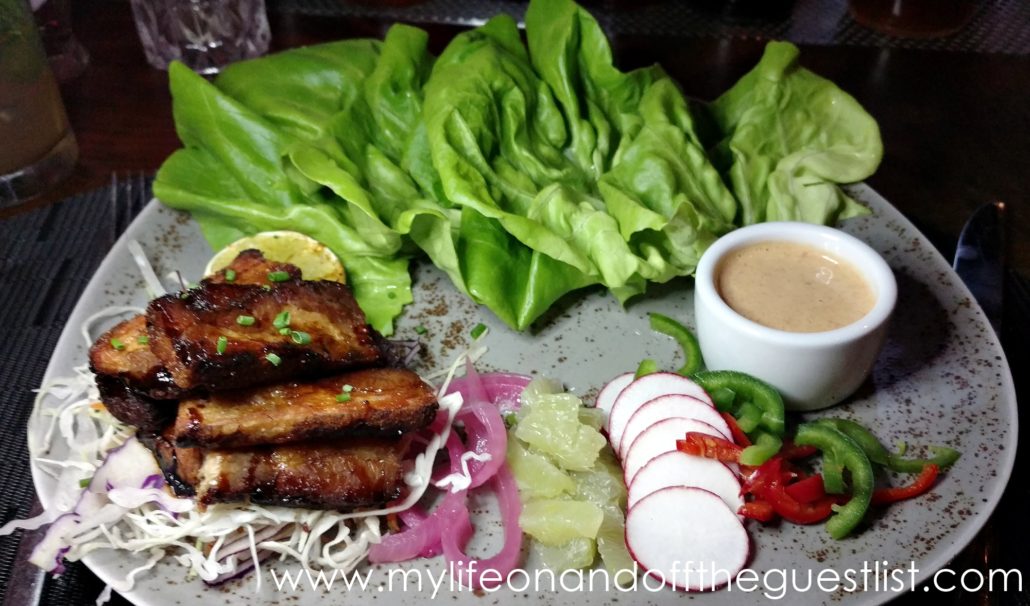 Last but not least on the foodie adventure before our sweet tooth journey begun was the above pork belly wraps featuring Butter Lettuce, Nuoc Cham Caramel, Limes, Radishes, Jalapeño, Fresno Chile Aioli, and Cilantro.
All this was enjoyed while sitting at the bar, listening to what could only be called as the perfect classic bar music, as episodes of BarTales (the new single-city documentary series featuring Dale DeGroff, Gaz Regan, Adam Seger, and David Wondrich) plays on the flat screen directly above. This entire evening felt like we crossed something off our bucket list. We promise you will enjoy everything about Drunken Doughnuts at The Tuck Room. So if you're looking for an amazingly delicious and intoxicating foodie experience, head over to the South Street Seaport and indulge in a night of Drunken Doughnuts at The Tuck Room NYC.
https://mylifeonandofftheguestlist.com/wp-content/uploads/2017/06/Drunken_Doughnuts_at_The_Tuck_Room_www.mylifeonandofftheguestlist.com_.jpg
1210
2000
Glasgow Skinner
https://mylifeonandofftheguestlist.com/wp-content/uploads/2020/07/Webp.net-resizeimage-1030x151.jpg
Glasgow Skinner
2017-06-05 01:08:41
2017-06-05 01:08:41
National Doughnut Day with Drunken Doughnuts at The Tuck Room NYC