As you can probably tell by all the tweets, Instagram, and Facebook posts, New York Fashion Week is upon us. This is the season where we give up our lives for a week or so to worship the Spring collections of the fashion gods, and would-be gods (shout out to the upcoming designers). As you can imagine, the strenuous activity of running all over New York from show location to show location in heels (and this unbearable heat) can take a toll on one's skin, body, hair, etc. This is why we're so looking forward to some pampering during the upcoming Spa Week, October 12th – 18th, which can't get here soon enough. Are you ready for the Spa Week $50 Treatments?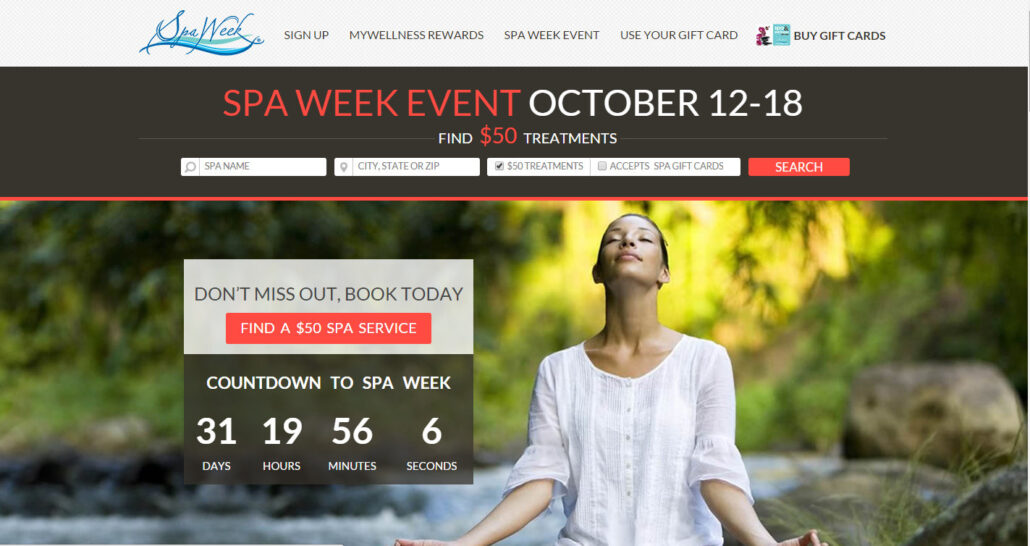 Spa Week has been around for eleven years, so we're pretty sure you are familiar with it, but just in case you're not, here's a little insight: Spa week is a week-long event that happens twice a year and offers some of the most indulgent spa treatments, from facials to massages, hair removal, waxing, and so on, for only $50 each.  Every April and October, hundreds of spa and wellness locations across the US provide two to three full-service spa treatments at this wonderfully low price. This limited time discounted rate offers everyone access to luxurious pampering that they possibly couldn't afford at their regular rate. This is the perfect time to treat yourself or a loved one to a few hours of pampering. A Spa Week treatment makes a wonderful gift for anyone without destroying your budget.
With thousands of spa & wellness facilities nationwide, finding a spa near you is easy. Log on to the Spa Week website to search for $50 spa treatments using your city and state or zip code, book an appointment for your favorite Spa Week $50 treatments online at www.SpaWeek.com, or by calling your spa of choice, go in for your appt, and enjoy your treatment…it's that easy. You may find yourself taking advantage and booking more than one treatment. At this low price, that's a wise decision. Once we're done with New York Fashion Week, we may need a massage, pedicure, and facial; the fact that we can get all three for less than the price of a great facial is amazing in itself.
So take it from us, you don't want to miss out. We highly recommend you take full advantage of this week of affordable decadence, your body, mind and spirit will thank you; so book your appointments now! We're really looking forward to these treatments and can't wait to indulge. Are you looking forward to Spa week? What Spa Week $50 treatments would you get?