Once again thanks to Academy of Art University, we know the future of fashion is in good hands. Eight student designers showcased their Spring 2016 collections during New York Fashion Week at the Academy of Art Spring 2016 Show. Six collections were presented: four womenswear, and two menswear. Since we only highlight women's fashion on My Life on (and off) the Guest List, we're focusing on the following designer collection: Max Lu & Jingci Jessie Wang, Liz Li & Bom Kim (our favorite), Mehzad Hemati, and Wenhan Yuan.
Liz Li & Bom Kim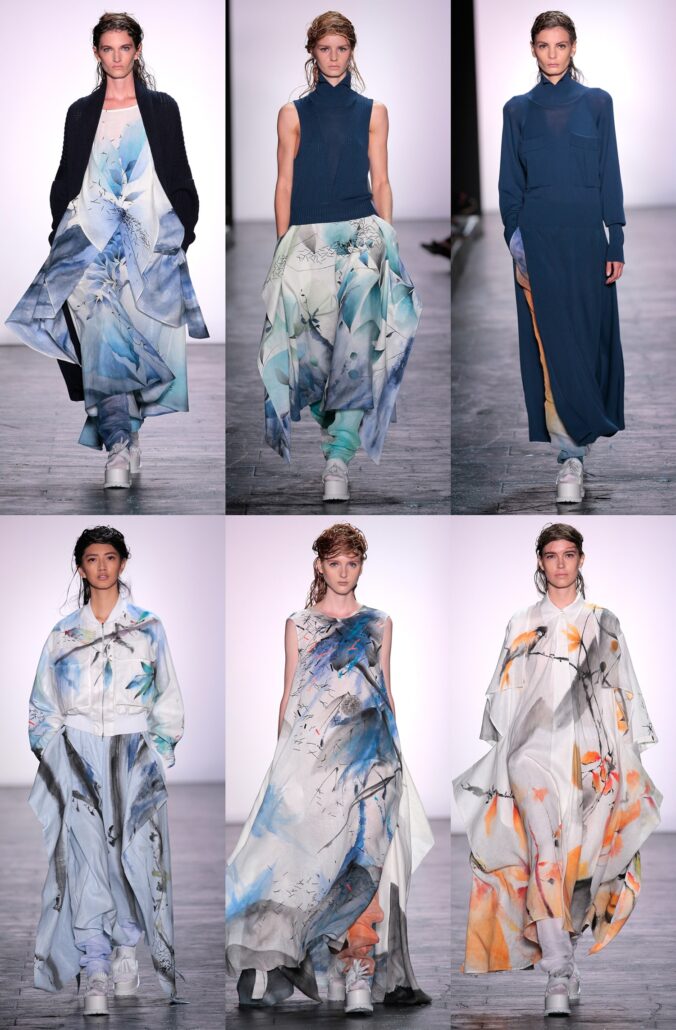 From its stunning fluidity, to its enthralling prints, fashion designer Liz Li and knitwear designer Bom Kim captivated everyone with their airy, yet sculptural collection. The eight-piece collection features 40's inspired A-line silhouettes, embroidery, custom knitwear we're craving (raise your hand if you're also dying for that cardigan, and long knit dress), traditional Chinese painting, and abstract artwork. With a color palette that celebrates the changing of the season on hand-painted gauze fabrics, we're hoping these two continue to work together to create more of these stunning pieces.
Mehzad Hemati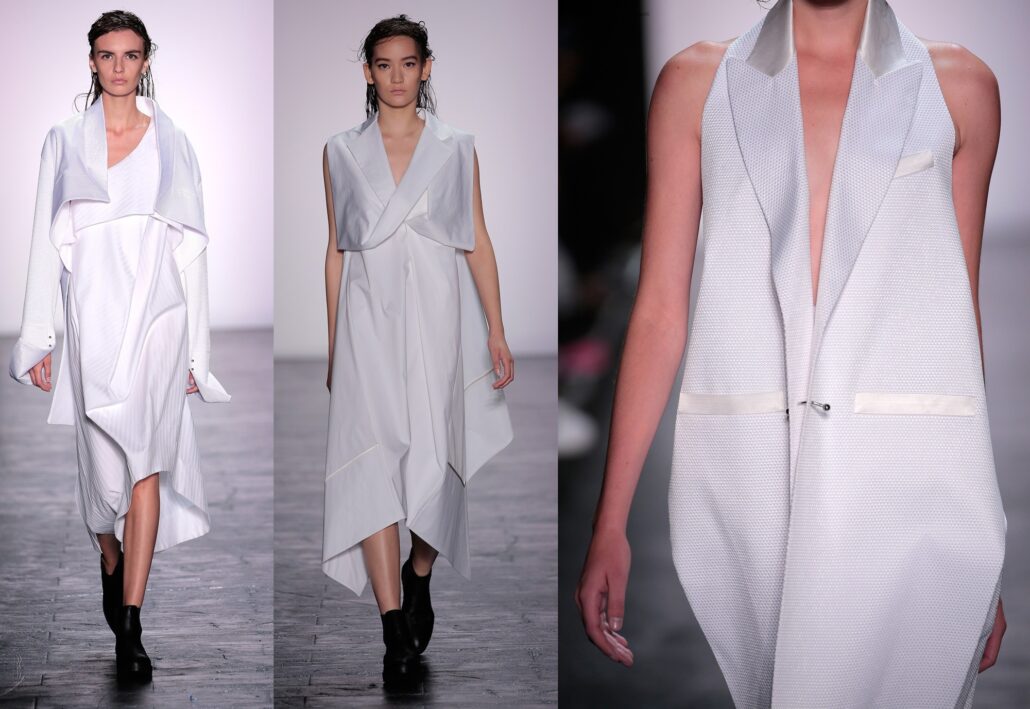 Another favorite of ours, this crisp, all white collection from Tehran designer, Mehzad Hemati, boasts edgy flair in everything from silhouettes to details. The collection blurred gender lines and lots of menswear elements were incorporated into the collection: sharp lines and tailoring, tails (seen on a sleeveless tuxedo jacket paired with pants), we especially loved the tuxedo jacket lapels on the sleeveless, asymmetrical looks. The collection featured the following fabrications:  cotton, silk charmeuse, duchess satin, and organza in all white as previously stated, which was a great backdrop for her use of the custom closures, which are made to look like body piercing jewelry.
Max Lu & Jingci Jessie Wang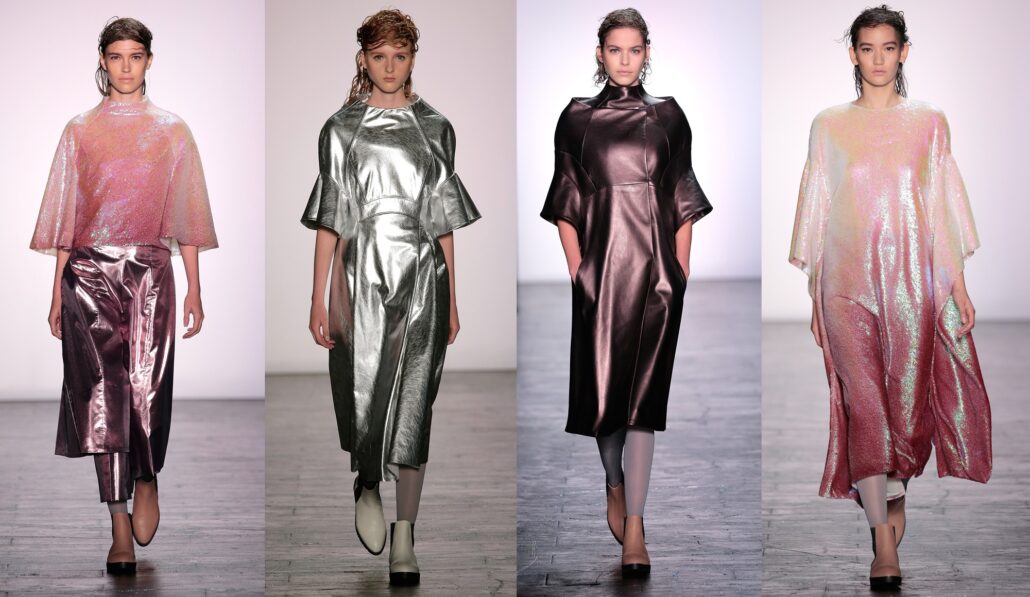 Ever had a dream that you couldn't quite capture where everything us blurred and foggy? Fashion designers Max Lu, and Jingci Jessie Wang has manifested that experience into their debut collection. With the use of materials such as metallic, leathers, sequins, and lame in dreamy, psychedelic hues, combining the hard and soft fabrics, 50's-inspired silhouettes with an edgy, and modern style. We've always shared our love of pink, so the looks featuring that color stood out more for us. Favorites include the mermaid Sequined top with lame pants (first look in the above photo) and the flowy, mermaid Sequined Dress (last look).
Wenhan Yuan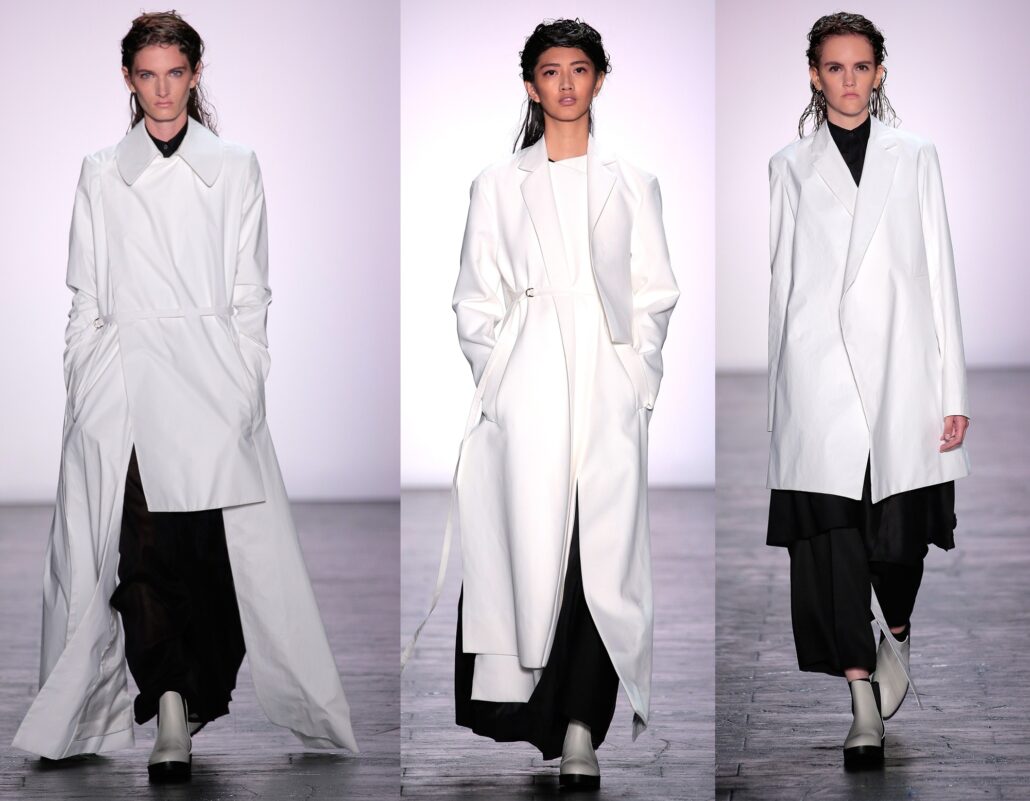 Menswear inspirations continue on with the last Academy of Art designer collection at NYFW the shows. For fashion designer Wenham Yuan, this mean showcasing the sensuality of women in men's clothing. Her black and white collection (with a touch of cement grey), featured bold layering, waist aprons, and a fresh style that evokes the way a woman looks wearing an over-sized menswear item, in such materials as cotton, suit fabrics, and paper textured fabrics.
What are your thoughts on these fashion looks from the Academy of Art Spring 2016 Show? Any favorites?
PHOTOS PROVIDED BY NYFW THE SHOWS