Did you know you don't have to wait until October to help support the BCRF in helping to raise awareness and continue to find a cure for Breast Cancer? While we all hope you know you can make monetary donations any time of the year, not many people know there are lots of brands that have BCRF products available to purchase either year' round or months in advance. Today we're happy to share some of those BCA products with you across all the markets – fashion, beauty, accessories, fitness, home, etc. If you love shopping or just love great products, we're here to help you shop for the cause. You're left feeling great and in possession of some amazing BCA products.
Alex and Ani Spiral Sun Expandable Charm Bangle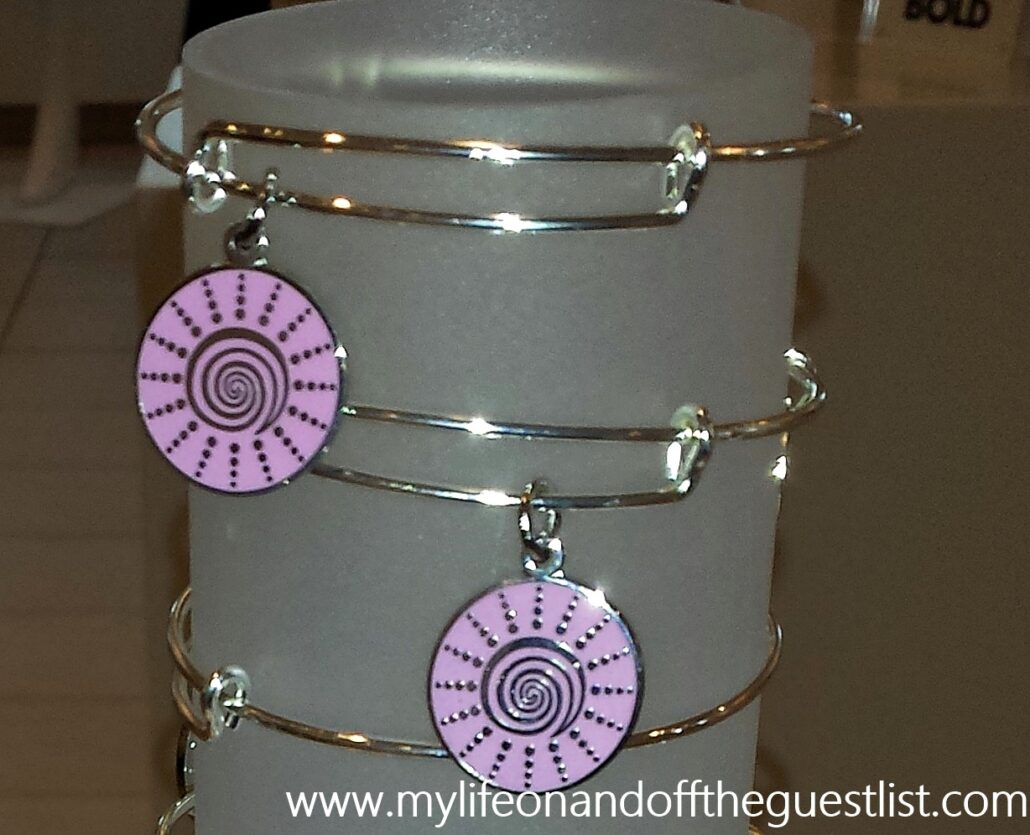 We love Alex and Ani and are proud owners of one of their signature bracelets. To support the cause, they present this signature Expandable Wire Bangle in yellow gold, and silver finishes boasting a pink spiral charm. The bracelet retails for $38.00, with 20% of the purchase price from each Spiral Sun Charm sold, going to the BCRF, with a minimum donation of $25,000. Get it now at Alex and Ani retail locations, www.alexandani.com, and authorized retailers.
LF Stores BCRF T-Shirt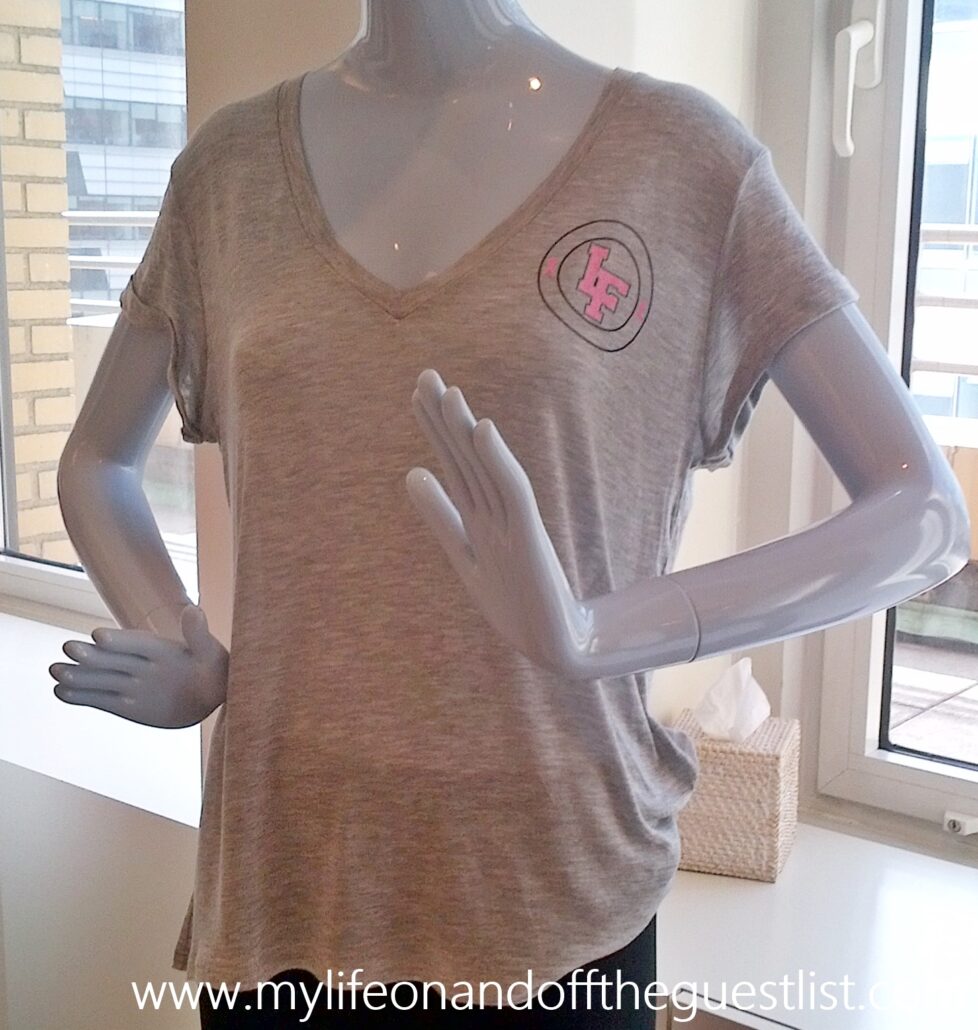 The comfortable v-neck BCRF T-shirt retails for $88.00 with 100% of the purchase price being donated to BCRF. It is available at LF Stores year-round. In addition, LF store has in-store events held throughout the year that also benefit BCRF. For more information, visit www.lfstores.com.
With You Lockets BCRF Product Collection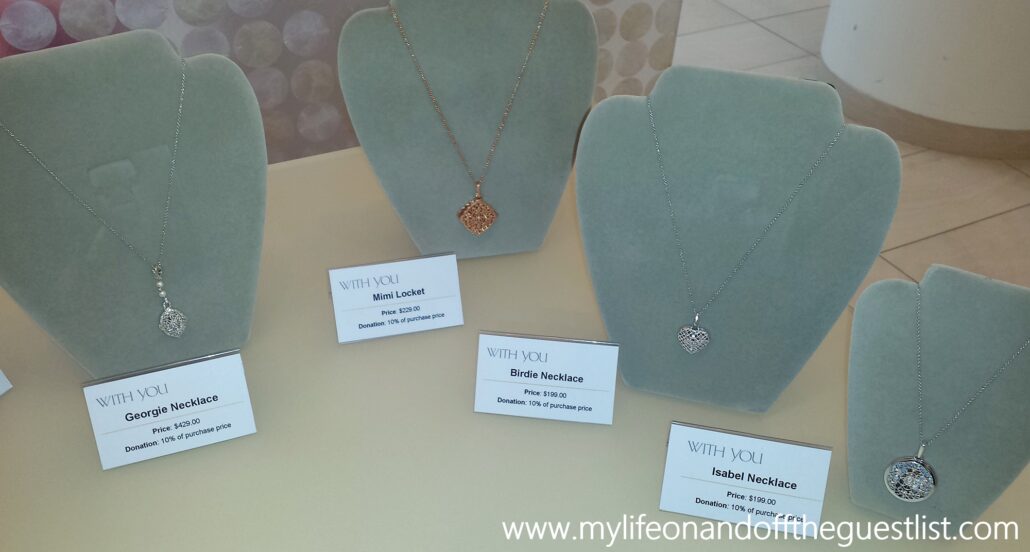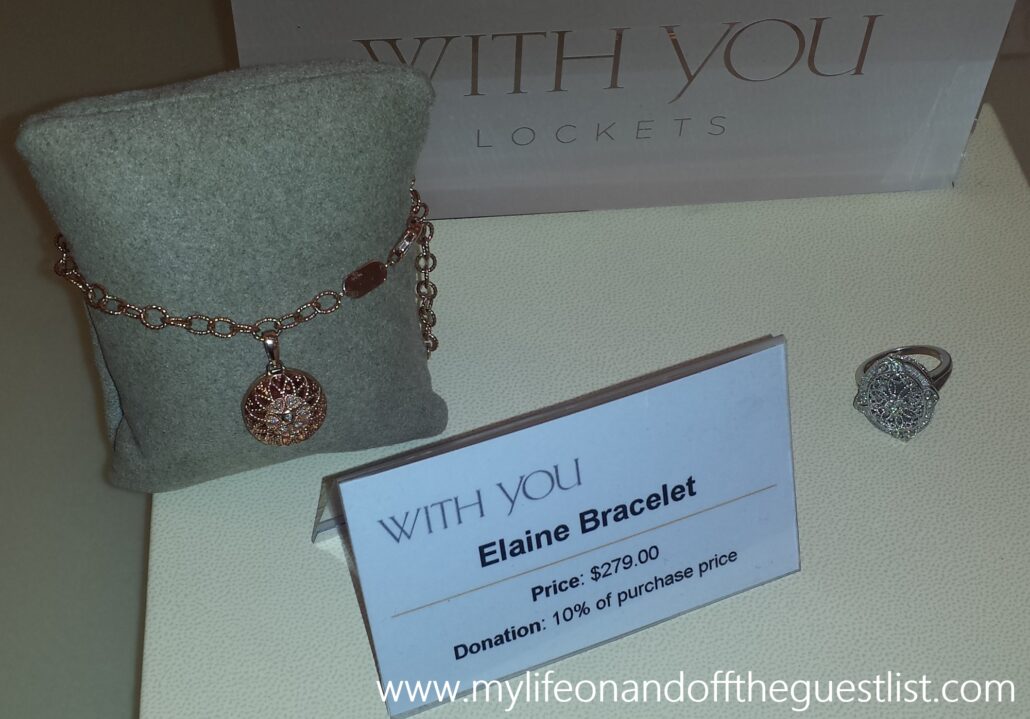 You will love the stunning customizable collection of modern lockets from With You. The range of jewelry is inspired by the simple idea carrying your most cherished relationships and memories with you at all times. The With You/BCRF Product Collection of beautifully designed lockets includes the following: Georgie Necklace, Georgie Ring, Birdie Necklace, Isabel Necklace, Elaine Necklace, Elaine Bracelet, and Mimi Necklace, which ranges in price from $199.00 – $429.00. 10% of the purchase price of any of the With YouBCRF jewelry is donated to BCRF. Get to know these items today at www.withyoulockets.com.
Dooney & Bourke MLB Pink Ribbon Zip Top Shopper
Ladies, if you're a baseball fan, a fan of stylish bags, and want to support this wonderful cause, the Dooney & Bourke MLB Zip Top Shopper is for you. The stylish but practical tote is made of a coated cotton fabric that's imprinted with your favorite baseball team logo, and it is trimmed with natural bridle leather. Each bag is adorned with a chic enameled pink ribbon charm and hot pink nylon lining. The bags became available for purchase on 5/1/16 and will continue while supplies last. Each bag retails for $268.00 with 20% of the purchase price going to BCRF. Get more details on www.dooney.com.
Everlast Pink Collection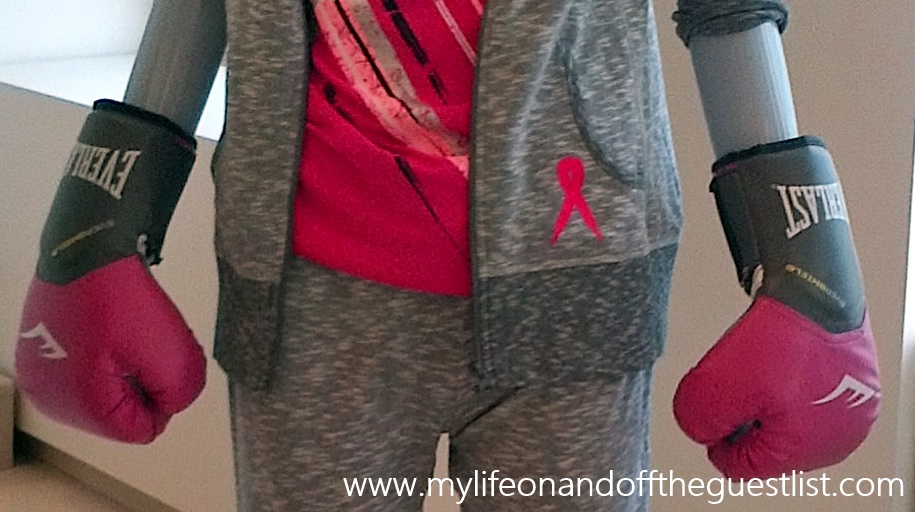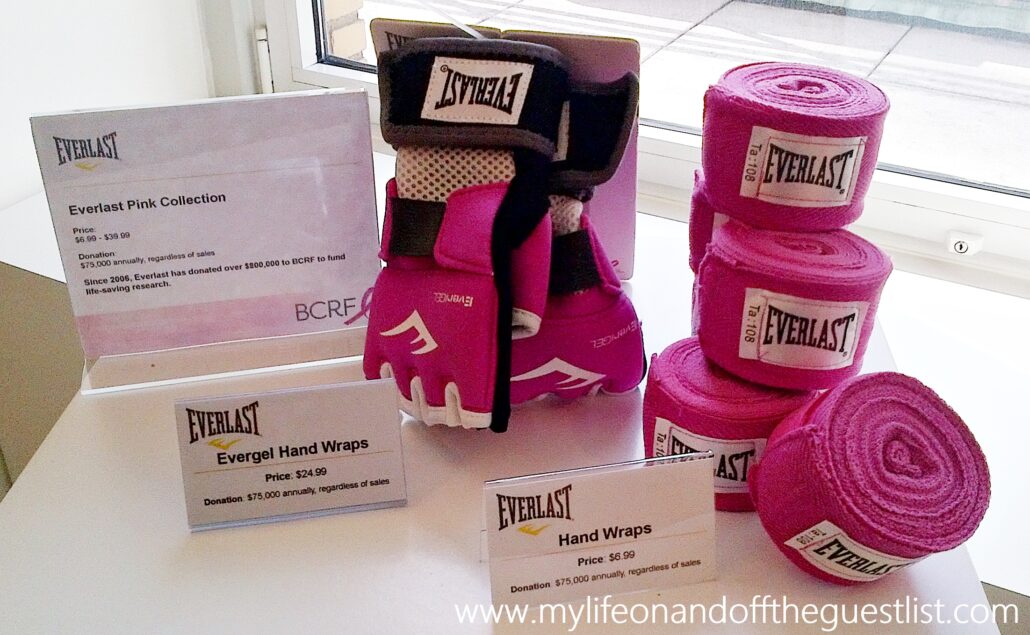 Want to fight for the cause while you KO your opponent? Check out this trio of products from Everlast. Their Pro Style Elite Training Gloves, $39.99, are durable, breathable and comfortable, perfect for heavy bag work, mitt work, and sparring. The Evergel Hand Wraps, $24.99, help dissipate impact energy, protects your knuckles, and can be used under gloves or alone for speed bag and shadowboxing workouts. The 108" Hand Wraps, $6.99, are machine-washable, provide wrist support, and can be used under gloves or alone for speed bag and shadowboxing workouts. Everlast makes a donation $75,000 annually to BCRF, regardless of sales. Get these now at www.everlast.com.
TYR Pink Collection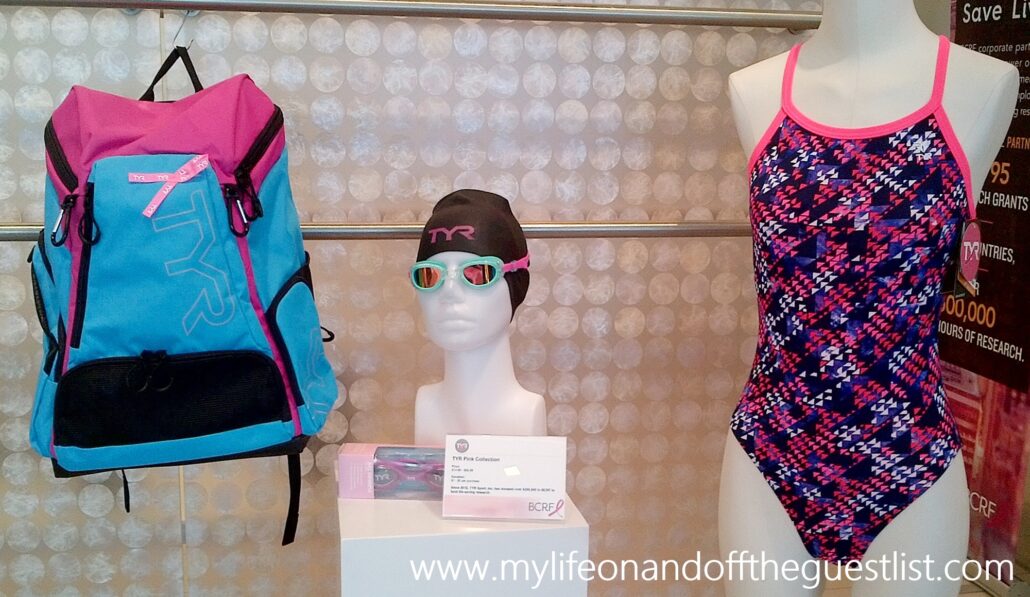 Swim fans will love the TYR Pink Collection. The famed swim brand features swimwear and swim accessories that help support the cause. The TYR Pink Xenon Diamondfit Swimsuit, $59.99 is constructed with 100% Polyester, provides 300+ hours of performance, is 100% chlorine-proof, 100% colorfast, and ensures UPF 50+ protection. The TYR Pink Special Ops 2.0 Femme Polarized, $29.99 is designed for triathlon, the open water, and training. They provide clarity, precision, and comfort by filtering out 99.9% of the surface glare that causes eye fatigue. The TYR Pink Big Swimple Tie Dye Goggles, $14.99 is equipped with durable, hypoallergenic Silicone gaskets that provide a comfortable, watertight seal. Featuring a simple and secure release button for quick strap adjustment. The TYR Pink Alliance 30L Backpack, $49.99, is a lightweight, durable and water resistant space-saving backpack with a protective compartment for electronics. The 30L backpack maximizes storage without adding bulk. TYR will donate $1 – $5 per purchase to BCRF on the above items. Get these and more on www.tyr.com, and at select retailers.
Wilson Sporting Goods Hope Tennis Balls
The Wilson Hope Tennis Balls help provide excellent performance on all court types and provide a great way to support the cause while keeping fit. Each 3-ball container retails for $3.99 each. Wilson donates to BCRF $250,000 annually, regardless of sales. For more information on these BCA products, head over to www.wilson.com.
Apollo Tools Pink Tool Kits and Garden Tools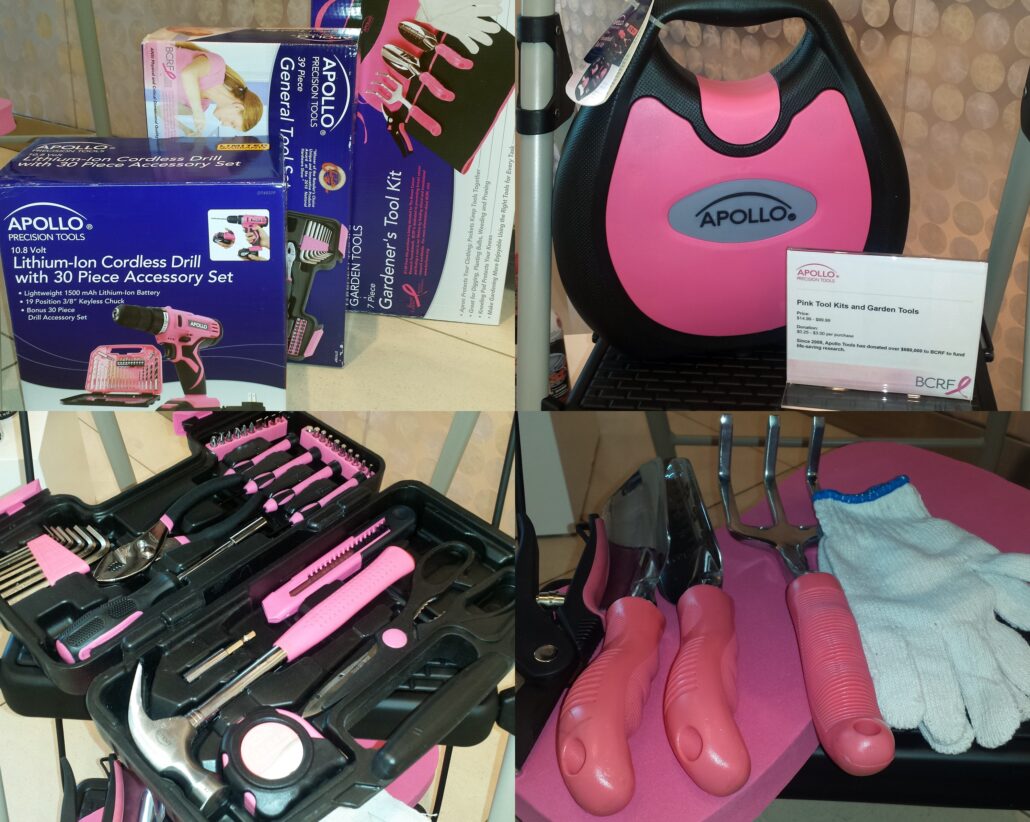 Fancy yourself a handy woman? Grab hold of the power of pink with Apollo Tools. The home and garden tool company proudly support BCRF and the do-it-yourselfer with a full line of pink tools and pink gardening tools. The pink kits make wonderful gifts for all occasions and come in handy no matter your need. They come in easy-to-carry storage cases and most come with a full Lifetime Warranty. The toolkits range in price from $14.99 – $99.99, with $0.25 – $3.00 from every purchase going to BCRF. Get the Apollo Tools at Target stores, www.target.com, Meijer stores, Ace Hardware, www.amazon.com, www.homedepot.com, www.apollotools.com, and www.bcrfcure.org.
Comfort Revolution BCRF Pink Cooling Gel Pillow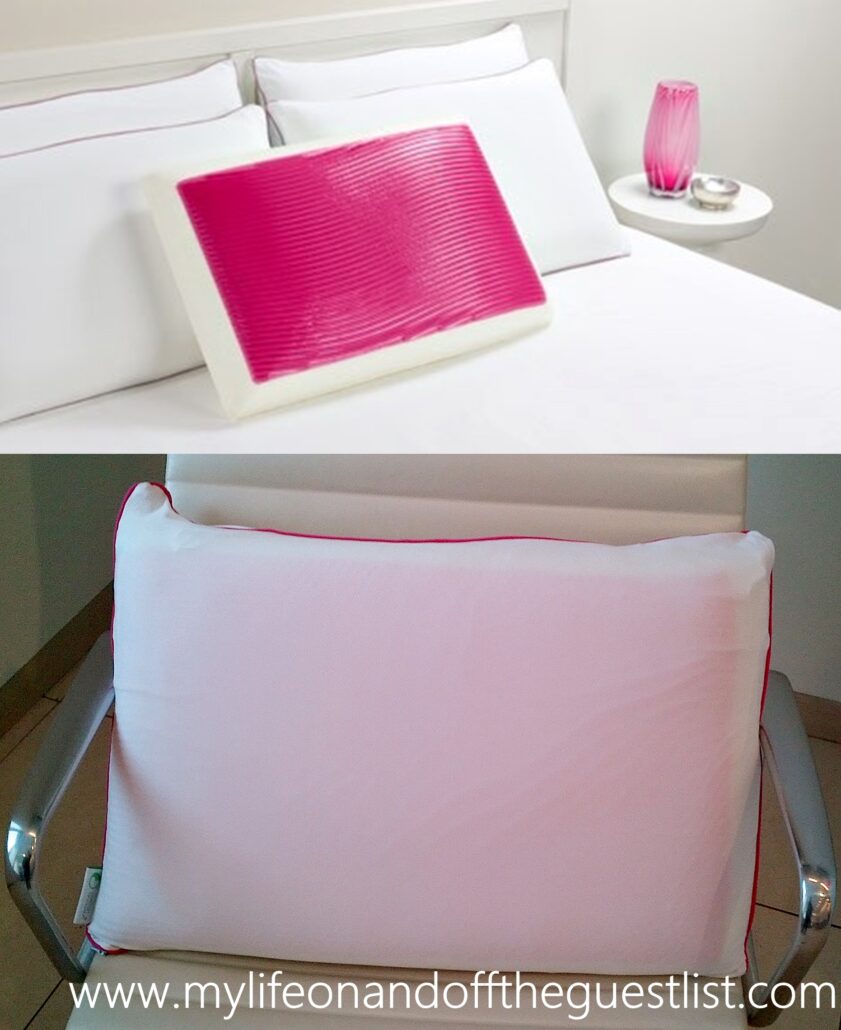 For those of you who perspire while sleeping, the Comfort Revolution BCRF Pink Cooling Gel Pillow is the answer to your dreams. Boasting premium memory foam and exclusive Cooling Gel technology, this revolutionary pillow if the solution to temperature-perfect sleep. The cooling gel layer enhances circulation for a refreshing night 's sleep, while memory foam cradles your head and neck for full muscle relaxation. The Breast Cancer Awareness Pink Cooling Gel and Memory Foam Pillow is designed with pink bubbles – a BCRF exclusive and retails for $160.00 with $5 from every purchase going to BCRF. Get it now at www.jcpenney.com.
Cool Gear Water Bottles
Stay cool during the hot summer days with these not-so-ordinary Cool Gear Water Bottles. Available in two styles: 16 oz BCRF coolgearcan in 3 exclusive designs, and the 28 oz BCRF water bottle with EZ-Freeze freezer stick, you'll have no problem staying hydrated and cool. The 16 oz BCRF coolgearcan is a BPA-free, double-wall insulated "can" that keeps drinks colder, longer. It boasts a  spill-proof slider lid, twist off cap for easy filling and cleaning, and is top shelf dishwasher safe. The 28 oz BCRF water bottle is made from BPA-free Tritan, features a non-toxic EZ-Freeze freezer gel stick to keeps drinks colder, longer, a sipper cap with straw, and built-in finger loop for carrying. The bottles range in price from $9.99 – $10.99 with 10% of the purchase price going to BCRF. Grab your favorite design at www.shop.coolgearinc.com.
O2COOL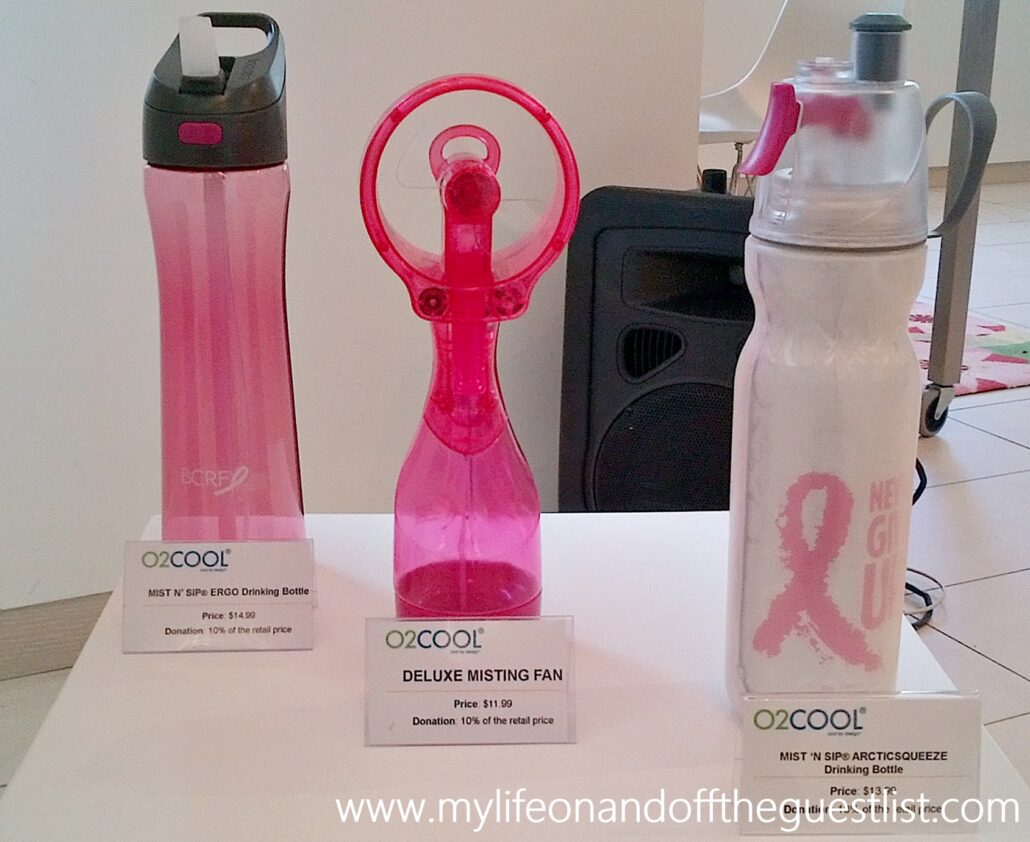 Continuing the hydration, here are some more hydration products from O2COOL. These innovative O2COOL BCRF products include two of their patented Mist 'N Sip water bottles, the Arcticsqueeze. and the Ergo Drinking Bottles. These are not just water bottles, they are water bottles that keep you cool and hydrated. The third item is their iconic patented Deluxe Misting Fan, an essential item for staying cool during these hot summer days. Look for these BCA products now and help support this great cause. The bottles range in price from $11.99 – $14.99 with 10% of the purchase price going to BCRF. They're available now at www.o2-cool.com/breast-cancer.
Cuisinart Pink Product Collection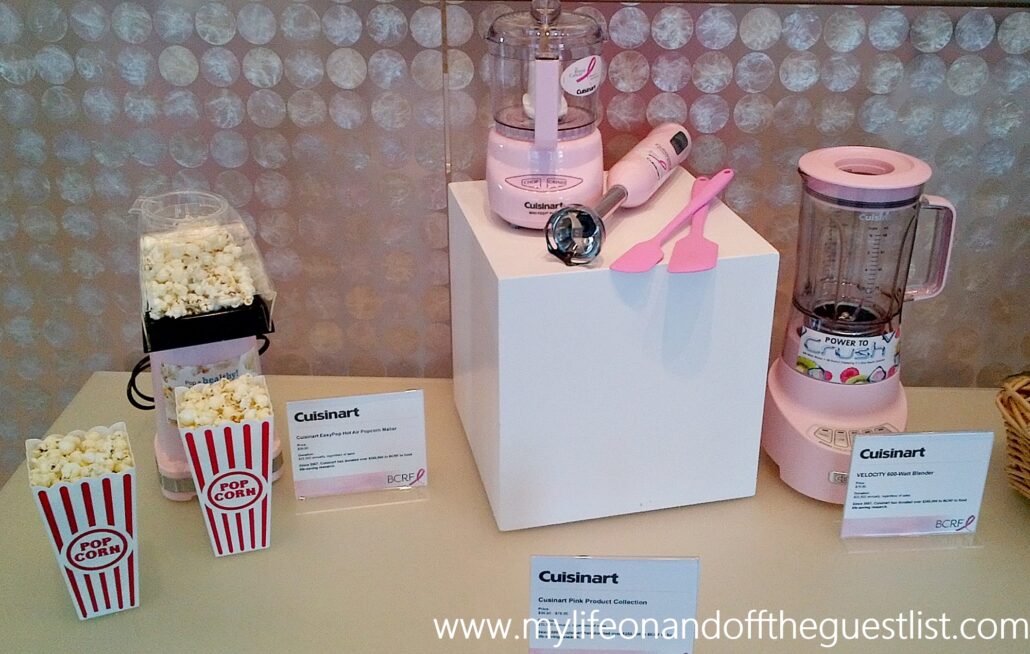 Love to cook? Stay with the knowledge that every time you create something delicious in the kitchen, you've helped get us closer to a cure. Cuisinart is proud to partner with the Breast Cancer Research Foundation on the Cuisinart Pink Product Collection, which includes the EasyPop Hot Air Popcorn Maker, $39.95, Velocity 600-Watt Blender, $79.95, and the Frozen Yogurt, Ice Cream, & Sorbet Maker, $59.95. By purchasing these and more pink products, you're helping Cuisinart to continue to donate $32,500 to BCRF annually, regardless of sales. All are available year-round at www.cuisinart.com.
Rabbit Air MinusA2 Ultra Quiet HEPA Air Purifier BCRF Special Edition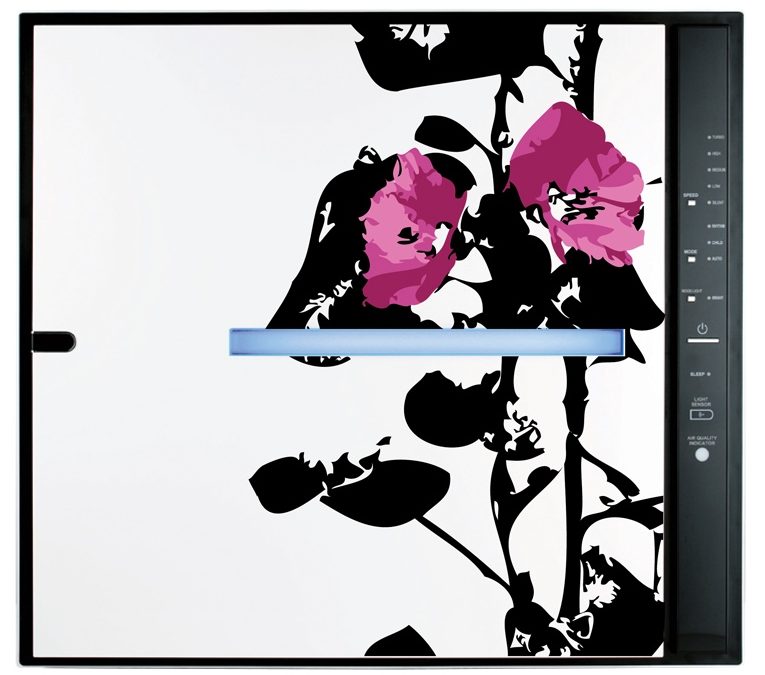 As modern day humans, we've taken to spending more time indoors, especially on days when the weather is at extremes. The problem is, indoor air can become unhealthy. This is where home products like the Rabbit Air MinusA2 Ultra Quiet HEPA Air Purifier BCRF Special Edition works its magic. The stylish air purifier is an ultra-quiet, wall-mountable HEPAair purifier is not only lovely to look at, it offers six stages of filtration, including deodorization and a customized filter to alleviate specific sensitivities. It comes with a five-year warranty and lifetime 24/7 tech support included in its $479.95 (for model SPA-700A), and $569.95 (for model SPA-780A) price tag with 5% of the purchase price going to BCRF. It's available now, while supplies last at www.rabbitair.com.
Koi Scrubs Kathryn Top in Camelia and Bridgette in Heavenly Wings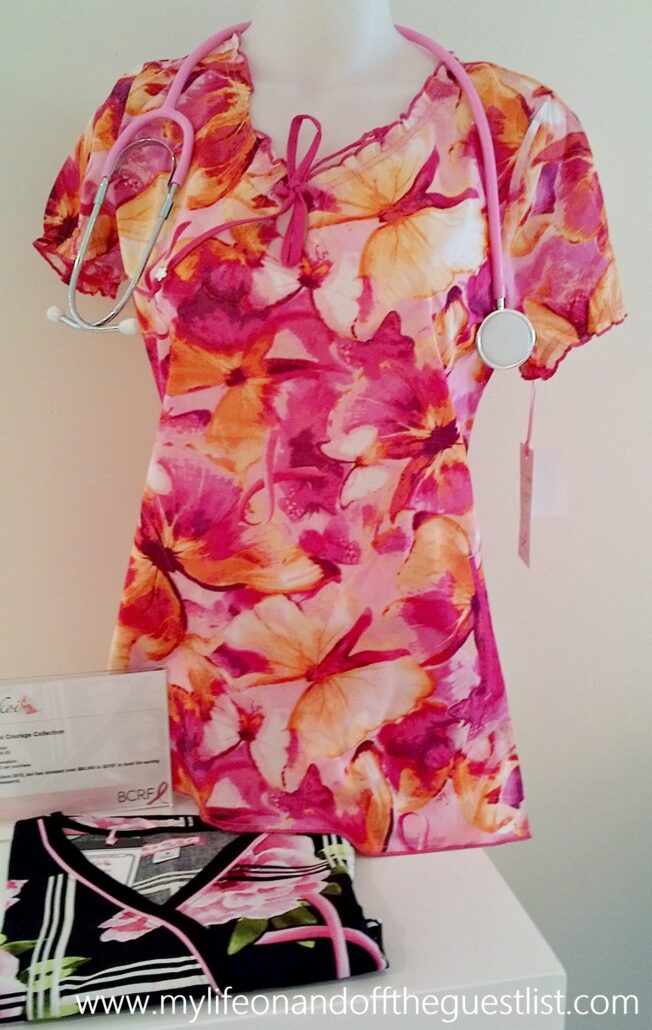 Nurses already do so much for Breast Cancer survivors ad we know they'd love the chance to do some more. Koi Scrubs is giving them the chance ith their koi Courage Collection. They welcomed their Kathryn top, and Bridgette top last month, both $28.00, to support BCA efforts, at authorized koi retailers with retail locations, online retailers, and koihappiness.com. For every Kathryn top and Bridgette top sold, koi Scrubs will donate $2.00 to BCRF. To find the koi retailer nearest you, visit www.koihappiness.com/store-locator.
Officemate BCRF Awareness Office Products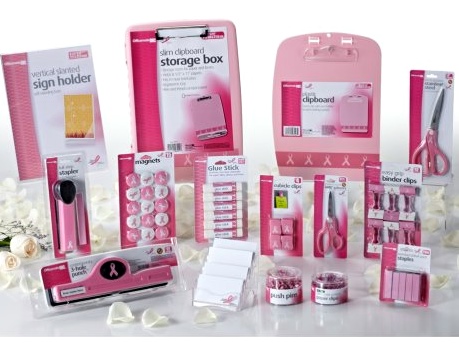 Make your work life an extra meaningful one with these amazing BCA products from Officemate. With everything from clipboard storage, clips, scissors, hole punch, stapling glue sticks, and card & sign holders.  All of the Officemate BCA products range in price from $3.95 – $16.95, and are available now with $0.10 – $0.50 from the sale going to the BCRF. Help support the cause with these products from Amazon, Office Depot, Staples, www.officemate.com, and other retail locations
Will you help join the fight by shopping for the cause? To see even more products you can purchase now, visit www.bcrfcure.org today.