As the saying goes, "I scream, you scream, we all scream for ice cream", and we've been screaming for the decadent San Bernardo Italian Escapes Ice Cream flavors since winter. Since Mother Nature has finally realized we're in the warmer months, we can finally sing the praises of (and keep cool with) the sinfully delicious, and utterly indulgent range of San Bernardo Italian Escapes Ice Cream pints, commanded by Owner and President, Jonathan Tammara. The family owned San Bernardo Ice Cream has been in business for over 40 years by the same family and offers signature flavors created with natural flavors and the finest ingredients from around the world.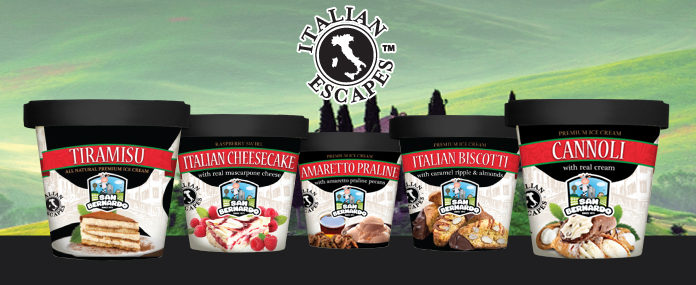 We were first introduced to San Bernardo Italian Escapes Ice Cream last winter, not the best season to enjoy frozen treats, but we survived thanks to the tropical heat setting in our apt. That's a very different story now that we're experiencing 90+ degree days. The San Bernardo Italian Escapes Ice Cream pints are available in seven delicious flavors: Amaretto Praline Pecan, Biscotti, Cannoli, Italian Cheesecake with Raspberry Swirl, New York Style Cheesecake, Spumoni, and Tiramisu. These most famous Italian ice creams flavors are made with only natural, quality ingredients for a pure, creamy and delicious ice cream experience. It is quite difficult to select a favorite, and every time you think you have one, the next flavor blows you away. Like their other "escape" ice cream collections, the San Bernardo Italian Escapes Ice Creams contain no artificial flavors, no artificial colors, and no high fructose corn syrup.
Amaretto Praline Pecan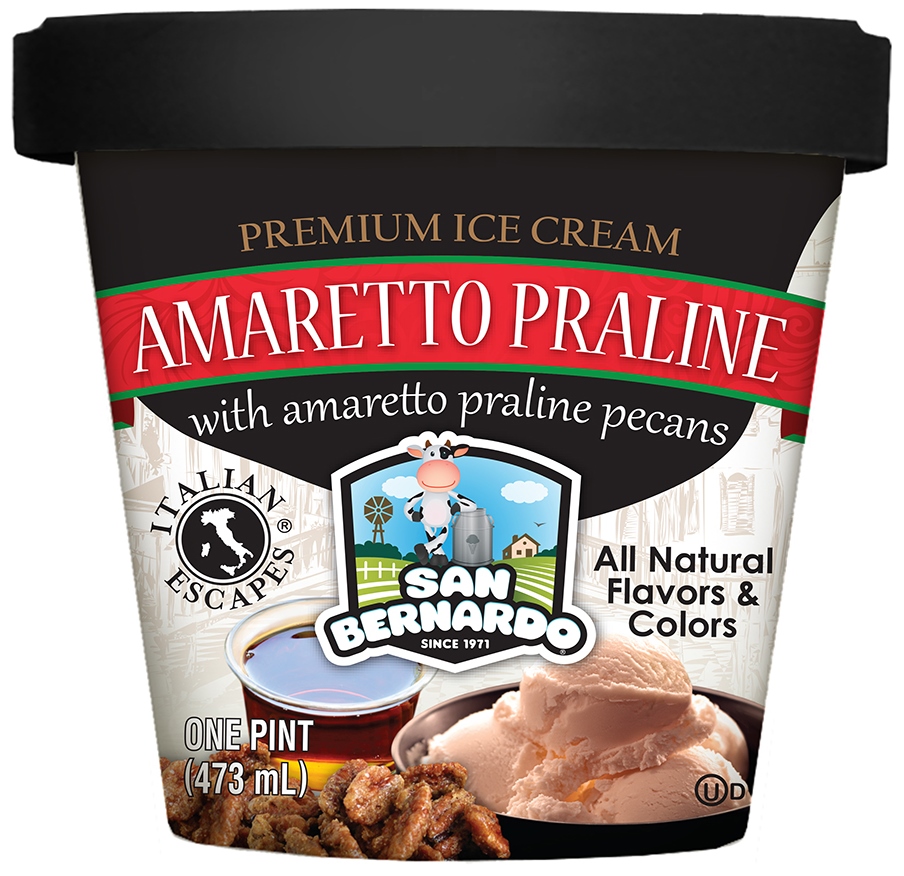 The ultimate old-world indulgence, a rich amaretto ice cream filled with crunchy, sugar-covered pecans.
Italian Biscotti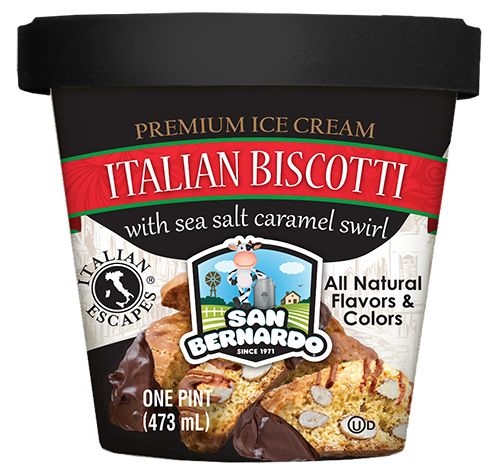 An all-time Italian favorite transformed into a creamy frozen treat. It boasts biscotti ice cream with a vanilla base, with a dash of almond and finished up with almond slivers, chocolate-covered biscotti pieces, and a thick caramel sea salt swirl.
Cannoli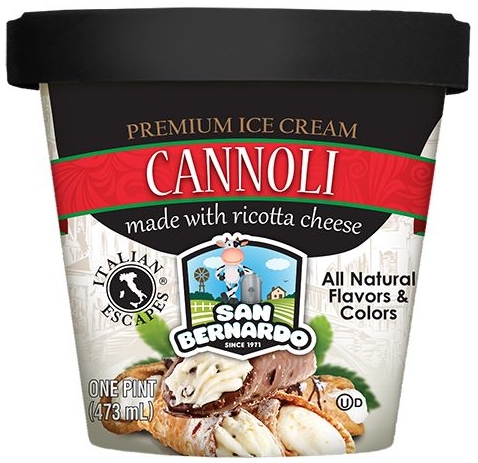 Even better than you remembered it. Painstakingly crafted with ricotta cheese and blended with pieces of chocolate-covered cannoli shell, this cannoli ice cream evokes the warmth of an authentic Italian kitchen.
Italian Cheesecake with Raspberry Swirl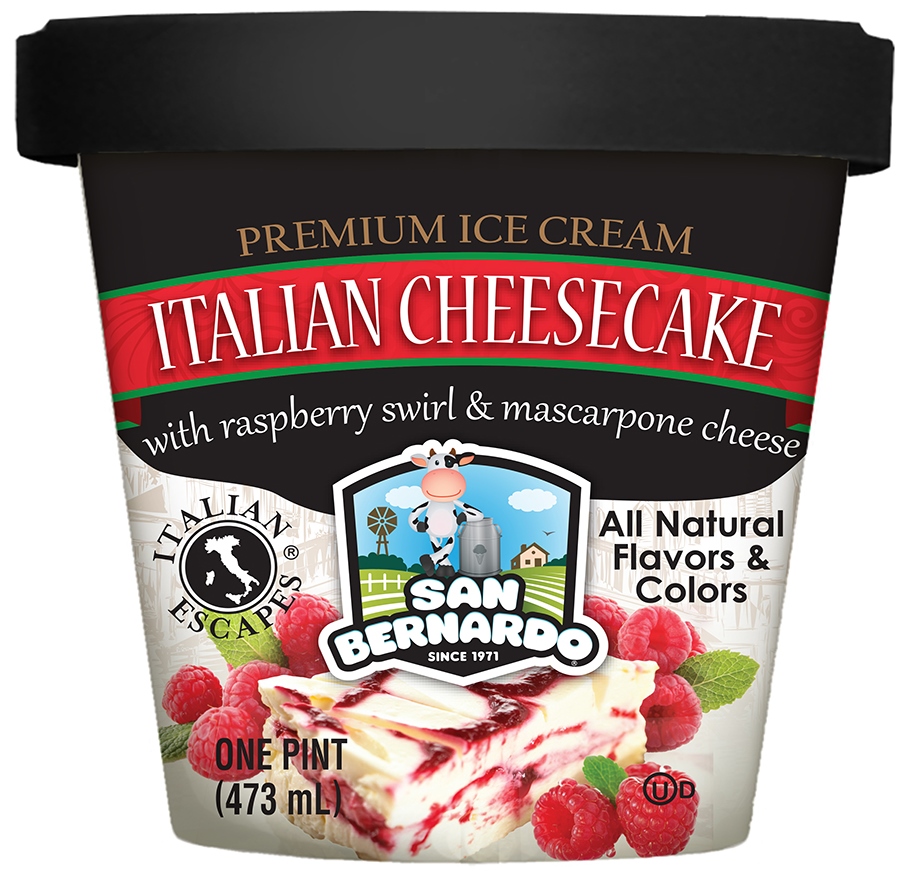 In true Italian cheesecake fashion, this ice cream base includes real mascarpone cheese and is topped off with a thick, decadent raspberry swirl.
New York Style Cheesecake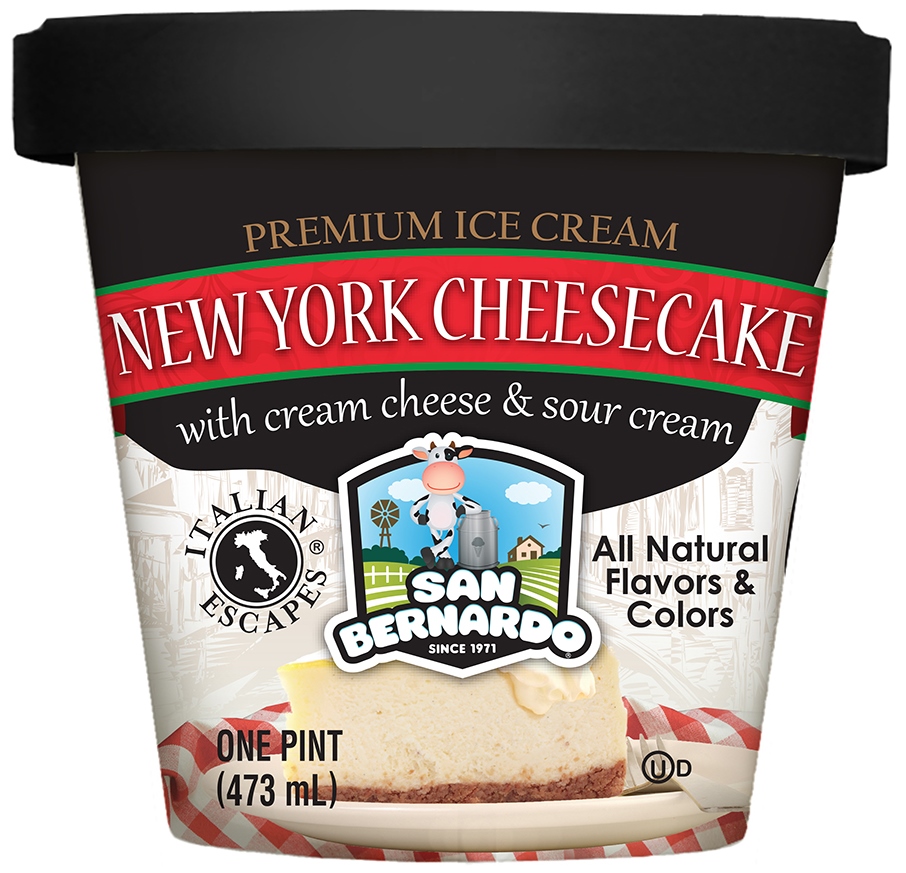 This luscious, authentic New York-style cheesecake ice cream conjures up the Big Apple with the magic of graham cracker pieces, real cream cheese, and rich sour cream.
Spumoni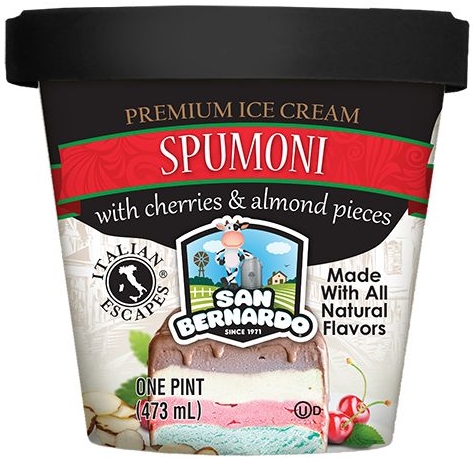 A traditional Italian dessert, taken to the next level. Bernardo's signature Spumoni includes chocolate swirled with pistachio, strawberry and vanilla ice creams, mixed with fresh sliced cherries and pieces of almonds, and topped off with a tantalizing hint of amaretto.
Tiramisu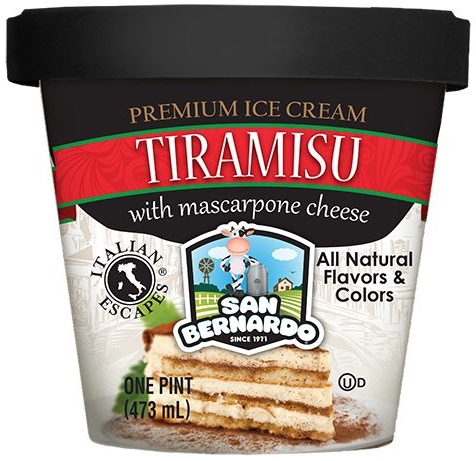 The only thing better than tiramisu is tiramisu ice cream. This fabulous re-creation of an old Italian classic includes marsala wine and an authentic mascarpone cheese base to complete the experience.
The San Bernardo Italian Escapes Ice Cream collection is available in 16oz Pints and 48oz Scrounds and are a delicious way to cool down in this sudden and instant heatwave we're experiencing. Get to know more about San Bernardo and their ice creams by visiting their website, www.sanbernardoicecream.com.