Calling all fans of The Good Wife, it's sequel series, The Good Fight, BrainDead, and all things jewelry and accessories. Emmy-nominated Costume Designer Dan Lawson, the man behind the fabulous fashion for these three tv shows, is hosting a special event to launch his DL for PONO Fall 2017 Collection of handcrafted Italian resin jewelry and accessories……..and you're invited!!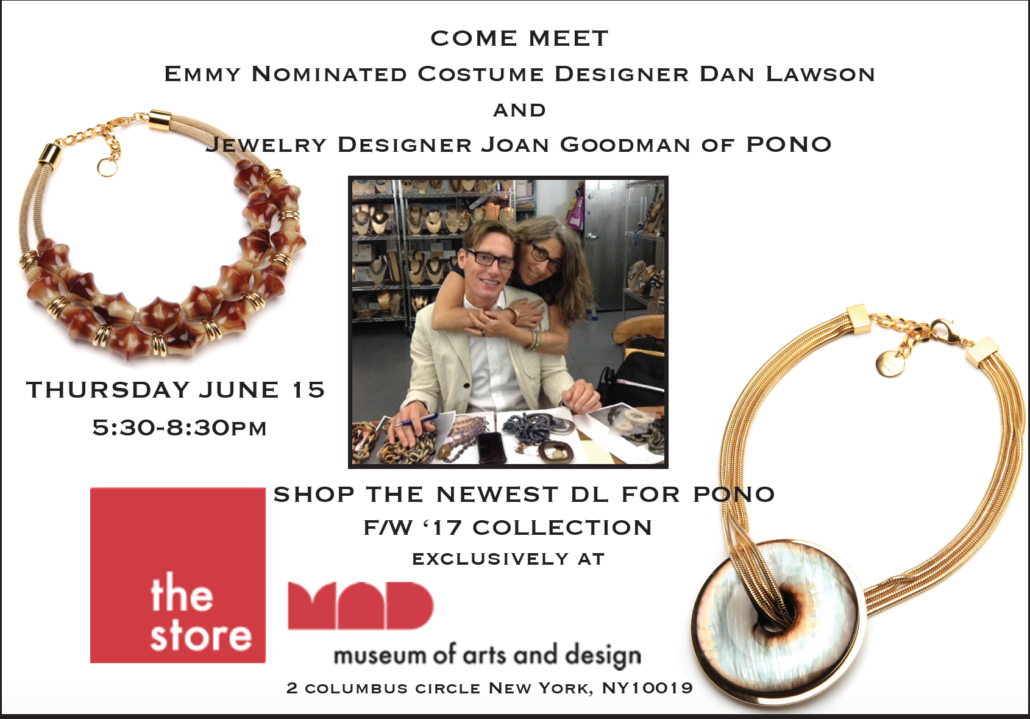 If you love the fashion from his shows, this is the perfect time to preview the stunning DL for PONO Fall 2017 Collection with Jewelry Designer, Joan Goodman (before they make their television debuts), and perhaps pick his brain on all thing fashion and costume design. This event, which will be held next Thursday, June 15th at the Museum of Art & Design in Columbus Circle, promises baubles, bubbly, and even appearances by Good Wife VIPs. The event also allows you to shop the pieces from the luxury jewelry collection, available at the Museum of Art & Design.
There are many inspirations that help to forge the beautiful pieces from DL for PONO Fall 2017 Collection such as the stunning dark green hue of malachite, represented in an eye-catching two-sided necklace, the cool blue, white ice hues, and raw look of an iceberg, and metal etched by fire. The bold jewelry collection is not for the timid fashionista, DL for PONO loves wearers who love to make a bold statement with their style. We love the mix of colors and textures (many times this mix varies from piece to piece, making the jewelry pieces one of a kind), and love the idea that they embrace those of us who love to stand out. We promise you'll love it too.
So if you are free next Thursday, June 15th and want the chance to see some gorgeous jewelry, speak with a renown Costume Designer, and Jewelry Designer, and enjoy a glass or two of wine, head over to the Museum of Art & Design in Columbus Circle between 5:30 – 8:30 pm. Hope to see you fellow jewelry lovers there.