You may have heard of farm to table foods which promote locally sourced ingredients from local farmers, did you know "farm to glass" also exists and refers to spirits made with regionally-sourced ingredients? The award-winning Canadian Craft Spirits maker, Eau Claire Distillery, has officially made their U.S. debut with their renowned, farm to glass, Eau Claire Parlour Gin, and Eau Claire Prickly Pear EquineOx spirit. Made from regionally-sourced ingredients and artisanal distilling methods, Eau Claire's spirits reveal truly unique flavors and redefine taste, one grain-to-glass experience at a time.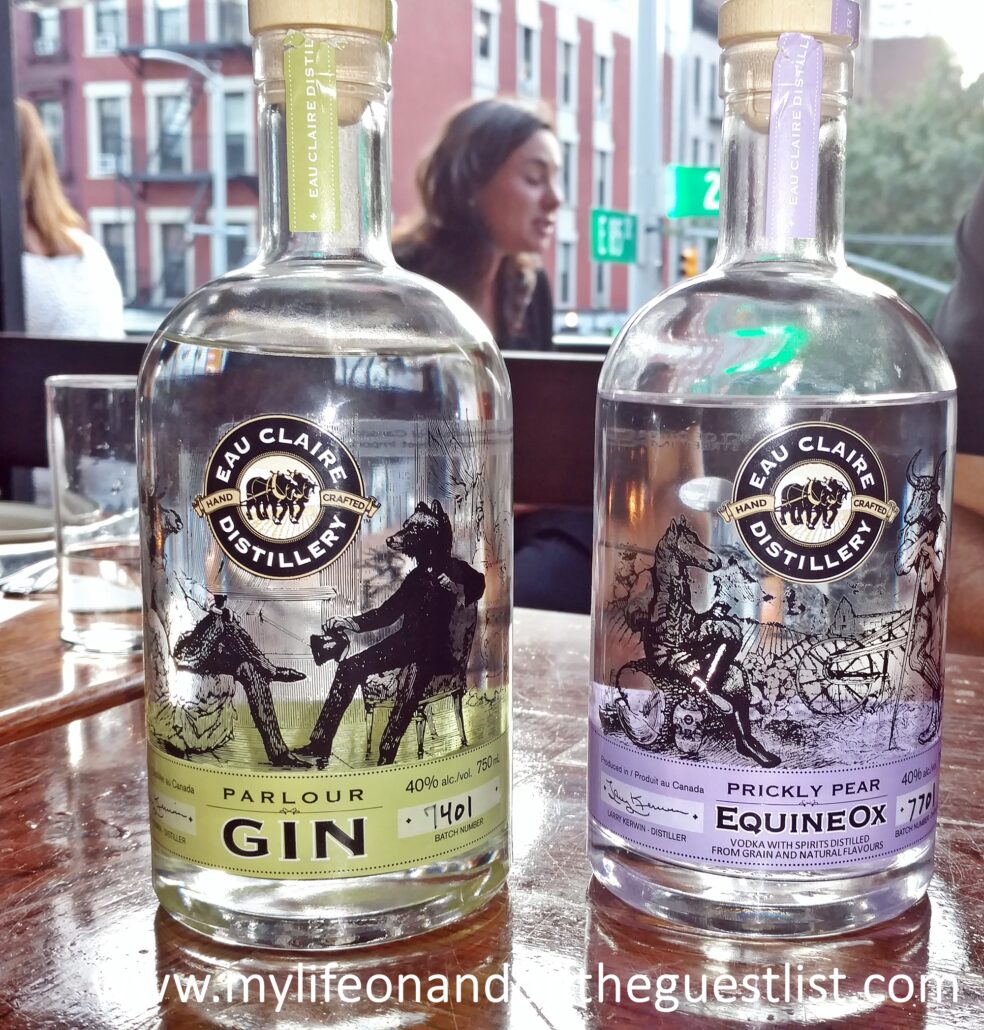 The first of Eau Claire Distillery's distinguished spirits to become available in the U.S., the Parlour Gin, and Prickly Pear EquineOx have won countless prestigious industry awards. Some of those awards (from 2017 alone) include SIP 2017 Consumers Choice Award, SIP Awards 2017 Best of Class – Platinum, SIP Awards 2017 – Silver, San Francisco World Spirits Competition 2017 – Gold, San Francisco World Spirits Competition 2017 Bronze, *The Fifty Best Gin's 2017 Best Gin – Gold, and Distilled Competition 2017 – Silver.
We have the pleasure of experiencing both the Parlour Gin and the Prickly Pear EquineOx at Five Mile Stone in New York City (one of the bar/restaurants you can enjoy these farm to glass spirits). We fell in love at first sight of the distinguished, cheeky, and sophisticated packaging. We all know how alcohol can make wild animals out of people and we loved the visual of wild animals looking and acting quite distinguished and sophisticated – hence why we believe Eau Claire's spirits will turn the wildest of animals into sophisticated drinkers.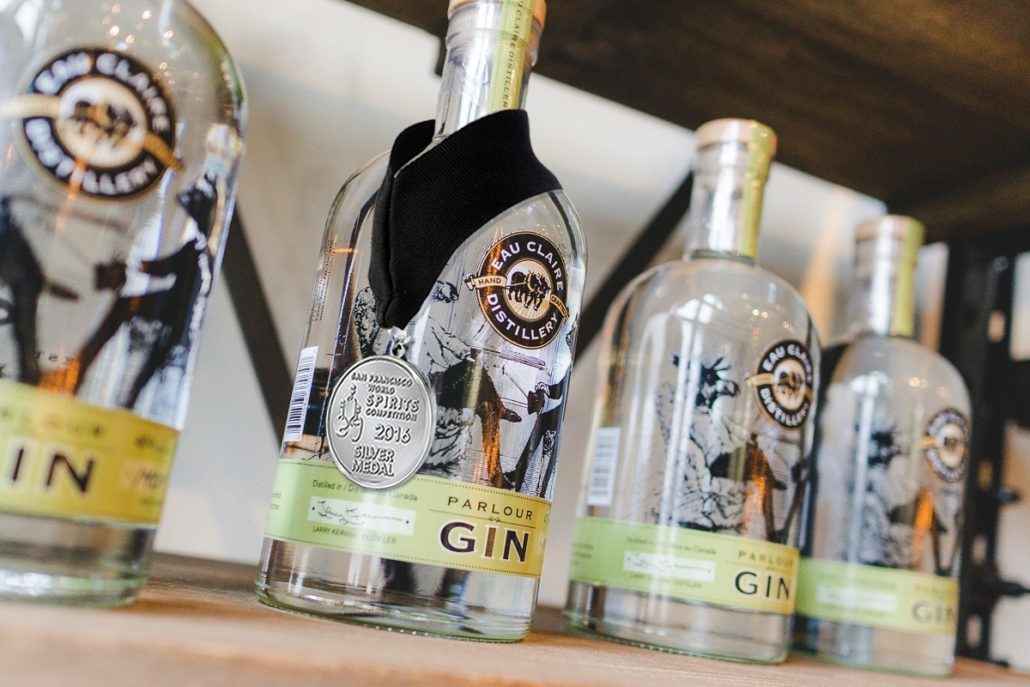 The Eau Claire Parlour Gin is a London-style dry gin that augments more traditional gin botanicals, creating a juniper berry-induced dryness, but with unique hints of rosehip, Saskatoon berry, coriander, lemon, orange, mint, and spice. It's dry with a harmonious texture and smooth finish. Parlour Gin is distilled with a selection of special botanicals that gives it delicious, unique flavor notes. We usually tread lightly with Gins because the bite can be too much for us, but Eau Claire's Parlour Gin truly surprised us with its quick bite and immediate smoothness.
The Eau Claire Prickly Pear EquineOx is a distillation of the essence of Alberta – blue skies, mountain-fresh water, prairie grain and distinctive ingredients like the prickly pear cactus. This smooth and flavorful spirit defies comparison, though it could be described as a sweet, barley-based alternative to gin or vodka. Its name honors the role Eau Claire's horses and oxen play in the annual spring planting and fall harvest. This was our favorite! We loved the unique taste, slight sweetness, full-bodied weight, and smoothness of the Prickly Pear EquineOx. Oh, the cocktails we will enjoy with this distinctly flavored spirit.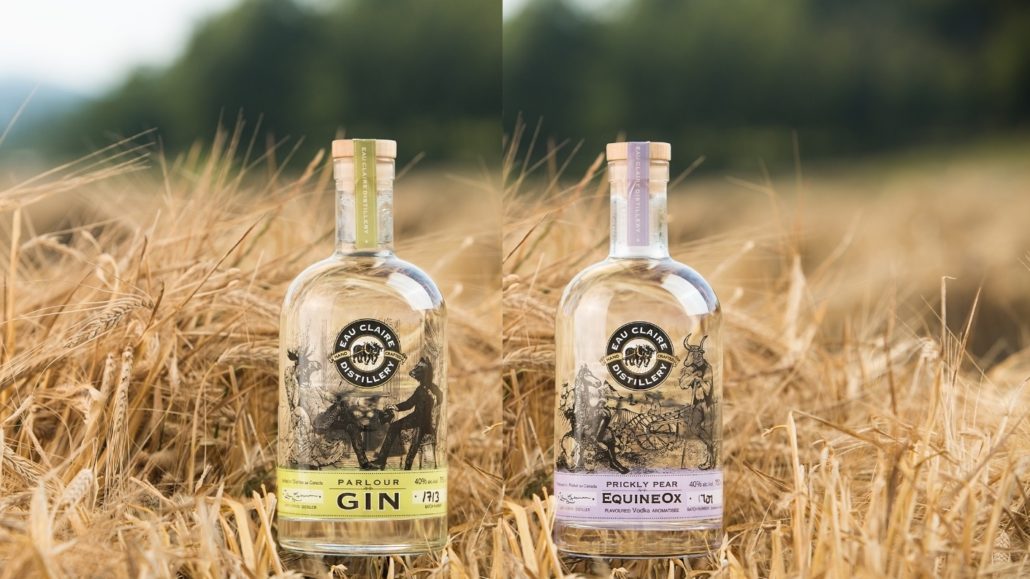 Eau Claire Distillery's Parlour Gin and Prickly Pear EquineOx are imported and distributed within the United States by Park Street Imports, LLC. Some retailers carrying both spirits in New York includes 55th Street Liquors, Ambassador Wine & Spirits, Blue Angel Wines, and Duke's Liquor Box. You can enjoy a glass or two of both at these following NYC bars/restaurants: Five Mile Stone, The Wren, The Daisy, Cafe Tallulah, and Pisticci Restaurant. Current available markets for Eau Claire Distillery's Parlour Gin and Prickly Pear EquineOx are New York and Florida, with other markets coming soon.