How we'd love to live a life of luxury where we can get pampered whenever we desire. We'd love nothing for than our face to look radiant and youthful, and our skin to be glowing. But spa visits don't come cheap unless you take advantage of those twice a year $50 Spa Week deals and plastic surgery is too expensive. But there is hope for affordable beauty treatments you can enjoy. If you're ready to reduce your fine lines and wrinkles and lift and tighten your sagging skin, keep reading. It's the latest must-have, anti-aging beauty device, the Titan by Silk'n Skin Tightening and Lifting Beauty Device.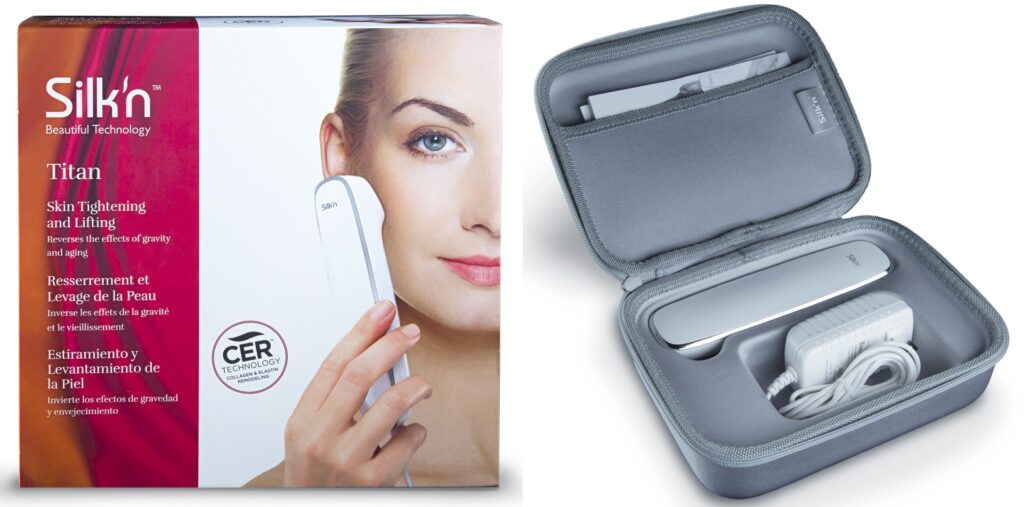 The Titan by Silk'n Skin Tightening and Lifting Beauty Device is the most advanced and least invasive way to tighten the skin. This breakthrough at-home device works from the inside out to activate the body's natural restoration process. It features infrared energy which increases blood circulation to improve skin tone and texture, it uses LED Light Energy to grow new collagen to reduce fine lines and wrinkles and boasts RF Energy to penetrate deep beneath the skin to contract connective tissue, remodel collagen and strengthen elastin to lift and tighten sagging skin. Basically, it seeks out your damaged tissue and repairs it.

What makes the Titan by Silk'n such a breakthrough beauty essential? This at-home hand-held device uses the same technology offered by leading dermatologists and cosmetic surgeons. Unlike with surgical procedures and many medical spa treatments, the Titan by Silk'n requires no recovery time and is suitable for the entire face and neck. It is the first of its kind that has been clinically tested, FDA cleared and proven to safely tighten facial skin from the comfort of your home. When used with the Slider Gel, which acts as a conductor and is required to emit the energy deep beneath the skin), the Titan by Silk'n Tightening and Lifting Beauty Device should be used twice a week, for 10 weeks. The total treatment time for one single treatment zone takes 15 minutes and it is recommended that you treat
each area individually.
The Titan by Silk'n (with included Slider Gel) retails for $269.00, which is a much more affordable option than any facial or plastic surgery procedure. The Titan is suitable for both women and men, all skin types and skin colors and makes a wonderful holiday gift.