As anyone who has passed by a mirror and caught a side view of themselves knows, the struggle with pandemic pounds is very real. Like everyone else who gained weight while being quarantined, your stomach is probably rounder than usual, stretch marks a bit more prevalent, and your skin a bit looser and sagging. Of course, diet and exercise will help to get rid of the extra pounds but your skin's elasticity will be weak and compromised; this means you're stuck with the stretch marks and sagging skin. But all hope is not lost; thanks to the skincare products in the MAËLYS Body Reshaping Collection, you'll be able to lift, firm, plump and smooth your way to sexier curves – the natural way.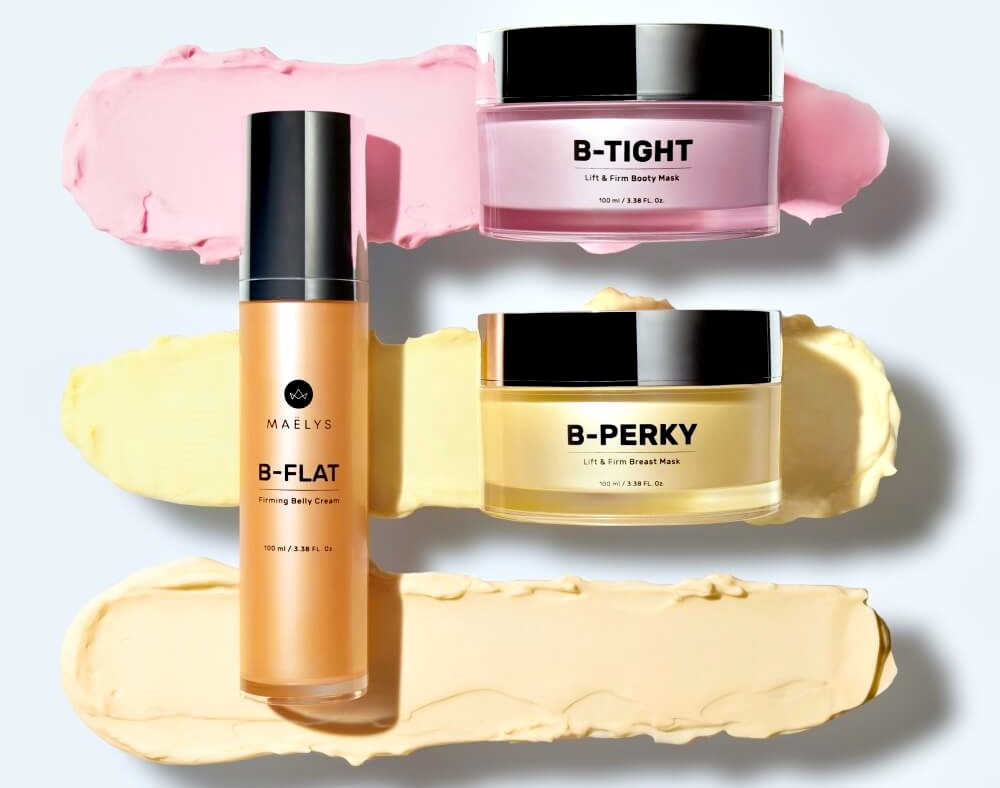 We already love MAËLYS for their Underboob Deodorant and Breast Exfoliating Stick and fell in love with this skincare collection after just one use. The MAËLYS Body Reshaping Collection features a trio of cruelty-free, clinically proven skin firming and smoothing products; They also happen to be MAËLYS' top 3 best-selling body reshaping products. We had the pleasure of trying out the products and you absolutely feel it working. We're only a couple of days into use but we'll tell you, you will definitely notice the warming sensation and tightening feeling that comes from using the products. The three products include B-TIGHT Lift & Firm Booty Mask, B-FLAT Belly Firming Cream, and B-PERKY Lift & Firm Breast Mask. Get to know this innovative trio below: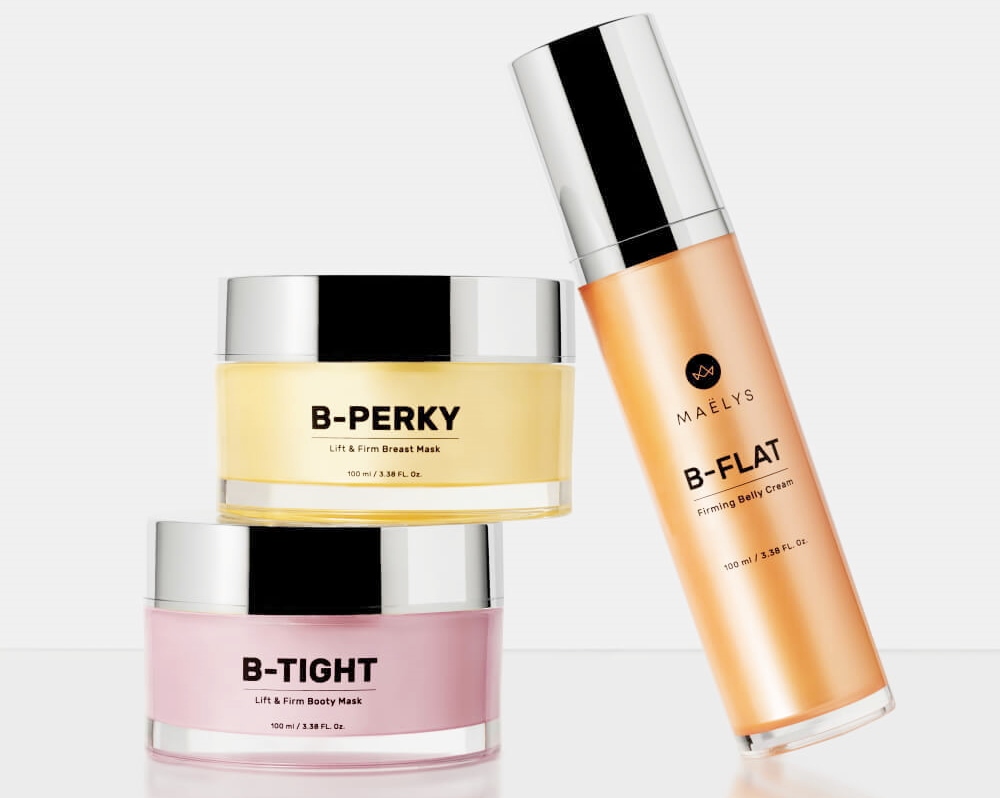 B-TIGHT Lift & Firm Booty Mask, $49.00: Ready to bid adieu to cellulite and tighten your butt? The B-TIGHT Lift & Firm Booty Mask reduces the appearance of cellulite, increases skin elasticity, and firms the skin around your butt and thighs. What makes this product so good? Check out these amazing ingredients:
Pink PepperSlim – A plant extract that stimulates fat reduction.
Hyaluronic Acid – Helps retain water, keeping your skin moist and plump.
Guarana Seed Extract – Wakes up tired skin by energizing and revitalizing its appearance.
B-FLAT Belly Firming Cream, $49.00: Say goodbye to your stretch marks. B-FLAT Belly Firming Cream is clinically proven to create the appearance of a smoother, tighter, and firmer-looking belly. It helps to fade the appearance of stretch marks for younger-looking stomach skin. The goodness packed in this wonder product includes:
Avocado Extract: Helps prevent the look of stretch marks.
Shea Butter: Keeps the skin flexible, supple, and ready to repair itself.
Pink Pepperslim: Clinically proven to help reduce the appearance of fatty skin.
B-PERKY Lift & Firm Breast Mask, $39.00: For those who haven't worn a bra in over a year and may need a "lift", B-PERKY gives natural volume to your bust.  It is clinically proven to give an overall healthy glow and improves the appearance of the bust area. It's formulated with powerful firming, lifting, and volumizing ingredients such as:
Palmitoyl Isoleucine: Gently firms and plumps the skin.
Kigelia Africana: Helps strengthen loose skin.
Jojoba Oil: Repairs red and damaged skin.
The products in the MAËLYS Body Reshaping Collection are free from parabens and SLS. The products in the collection can be purchased individually or you can get all three for $127.00 on www.maelyscosmetics.com.