We don't know about you guys but for some reason, every fall and winter, we experience intense acne breakouts. This may happen for many reasons. It may be due to the change in temperature, stronger winds, or just the colder, drier climate. Whatever the cause we notice it's happened every year without fail and we're not the only ones affected. It seems many of you are experiencing acne breakouts during the transition to the colder seasons. For those who do, we have acne solutions for you from Alba Botanica, Glo Skin Beauty, Kamedis, and Hero Cosmetics.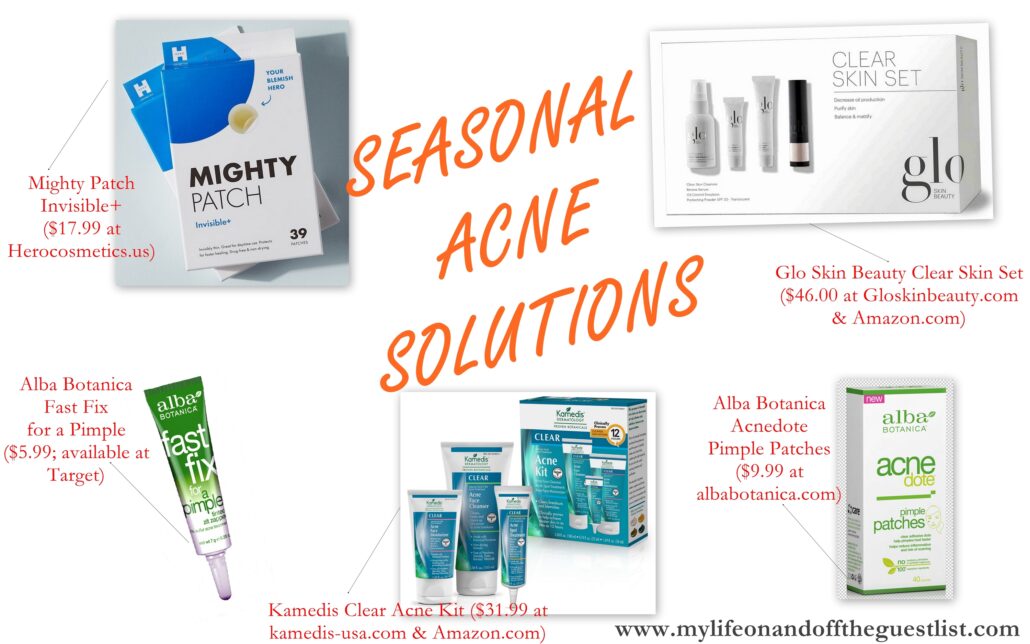 Let's get to know these acne solutions that are sure to be your skin's new best friends.
Alba Botanica Fast Fix for a Pimple: Kiss those blemishes goodbye naturally with this tinted botanical cream. this lightly tinted zit zapper with willow bark extract and sulfur instantly blurs the blemish while treating the underlying cause of acne.
Alba Botanica Pimple Patches: Don't try to pop those pimples. Eliminate your pimples while protecting them from your germy hands with these small, transparent, pimple-sized hydrocolloid dots. Apply to your blemishes and see how it immediately starts to heal acne spots. The occlusive barrier prevents bacterial contamination and eliminates the urge to touch, pick or pop your pimples.
Glo Skin Beauty Clear Skin Set: Raise your hand if you experience skin congestion and breakouts! If you do then this set is for you. Decrease oil production and purify your skin by eliminating bacteria, reducing inflammation and healing breakouts with these clear skin essentials. This set includes a travel size Clear Skin Cleanser, Renew Serum, Oil Control Emulsion and retail size Protecting Powder SPF 20, so you can take it on-the-go.
Kamedis Clear Acne Kit: a set of three non-drying products formulated with botanical purslane that can be used together or individually. We met these powerful acne solutions at the most recent Beautypress event.
The

Clear Acne Spot Treatment

($13.99) is a powerful gel treatment that is clinically proven to deliver clearer skin in only 12 hours.

Kamedis's Clear Acne Face Moisturizer

($17.99) helps clear up oily skin symptoms like acne while working to prevent their recurrence and foster healthy, resilient skin.
The

Clear Acne Face Cleanser

($10.99) is a lightly foaming, oil-free face wash that works to maintain a clear complexion. It's good for adults and children as young as 10. It has no steroids, benzoyl peroxide, sodium lauryl sulfate, parabens or dyes.
Hero Cosmetics Mighty Patch Invisible+: We love the idea of using acne patches as go-to acne solutions; we much prefer using it as an alternative to acne creams. We love them so much we wanted to share another favorite. The Mighty Patch, which you remember we discovered during the Indie Beauty Expo,  uses the highest grade hydrocolloid to draw out pus and other impurities from your pimple. This reduces the blemish, speeds up the healing process all while protecting your skin.