Hello Ice cream lovers, it's time to celebrate and indulge in some creamy, milky goodness. Did you know that July is National Ice Cream Month? And that July 21st is National Ice Cream Day. To honor the day, My/Mo Mochi Ice Cream and UNIQLO have partnered for the ultimate Ice Cream Day takeover. Not familiar with mochi ice cream? Read on for how you can try it out for free.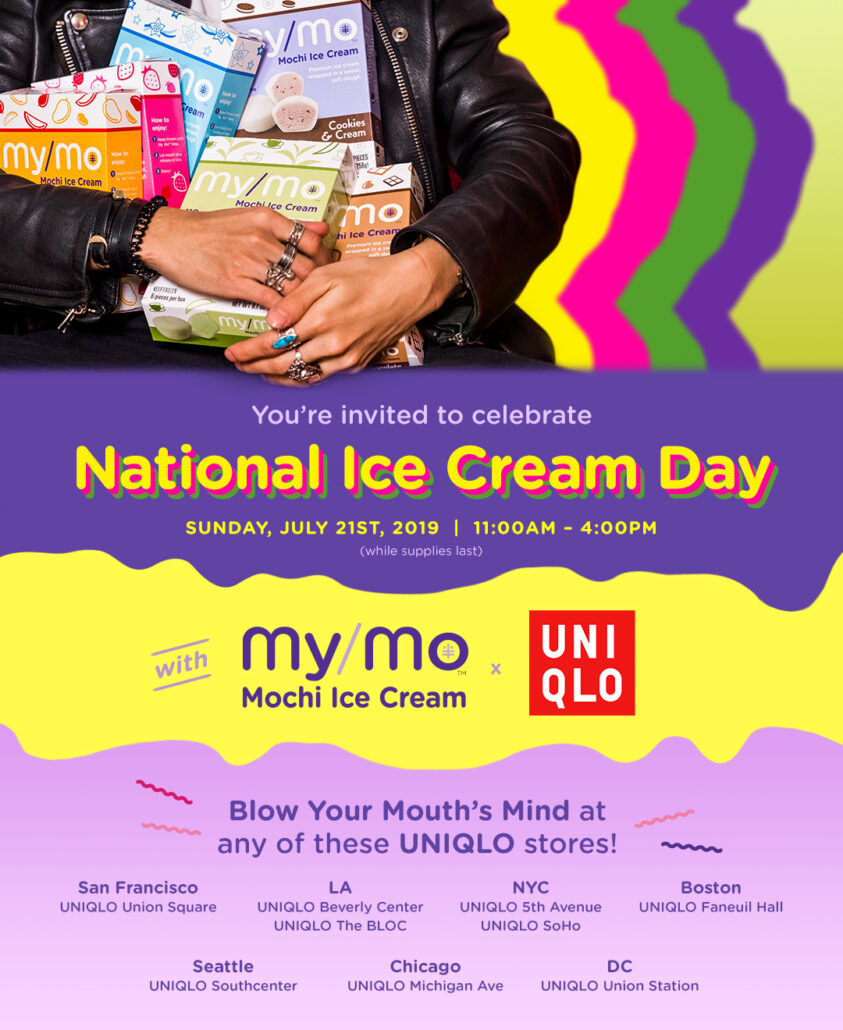 For those not familiar with the delicious brand, My/Mo Mochi Ice Cream is a colorful snack made with a scoop of premium ice cream wrapped in pillowy rice dough. Available in several decadent flavors including Sweet Mango, Green Tea, Ripe Strawberry, Cookies & Cream, Double Chocolate, Salted Caramel, Vanilla Bean, and Mint Chocolate Chip, you'll find yourself unable to resist this handheld snack.

These mind-blowing mouthfuls of ice cream bites will be yours to enjoy on July 21st, National Ice Cream Day, at participating UNIQLO stores across the US, including New York, San Francisco, Los Angeles, Boston, Seattle, Chicago, and Washington DC. This is your chance to indulge in these magnificent frozen treats. Perhaps you can find a new favorite flavor if you're already a fan, or try mochi ice cream out for the first time and discover why it's so delicious.

After you've fallen in love with the My/Mo Mochi Ice Cream (trust us, you'll love it), be sure to keep an eye out for the flavors featured above, which boasts a third layer of yumminess inside. The Chocolate Sundae features premium vanilla bean ice cream covered in chocolate-flavored mochi dough and stuffed with a cherry center. The Dulce de Leche features creamy coffee ice cream with a milky, melt-in-your-mouth caramel center. The Vanilla Blueberry features creamy vanilla bean ice cream, wrapped in pillowy mochi dough all wrapped around gooey, bluey blueberry center. Lastly, the S'mores features chocolate mochi dough wrapped around premium graham cracker ice cream filled with marshmallow.
My/Mo Mochi Ice Cream is also available in gluten-free, dairy-free and vegan flavors, making it a wonderful snack that everyone can enjoy. Will you be joining My/Mo Mochi Ice Cream and UNIQLO on National Ice Cream Day?