We're so close to Halloween and what better topic to discuss than candy. Not just any candy mind you, we're talking candy for adults. Why should kids be the only ones enjoying their fill of sweet treats? We can't help but be on a sugar high from the incredibly cool and delicious lollipops from Sweet Caroline Confections. For those of you unaware, Sweet Caroline Confections are the original sparkle lollipops.
What makes them a bit even cooler this year, is that they are filled with spirits. No, we're not talking ghosts and goblins, no matter how close to Halloween we are; we mean adult beverages.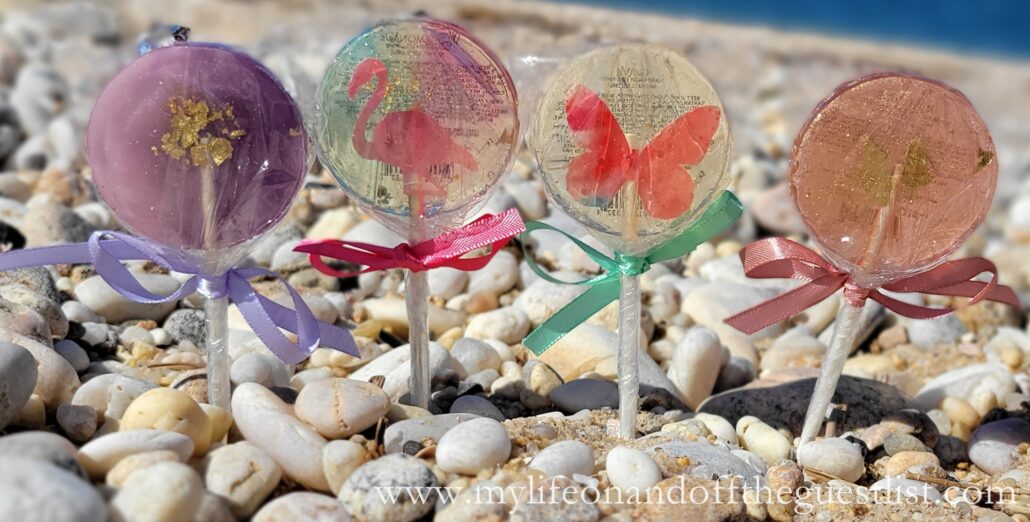 The Denver-based brand boasts delectable confections with a magic touch of sparkle with self-taught candy artist, Andrea Caroline brilliantly putting a unique twist on candy making. Perfect gifts for weddings, holidays, anniversaries, baby showers, and more, her alcohol-filled lollies are great as party favors and a unique way to say thank you to guests.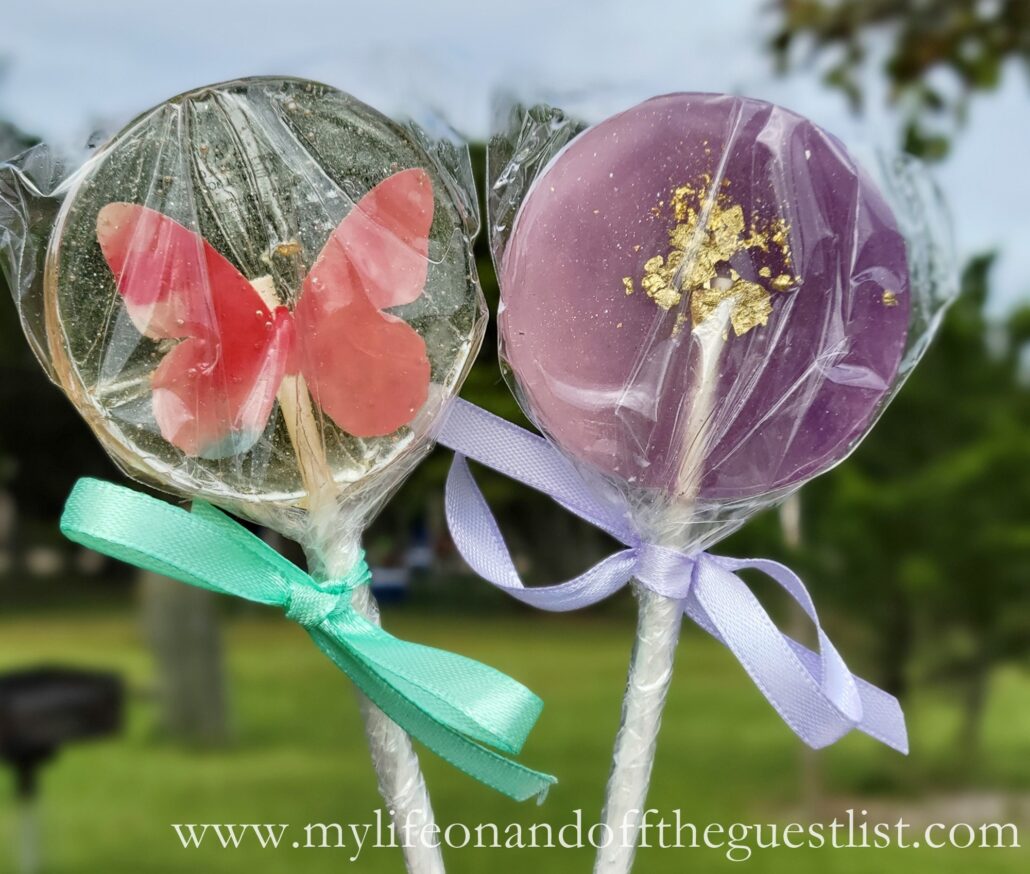 Rosé Wine Lollipops – Set of 10, $35.00 – A Sweet Caroline Confections Exclusive, the medium-sized,  Rosé Wine Lollipops are made with REAL, delicious Rosé wine with hints of watermelon, strawberry, and raspberry. The rose gold color sparkles throughout each individually wrapped lollipop with gold edible glitter and rose gold foil.
Watercolor Sparkle Lollipops – Set of 6, $19.50 – These stunning pearlized pink+light purple hand-swirled candy lollipops are sprinkled with our classic gold sparkle flakes+a dash of gold edible glitter.
Butterfly Lollipops -Set of 6, $22.50 – 100% edible butterflies in a watercolor mix of pinks, yellows, peach, and blues inside our signature clear candy with silver and gold sugar crystals and clear edible glitter.
Flamingo Lollipops, set of 6, $22.50 – 100% edible flamingo in a watercolor candy mix of subtle blues and pinks with a beautiful touch of gold glitter. Our flamingos range from deep to light pink.
For Halloween, Sweet Caroline Confections has an amazing assortment of spooky-themed lollipops. Below are a few of our favorites but they have great other Halloween lollipop designs.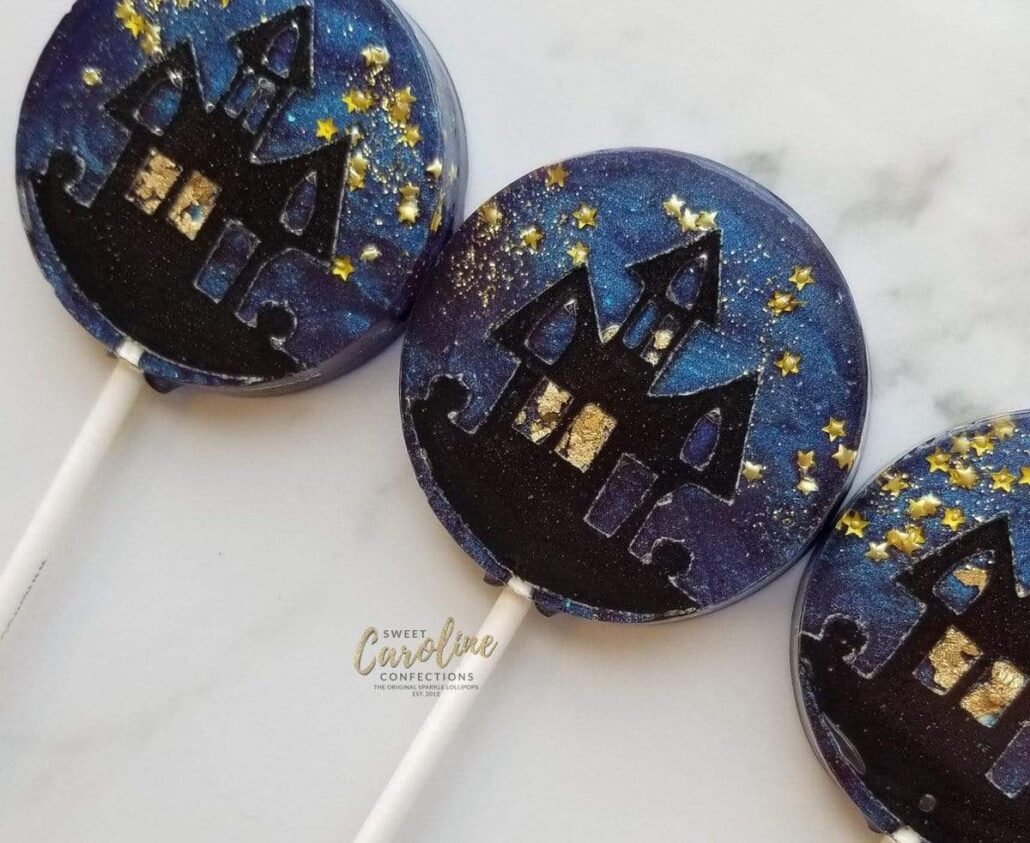 Dark blue skies filled with gold stars surround the silhouette of a haunted house in this amazing handcrafted design.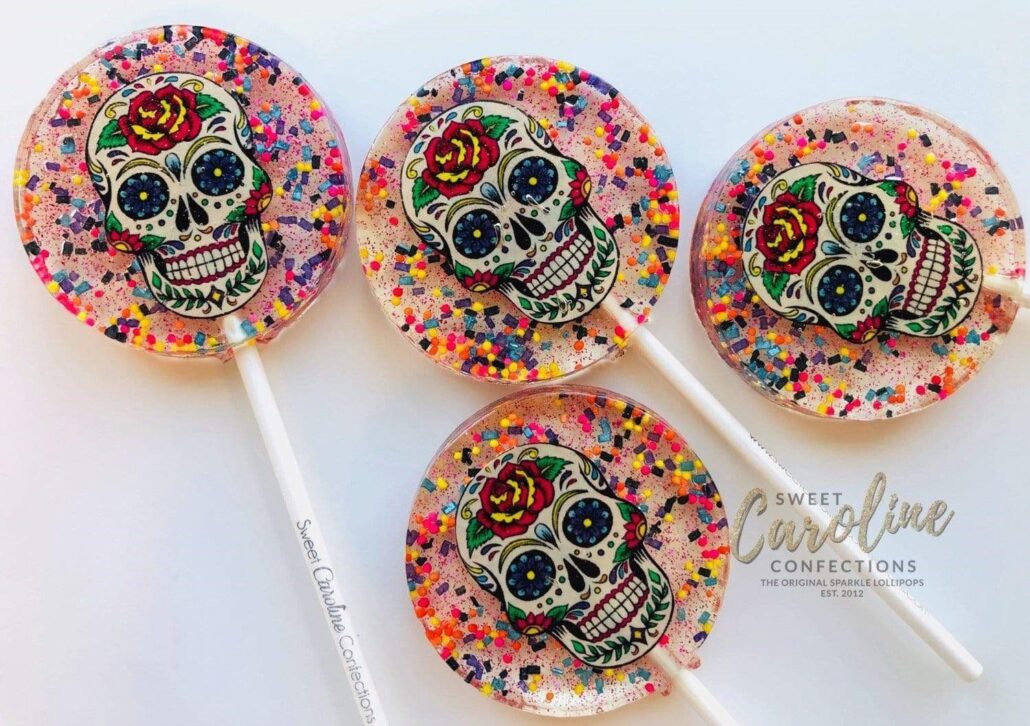 Colorful and fun Day of the Dead festive die-cut skulls with matching sparkles.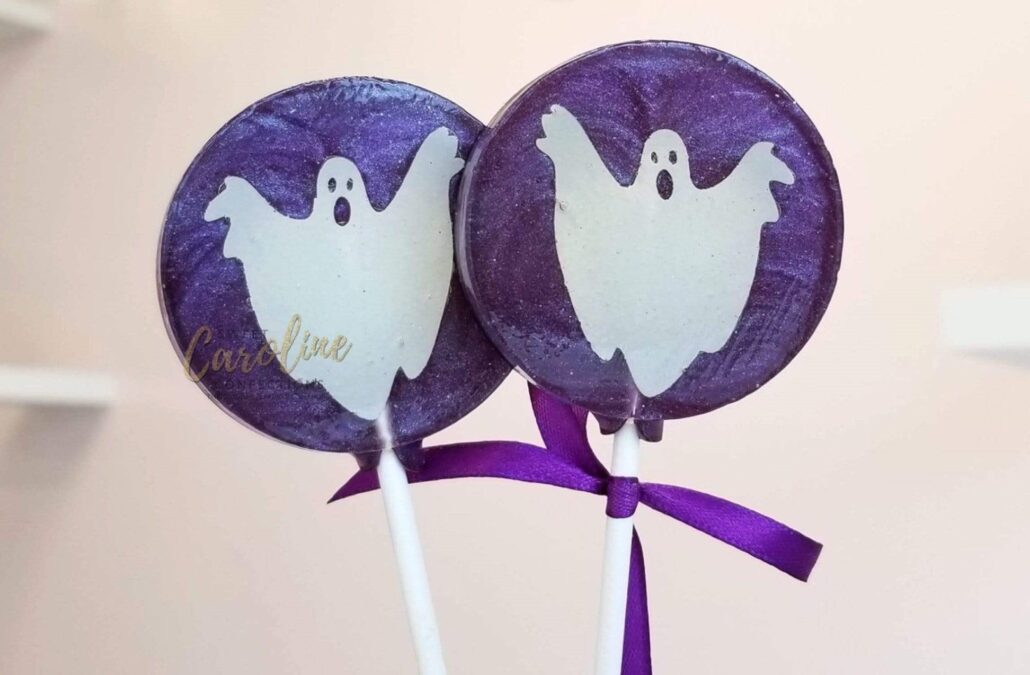 It's Trick or Treat with their amazing new Ghost Halloween collection. These lollipops feature intricate cut-out ghosts with dark purple candy. You will receive a mix of clear lollipops and black lollipops as shown.
Sweet Caroline Confections are available in more than 800 stores across the U.S. and Canada. The sparkly lollipops are so chic, fashion giants such as Marc Jacobs, Gucci, and Chanel have enjoyed the unique custom designs.