During NYFW The Shows, we noticed something we couldn't help but be excited about. The collaborations between tech companies and fashion. One such partnership we had the pleasure of getting to know was Intuit Mailchimp X Black in Fashion Council at their pop-up shop during NYFW. In this partnership with the Black in Fashion Council, Mailchimp supports five designers as part of the "Guess Less, Sell More" brand campaign.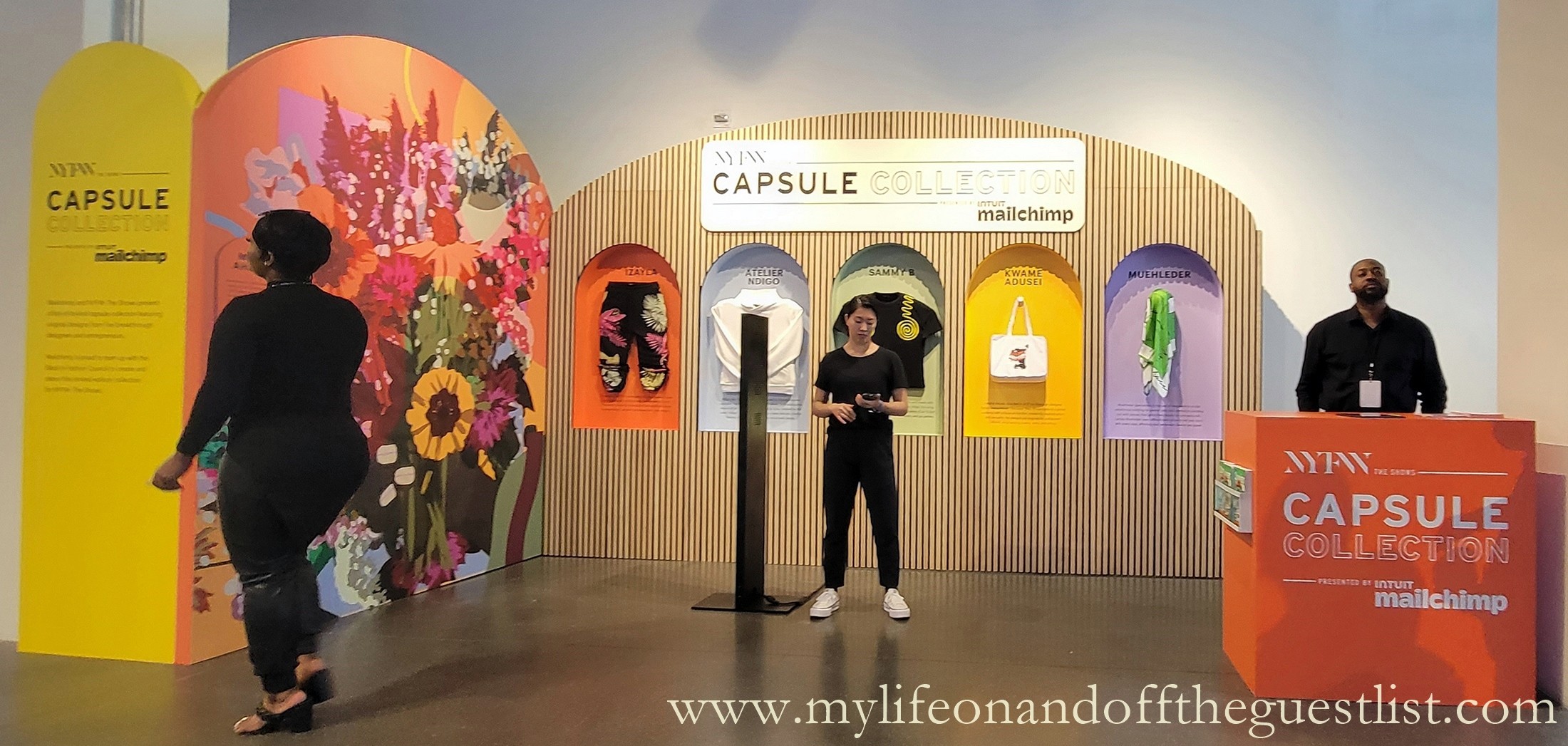 Mailchimp is the first sponsor of the BIFC Discovery Showrooms at Spring Studios, the central hub of NYFW The Shows. The limited-edition Mailchimp X Black in Fashion Council capsule collection showcases five designers from the BIFC Discovery Showroom: Izayla, Kwame Adusei, Muehleder, Ndigo Studio, and Sammy B. 
"New York Fashion Week: The Shows is an incomparable opportunity for emerging designers, who are also entrepreneurs in their own right," said Mailchimp's Chief Marketing Officer, Michelle Taite. "The sponsorship of the BIFC Discovery Showrooms, as well as the capsule collection, will amplify amazing designers and showcase their work to a broader consumer market."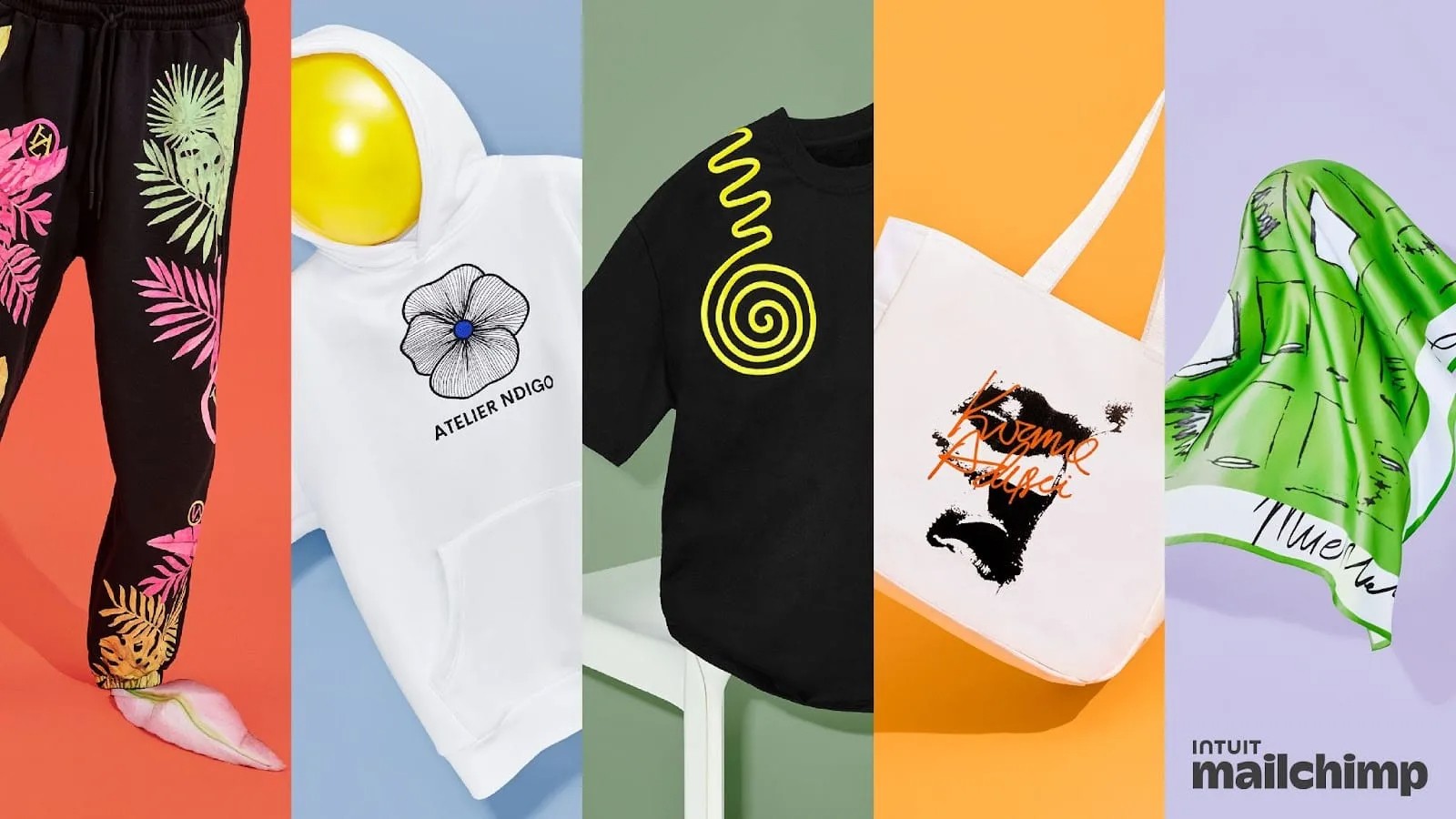 Guests of NYFW The Shows viewed the Mailchimp X Black in Fashion Council capsule collection at the Mailchimp activation space in the main lobby of Spring Studios and on mailchimp.com/nyfw. The Mailchimp activation space was designed and produced by Wink, Mailchimp's in-house creative agency, in partnership with IMG. The pop-up shop ran from Saturday, September 10th through Wednesday, September 14th and was available at mailchimp.com/nyfw free of charge while supplies lasted. Sadly, we got there too late and the styles were all sold out before we got to select our favorite; but we love this partnership and hope they return next season so we get a chance to enjoy the talents of these Black in Fashion Council designers.
"We are excited to team up with Black in Fashion Council to support designer entrepreneurs in the fashion industry this New York Fashion Week season," said Michael Mitchell, Mailchimp Sr. Director of Brand and Content Marketing. "Mailchimp's mission is to help entrepreneurs take the guesswork out of growing a business and give them the support needed to flourish in their respective industries. Through our sponsorship of the BIFC Discovery Showrooms and capsule collection with five amazing designers during NYFW: The Shows, we are able to do just that."
Let's get to know the designers from this first Mailchimp X Black in Fashion Council capsule collection:
Izayla Floral Joggers

– Founded in 2017 in Los Angeles by I'sha Dunston, Izayla is an advanced contemporary womenswear brand. The brand mission is tailored to three significant areas: representation, women's empowerment, and integrity.

Atelier Ndigo Flower Embroidered Logo Hoodie

– Ndigo aka "Atelier Ndigo" was founded by Stylist/Costume designer Waina Chancy, a woman of culture. Emphasizing the beauty of art and fashion, with an edgy style. Inspired by the color "indigo" and architecture, Chancy takes delicate, colorful fabrics and transforms them into structured pieces.

Sammy B Embroidered Logo T-Shirt

– Samantha Black's pieces are limelight-worthy and made with a couture hand. It is feminine with an eclectic edge, focusing on uses of line and attention to detail, making Sammy B an "It Girl" favorite. Sammy B is for rule breakers, risk takers, and go-getters.

Kwame Adusei Printed Logo Tote

– Kwame Adusei, founded in 2021 by Ghanaian designer Nana Kwame Adusei, translates West African roots to a global audience with a focus on practicality, modernity, sophistication, and maturity. The concepts stem from the similarities between juxtaposed cultures: emphasizing quality, story, and ethics.

Muehleder Printed Silk Scarf

– Muehleder specializes in the use of neoprene to sculpt voluminous clothing for women who find comfort in standing out with pieces that ignite their desire for connectivism. Larissa Muehleder uses ruffles & bold colors to tell your story with every step, affirming your personality before you speak.