If you're anything like me (and chances are that you're probably not), you look out your window after waking up to a snowy winter morn and reflect on life's most important questions. Questions like where are we going as a society, will I live to see another winter, where will life take me this year and most importantly, will I be dressed appropriately for it? Now I say you're nothing like me since the first things that pop into my mind during rash decisions, hasty social movements, and sudden encounters are whether or not to complete the look. After the layers are peeled away is just as strong as with the layers still on. Or maybe you are like me. Maybe you remember important events throughout your life based on what you were wearing or what someone else was wearing and how well it was received. At any rate, if you're anything like me you have a connection albeit a duty to fashion that just refuses to die. It's this obligation, if you will, that keeps us tied to fashion as aforementioned through more than personal adornment grievances but life markers that shape culture and are immediate reflections of fiscal and societal times.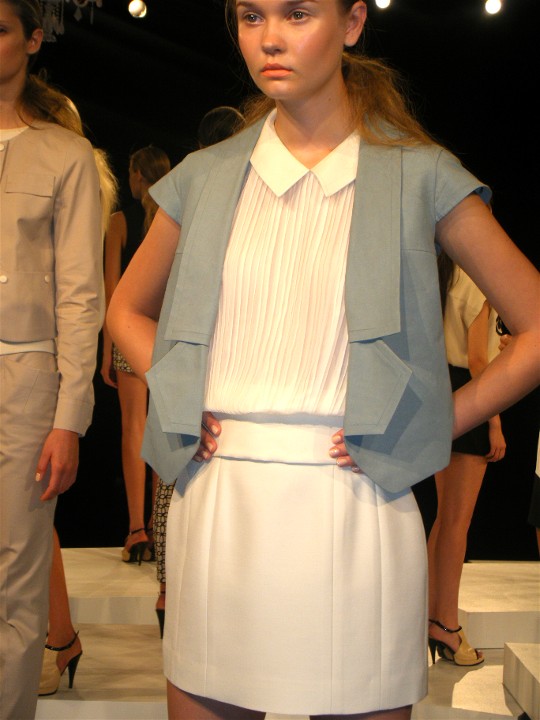 So here with a bit over a month left till the launch of the second Mercedes Benz Fashion Week at its new home at Lincoln Center, I reflect on this changing of the guards and the excitement behind it. What's great about the new location more than anything is the excitement behind it. Last September there was an emergence of smaller designers, houses, and collectives that started out where many a major fashion brand once started out at. (You don't believe me then zoom back to the September posts on this insightful blog and take a gander). There was a mix of the big and the small, the established and the "winging it", the noteworthy and the "run that by me again", but all were getting into the excitement.
Yet even with all this excitement, even the wow and the "huh?" came with a message. Fashion is multifaceted and multimedia. Check out these designers this blog's Mistress of Media dug up to secure this thought. There were retail-friendly new guard tendencies at relatively new newcomer Andy and Debb.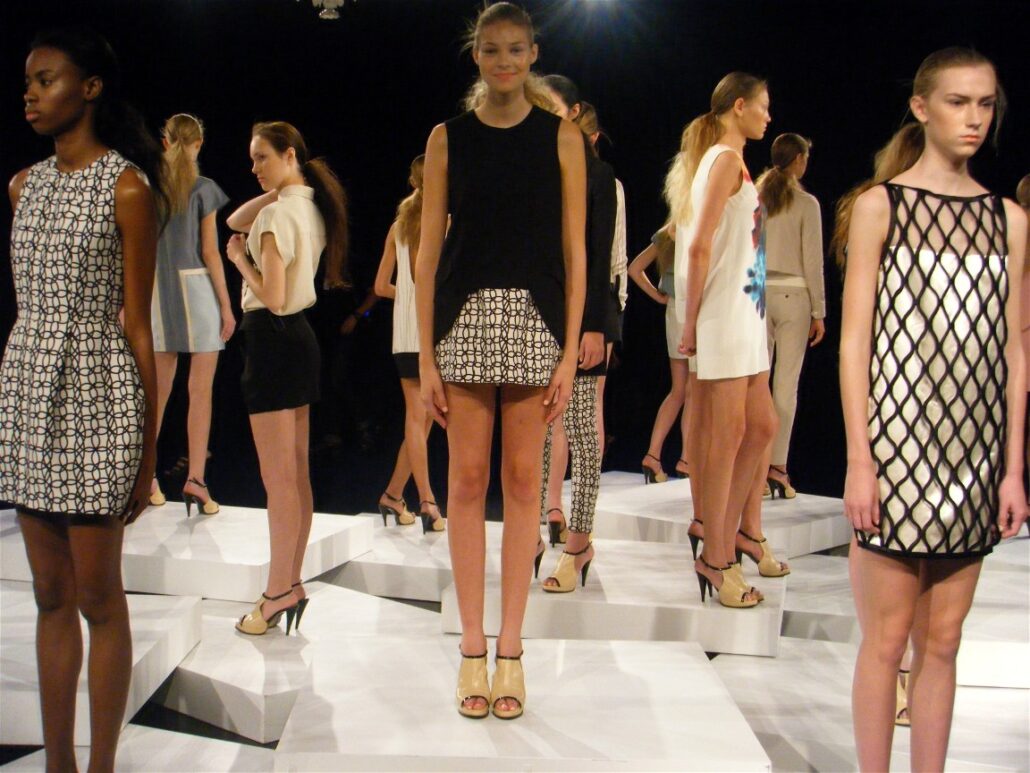 Clearly a line for a young, fresh woman with a point of view that dabbles into classically shaped mini-dresses slightly askew with leather lattice overlays, shrunken geometry inspired lapels on jackets and sweet schoolboy collared shirts tucked into boy-short femininity. Shown as a presentation rather than a runway show was not only more affordable for a young house but it put you more in touch with the softness and delicacy of the fabrics that the brand seemed to be relaying
Then you have the divine Ms. Tracy Reese who runway presentation and presence at New York Fashion week have become synonymous with modern New York. The fresh faces on girls, the wonderful prints Ms. Reese has a penchant for, the easy to wear, retail-friendly, look-twice chic that makes this label a fashion darling. It was a collection that dived into the whimsical with an irreverent print combination and cool on-vacation chic all under the umbrella of sophisticated and sexy.
Now personally, although it'll cost the other arm and half the other leg, I feel that if you are showing men's and women's then show them separately. Take for example the runway presentation of Guli. Did it need to be a show? No. The prints, silhouettes and accessorizing inspired by the Mideast and they were stronger than the need to see it on a runway.
While some of the silhouettes were interesting and techniques very beautiful, it would have been stronger had it been more to the American sense of fashion. For a newer designer, if the money is going to be invested efficiently then "Wow" is in your best interest otherwise balance and success can be achieved from other media means like a presentation complete with great complimenting interiors and sets depicting kazbah-like scenes like what I am almost certain was on the design mood board.
Rebecca Moses may have gotten the idea to stage a presentation right, but there needs to be more strength in her designs and themes to produce more of a heavy hit next time around. However, who knows, that may be what certain segments of the American market will lap up like water for the thirsty. Of note, her presentation was fresh in its artistry, like images floating off of a page and her shapes were relatable.
Ivana Helsinki gave an impressive runway debut that if she winds up showing again this February will be looked to by buyers and especially stylists. Her theme was one of being seaside or even shipwrecked with great shaped dresses and sportswear separates with nautical and ocean iconography adorned on them.
The rope boot (pictured above and in more detail below) is a key item for cheeky editorials.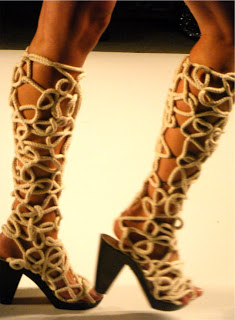 I could go either way though as to whether or not she should have done a runway show or just presented but it was good to see the fluidity of the fabrics together with the rigidity yet pliability of the rope trimmings.
So now in a few weeks we can see how certain designers got it right or wrong, chose wisely or foolhardily and held it together or laid big eggs. At any rate, in a major election year with fiscal and social agendas on the table I'm sure the collections will be a reflection of how designers feel we should remain aware and connected through our expenditures or escape the madness through luxury. I just hope I'm carrying the right man bag come the first fall 2011 deliveries.
See you at the tents