SoftSheen-Carson®, the #1 ethnic haircare brand in the world has just launched a brand new styling product that will help women of color maintain the straight, smooth and silky look of just relaxed hair in between relaxing. The New
Dark and Lovely 6 Week Anti-Reversion Cream Serum
features exclusive Humidity Block Technology, a nourishing Amino Complex that wraps each strand to seal in straightness and block out moisture. Dark and Lovely Brand Ambassador Bria Murphy (daughter of Eddie Murphy) was on hand to help introduce this new amazing product.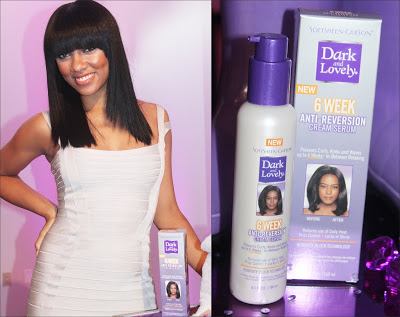 The 6 Week Anti-Reversion Cream Serum is a styling solution that helps prevent curls, kinks and waves, keeping your hair perfectly smooth, straight and manageable up to 6 weeks in between relaxing. It smooths new growth, reduces the use of daily heat, controls frizz and locks in shine. "The 6 Week Anti-Reversion Cream Serum is the most innovative styling product and must-have for all relaxer consumers," stated Mezei Jefferson, SoftSheen-Carson Director of Education. "Its exclusive Humidity Block Technology allows consumers to achieve the same smoothness and shine as if hair was just relaxed." Check out Bria Murphy and Mezei Jefferson filling us in on the wonders of the 6 Week Anti-Reversion Cream Serum in the video below

For those of you ladies who do not relax your hair and are sporting natural, Mezei Jefferson informed us that you too can indeed use this product. It won't give the same result as it would relaxed hair but depending on your hair's texture, it will smooth out your hair, control frizz and lock in shine. The Dark and Lovely 6 Week Anti-Reversion Cream Serum is available in stores nationwide now and retails for $8.99.
SoftSheen-Carson also introduced two other new products also available now, Dark and Lovely Fade-Resistant Rich Conditioning Color Chocolate Bliss Collection. The collection consists of three new lovely shades of browns: Honey Rush, Cocoa Crush and Toffee Kiss and Dark and Lovely® 5-Minute Total Restore Conditioning Treatment, which instantly replenishes, restores and revives extremely damaged, dry and dull hair in only 5 minutes.