There are lots of upcoming occasions that are a great time to show off your cooking skills, new recipes, etc – there's Chinese New Year, Super Bowl Sunday parties, regular get-togethers and for a more intimate setting, Valentine's Day. For these and other occasions, Thai Kitchen and Simply Asia offer simple solutions to spice up any celebration. Chinese New Year is a great time to get time to try some new delicious Asian recipes. One of my favorite dishes, Shrimp Pad Thai, can be spiced up with some color by using
Thai Kitchen's new Rice Noodles
, a first-of-its-kind that is made with all-natural, gluten-free ingredients and comes conveniently packaged in four individual servings – wow your guests with either the
Purple Corn and Rice Noodles
or
Red Rice Noodles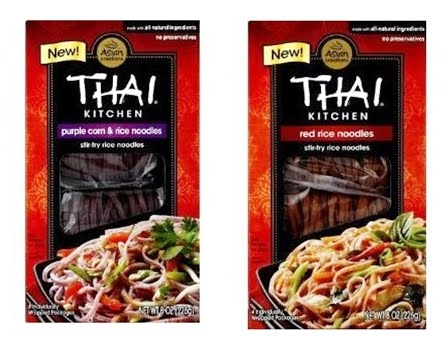 Another recipe hit is Zing Rolls (see the spring roll recipe below), you can also add Simply Asia's Stir-Fry Sauces to seamlessly spice up Restaurant-Style General Tso's Chicken and Ginger Teriyaki Lettuce Wrap recipes. Thai Kitchen and Simply Asia actually offer a complete line of Asian convenience items including sauces, curry pastes, rice noodles, noodle bowls, coconut milk and more.
Zing Rolls – Vegetable Spring Rolls with Red Rice Noodles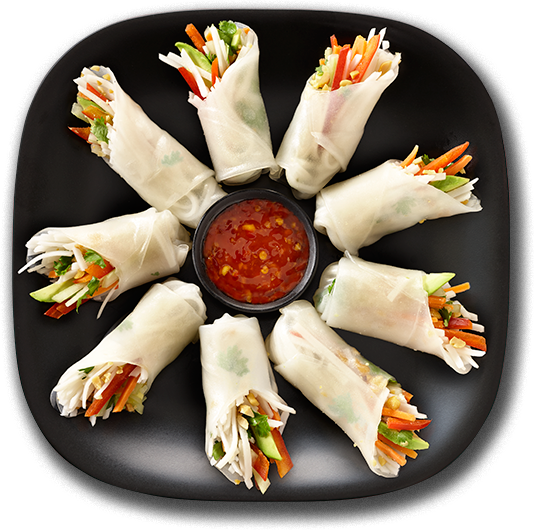 Prep Time: 45 minutes
Refrigerate: 30 minutes
3 single-serve packages (2 ounces each) Thai Kitchen® Red Rice Noodles
12 round rice paper wrappers (8 1/2-inch)
2 large red bell peppers, thinly sliced
2 large cucumbers, peeled, seeded and cut into thin strips
3/4 cup shredded carrots
2 medium avocados, peeled, seeded and thinly sliced
2 tablespoons chopped fresh cilantro
1/4 cup chopped peanuts
Thai Kitchen® Spicy Thai Mango Dipping Sauce, for dipping
Bring large pot of water to boil. Remove from heat. Add Red Rice Noodles, stirring to separate noodles. Let stand 5 minutes or until noodles are tender but firm. Drain well. Place in large bowl with cold water. Separate noodles fully. Set aside.
To assemble Spring Rolls, fill 9-inch pie plate with warm water. For each spring roll, dip 1 rice paper wrapper in water to wet completely. Place on work surface. Blot dry with paper towel. Place 1/3 cup drained rice noodles in bottom third of rice paper. Layer with 4 bell pepper strips, 8 cucumber strips, 1 tablespoon carrot, 2 avocado slices, 1/2 teaspoon cilantro and 1 teaspoon peanuts. Fold in sides, then gently roll tightly to enclose filling. Place spring roll on platter or tray. Cover with damp paper towels and plastic wrap. Repeat with remaining rice paper wrappers and filling ingredients to make 12 spring rolls.
Refrigerate at least 30 minutes or up to 2 hours. Serve with Dipping Sauce. Makes 12 spring rolls.
Super Bowl Sundays fans will be truly impressed with with unique game-day favorites like their fun Satay Par-tay (see the photo below), General Tso's Meatballs or Kung Wow wings.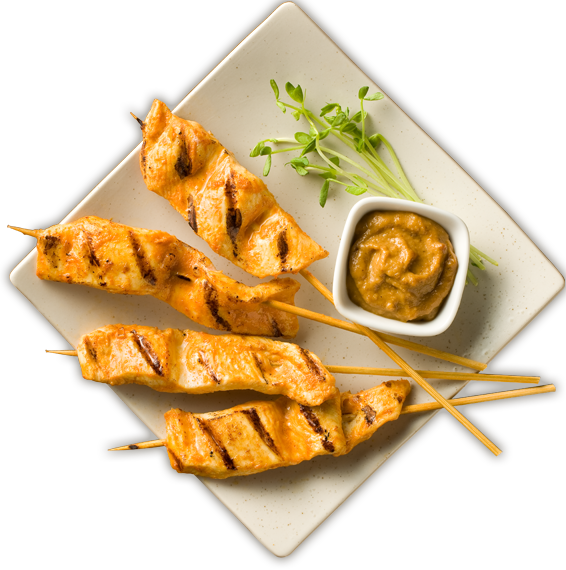 Prep Time: 15 minutes
Cook Time: 6 minutes
1/2 cup Thai Kitchen® Coconut Milk
2 tablespoons Thai Kitchen® Premium Fish Sauce
2 tablespoons Thai Kitchen® Red Curry Paste
1 pound boneless skinless chicken breasts, cut into 3/4-inch strips
Bamboo skewers
Mix Thai Kitchen® Coconut Milk, Thai Kitchen® Premium Fish Sauce and Thai Kitchen® Red Curry Paste in small bowl until well blended. Place chicken in large resealable plastic bag or glass dish. Add marinade; toss to coat well.
Refrigerate one hour or longer for extra flavor. Remove chicken from marinade. Discard any remaining marinade. Thread chicken strips onto skewers.
Broil or grill over medium-high heat 3 minutes per side or until chicken is cooked through. Serve with Thai Kitchen® Peanut Satay Sauce or Thai Kitchen® Sweet Red Chili Sauce for dipping. Makes 8 servings
Tip: Soak bamboo skewers thoroughly in water for at least 30 minutes before threading with chicken. This prevents them from burning when on the grill.
For Valentines Day, dazzle your sweetheart with a spicy and delicious meal made with Thai Kitchen's Red Rice Noodles. Thanks to the versatility of Thai Kitchen's Rice noodles, you can create noodle stir-fries, rice noodle soups, and more with ease. Of course you don't have to wait until these occasions to create and serve these delicious recipes. These easy recipes make can make every night a special night.