While we provide lots of coverage of Breast Cancer Awareness products during October, we understand the fight continues the other eleven months out of the year and needs continuous support; this is why we love that Katie Holmes has teamed up with
Kohl's
to encourage women to start the conversation about Breast Cancer. In an effort to confront the
"pink elephant in the room"
, Kohl's is featuring a special, limited edition pink elephant necklace (available in two sizes) from the LC Lauren Conrad collection. Katie Holmes, seen below rocking the Kohl's Pink Elephant Necklace, was out and about promoting the amazing
Kohl's Pink Elephant Campaign
.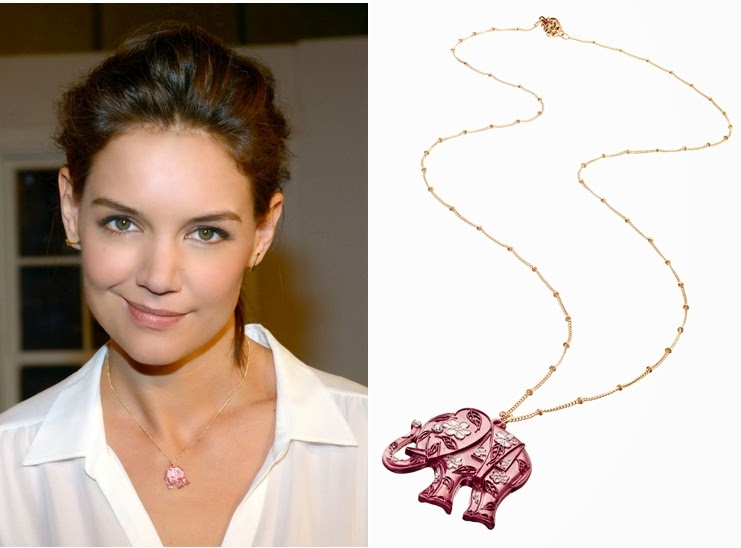 "Breast cancer is like a pink elephant in the room that women don't really want to think about, but know they should," said Katie Holmes. "Women have so much going on in their day-to-day lives, it can be easy to ignore their own needs, like scheduling a mammogram or routine screening. I'm honored to team up with Kohl's to remind women of the importance of having a conversation about breast health right now."
100% of the proceeds from the sale of these special necklaces (started Wednesday, February 19th), goes towards the fight against breast cancer through Kohl's Cares, the company's philanthropic platform. Priced at only $5.00 and $8.00 each, the two necklaces will be available while supplies last for a limited time in stores and online. From Tuesday, February 18th through Saturday, March 8th, Kohl's will also donate $1.00 to Susan G. Komen for every pink Kohl's Cash coupon redeemed, a minimum of $100,000 up to $1 million.
For more information about Kohl's support of women's causes, please visit www.Kohls.com/Cares. To join the conversation on Facebook (http://www.facebook.com/Kohls) or Twitter (http://twitter.com/Kohls) or get inspired on Pinterest (http://pinterest.com/Kohls) and Instagram (http://instagram.com/Kohls), just use hashtag #TalkPink.