Calling all beer lovers and aficionados. It's time to celebrate all things malt and hops. It's time again for the Village Voice Brooklyn Pour Craft Beer Festival, with an outstanding lineup of 125+ Beers from over 70 Brewers. This year marks the fourth annual Brooklyn Pour craft beer tasting event which takes place on September 27th. It'll be a day of unbelievable Beer Porn.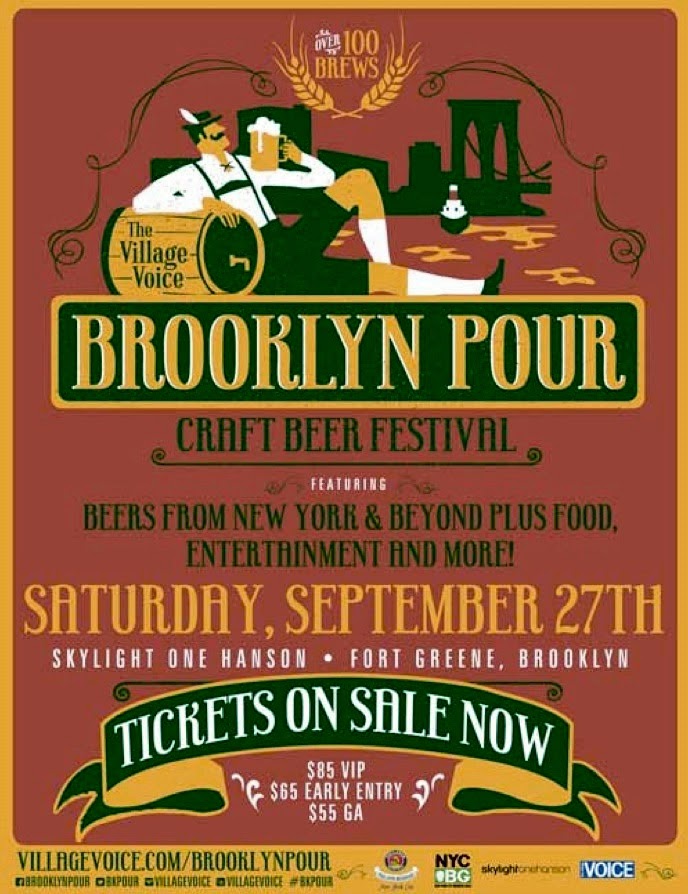 From 2:00PM – 6:00PM, you get to enjoy brews from the following: 508 Gastrobrewery, Ace Cider, Alphabet City Brewing Company, Asahi, Ayinger Brewery, Bad Seed Cider Company, Bayou Teche Brewing, Bear Republic Brewery, Boulder Beer Company, Braven Brewing Company, Brewery Ommegang, Broken Bow Brewery, Bronx Brewery, Brooklyn Brew Shop, Brooklyn Brewery, Captain Lawrence Brewing Company, Crabbie's Ginger Beer, Crispin Cider Company, Dogfish Head Craft Brewery, Dyckman Beer Co., Empire Brewing Company, Founders Brewing Company, Goose Island Beer Company, Gun Hill Brewing Company, Harlem Blue, Harlem Brewing Company, Harpoon Brewery, Ithaca Beer Co., Keegan Ales, KelSo, Beer Company, Krombacher Brewery, Lagunitas Brewing Co., Lake Placid Brewery, Lindemans Brewery, Magic Hat Brewing Company, McKenzie's, MOA Brewing Company, Narragansett Brewing Company, Original Sin Hard Cider, Other Half Brewing, Paulaner Brewery, Queens Brewery, Radeberger Brewery, Radiant Pig Craft Beers, Rockaway Brewing Company, Samuel Smith Brewery, Saranac Brewery, Shiner Beer, Shipyard Brewing Company, Shmaltz Brewing Company, Singha, Singlecut Beersmiths, Sly Fox Brewery, Steadfast Beer Co., Stevens Point Brewery, Transmitter Brewing, Two Roads Brewing Company, Victory Brewing Company, Wolffer Estate Vineyard, Yonkers Brewing Co.,Coney Island Brewing Company, Eataly Birreria, Finback Brewery, Flagship Brewing Company, Grimm Artisanal Ales, Heartland Brewery, Otter Creek Brewing Company, Rekorderlig Cider, Sixpoint Brewery, Smuttynose Brewing Company and Wolaver's Fine Organic Ales.

Of course, one cannot live by beer alone, so the Brooklyn Pour Food Truck Courtyard is set up to be at the Brooklyn Pour Craft Beer Festival and will include local favorites Valducci's Famous Original NYC Pizza and Phil's Steaks, with more food trucks available for purchase. You can't have beer and food without some fun so enjoy the official BKPour Game Area, presented by Dave & Buster's, featuring beer pong, air hockey, Beirut, basketball toss and more. Plus a souvenir Brooklyn Pour tasting glass, official event photo booth, Brooklyn Pour's first-ever Insta-Bingo competition and DJ sets from Jonathan Clarke, On Air Personality at NYC's Q1043, and 106.7 Lite FM radio stations.
The craft beer celebrating event will feature three ticket options. The $85.00 VIP ticket allows guests entry one full hour early, at 2 pm, plus access to the private VIP lounge with a private bar and mezzanine overlooking the event, complimentary snacks courtesy of SCRATCHbread, Ovelia Psistaria, and Paulaner Brauhaus, a Gift Bag and more. The $65.00 Early Entry ticket will allow guests entry into the main room of the event at 2:30 pm, a full half hour earlier than the event's door time. The $55.00 General Admission ticket allows entrance to the event at 3 pm until the event finishes at 6 pm. That's hours of non-stop, beer drinking fun. Will you be attending the Village Voice Brooklyn Pour Craft Beer Festival?