We recieved a few
blender models from ninja
and we've been on a juicing and smoothie rampage ever since! We've treated ourselves and our family to an absurd about of fruit and non-fruit smoothies. Our freezer and refrigerator is now stocked with lots of fresh fruits, taking the place of sodas, juices, and ice cream. We've blended both all-fruit, and fruit and vegetable smoothies to appease the different tastes, diets, and various allergy issues of our family, thanks to the individual Nutri Ninja® single-serve cups with Sip & Seal Lids. We've done so much with this wonder machine already, but we actually haven't even scratched the surface of its amazing uses (we are ecstatically stuck in the smoothie-making phase).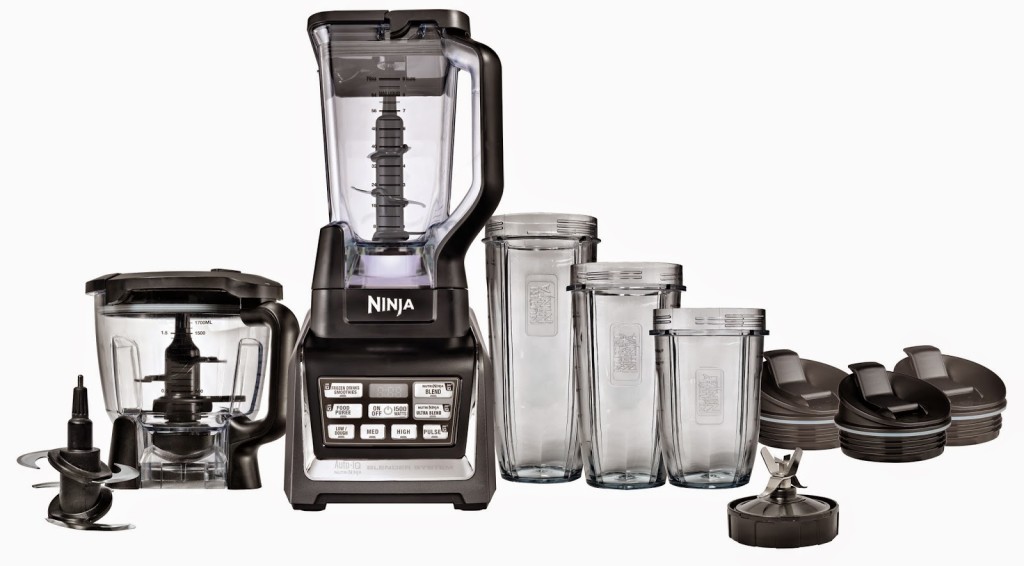 The Nutri Ninja Auto-iQ Blender boasts 1000 watts of power, which pulverizes ice in seconds (we're looking forward to ices this summer), is optimized for maximum nutrient and vitamin extraction and crushes fibrous vegetables, fruits, seeds, and nuts to an ultra-smooth consistency, and features one-touch Intelligent Controls that delivers smooth results. This life changer kitchen appliance comes jammed packed with essentials: a 64 oz. Processor Bowl, three sizes of Nutri Ninja® Cups (18-ounce, 24-ounce, and 32-ounce) with lids, an XL 72oz. Pitcher, Nutri Ninja® Pro Extractor Blades, and Dough Making plastic blades. Everything you need to achieve a healthier lifestyle and healthier eating habits is available to you from Ninja. We were so excited about using the Nutri Ninja Auto-iQ Blender, we took several videos of our smoothie making. This video is from our first time using it
The below is a photo from our first fruit and vegetable smoothie-making experience. We jammed packed quite a few ingredients in there. The photo and video featured below is of our Apple, Blueberry, Banana, Blackberry, Carrot, Broccoli, Spinach, and Tangerine smoothie: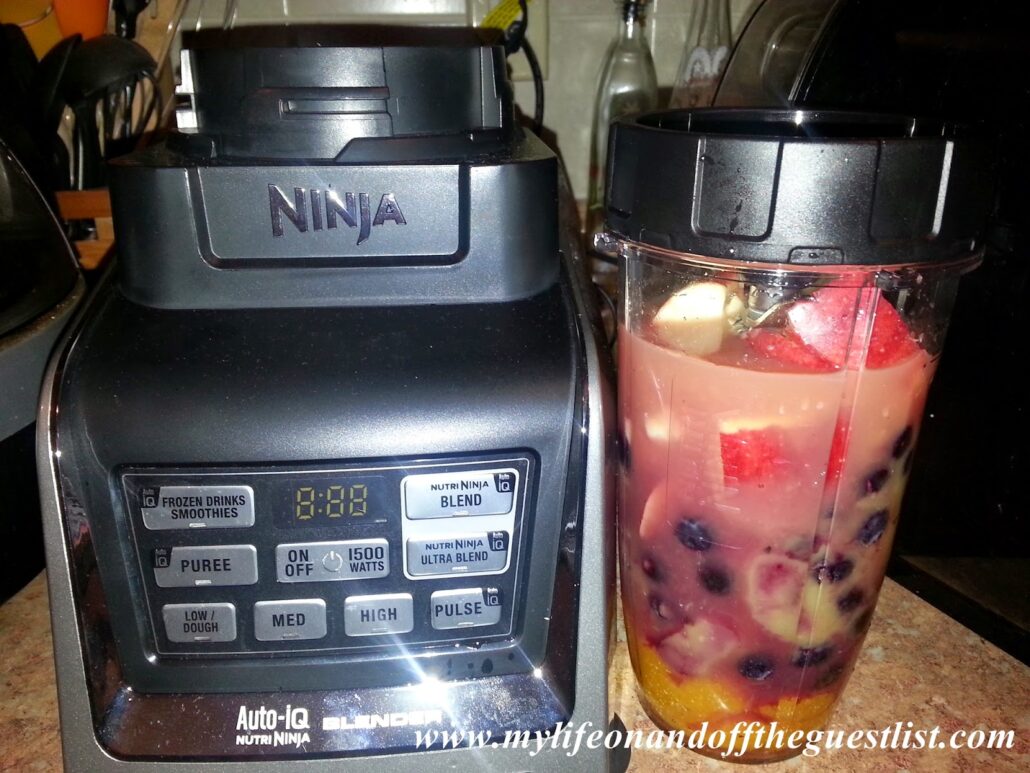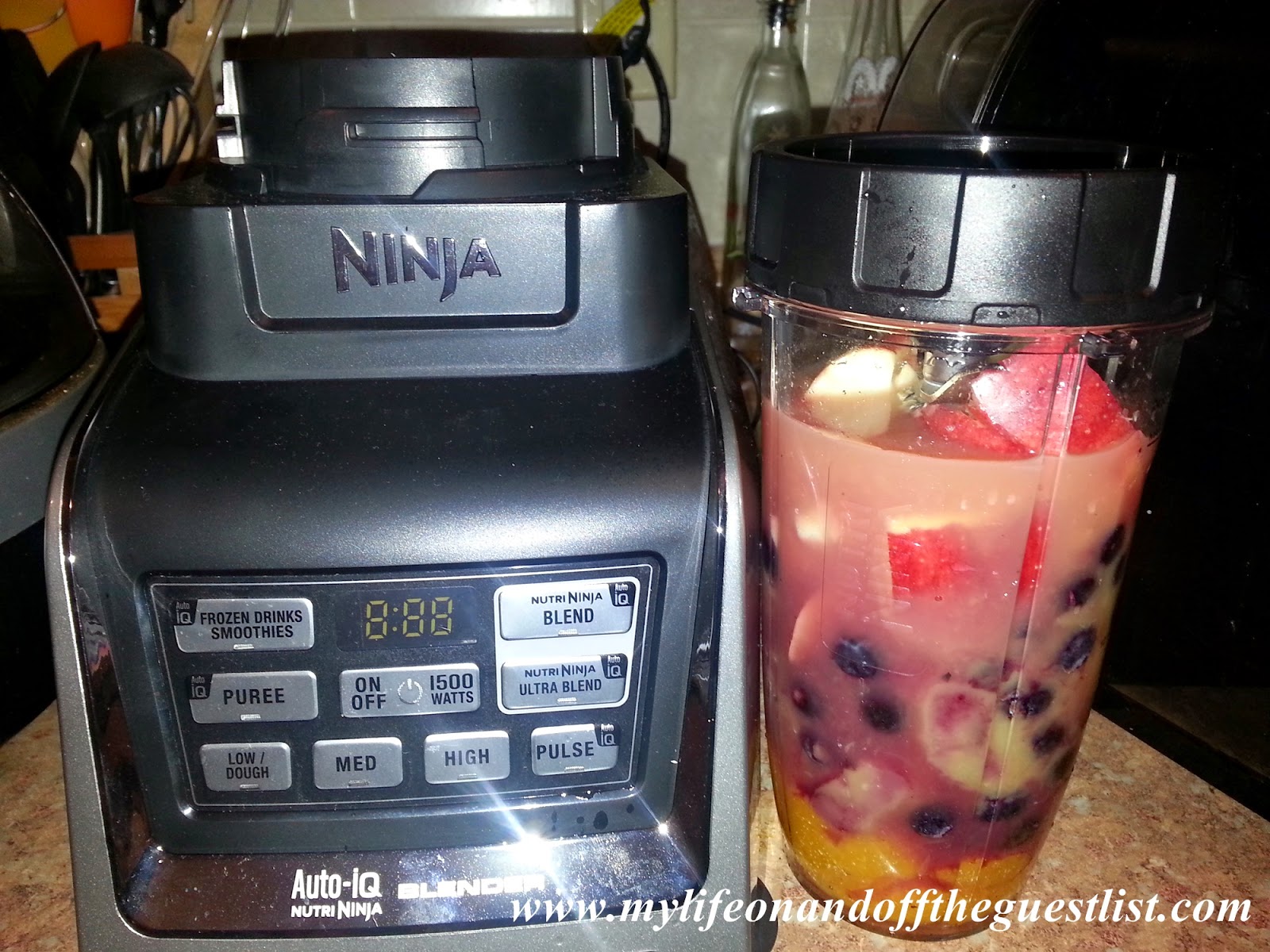 We also love that Ninja provides tons of smoothie recipe ideas for you to try. The best part is you can experiment with those recipes, making them thicker, sweeter, or thinner, as well as adding or removing whatever ingredients you want. one of our favorite Ninja recipes is:
Antioxidant Refresher

1/2 cup frozen strawberries
1/2 banana, peeled
1 cup fresh blueberries
1/2 cup low-fat plain greek yogurt
1 tablespoon whole flax seeds
Container: Small 18-ounce Nutri Ninja Cup
Place all ingredients into the Small 18-ounce Nutri Ninja Cup in the order listed
Select Auto-iQ ULTRA BLEND

Of course it wasn't all fruit and vegetable smoothies, at the request of our dear mother, we mixed up a few Seattle's Best Coffee Frozen Coffee Drinks to satisfy her caffeine cravings. As someone who owns her Ninja Blender herself, my mother immediately wanted to relinquish one of our single serve cups while she was visiting for the holidays.
As we've stated, we've been on a smoothie making rampage but we can't wait to really spread our culinary skills and start making soups, stews, etc. We suggest you add this amazing kitchen appliance to your life.