On our bucket list is the dream to experience a culinary trip around the world. While we're still saving up for that one of a kind foodie journey, the Hard Rock Cafe has helped make part of our wishlist come true with a sampling of international Local Legendary™ Burgers to kick off burger season. Get ready for a whirlwind culinary journey with the Hard Rock Cafe's World Burger Tour that would make any diehard foodie swoon.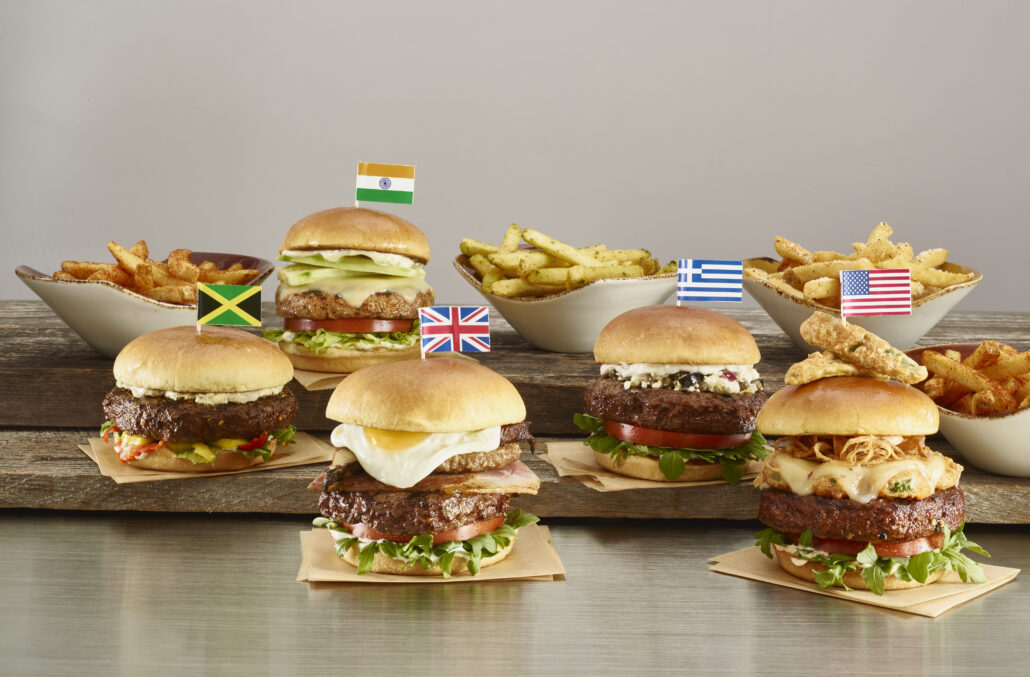 "Hard Rock wanted to offer a unique blend of spicy, sweet and savory flavors for our guests to enjoy on this year's World Burger Tour," said Darryl Mickler, Senior Director of Research and Development for Hard Rock International (pictured directly below). "Whether we're serving up coffee beans in Seattle or salsa criolla from Buenos Aires, there is something for every palate."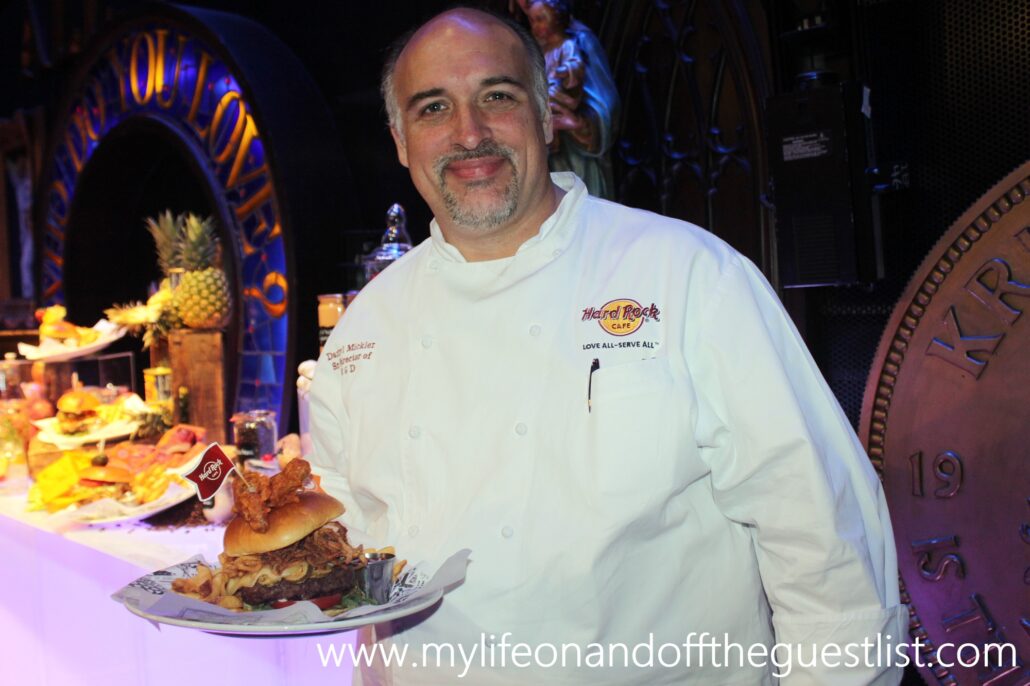 This year, Hard Rock is also offering a literal World Burger Tour, a culinary travel package that takes the most adventurous burger enthusiasts on an adventurous taste escapade with the offerings from the World Burger Tour menu at Hard Rock Cafe locations in London, Athens, Buenos Aires and Seattle! From now until Thursday, June 30th, you can enjoy the limited-time offerings of English Breakfast Burger (London, England),  Java Lava Burger (Seattle, United States), Tandoori Chicken Burger (Mumbai, India), Jamaican Jerk Burger (Montego Bay, Jamaica), ATOMIC! Burger (Las Vegas, United States), Tango Salsa Burger (Buenos Aires, Argentina), Greek Burger (Athens, Greece), and the Aloha Burger (Honolulu, United States). We had the pleasure of trying out a few of the savory delicacies that make up the Hard Rock Cafe's World Burger Tour, along with a host of delicious cocktails to pair them with. Check out our gastronomic adventure below:
English Breakfast Burger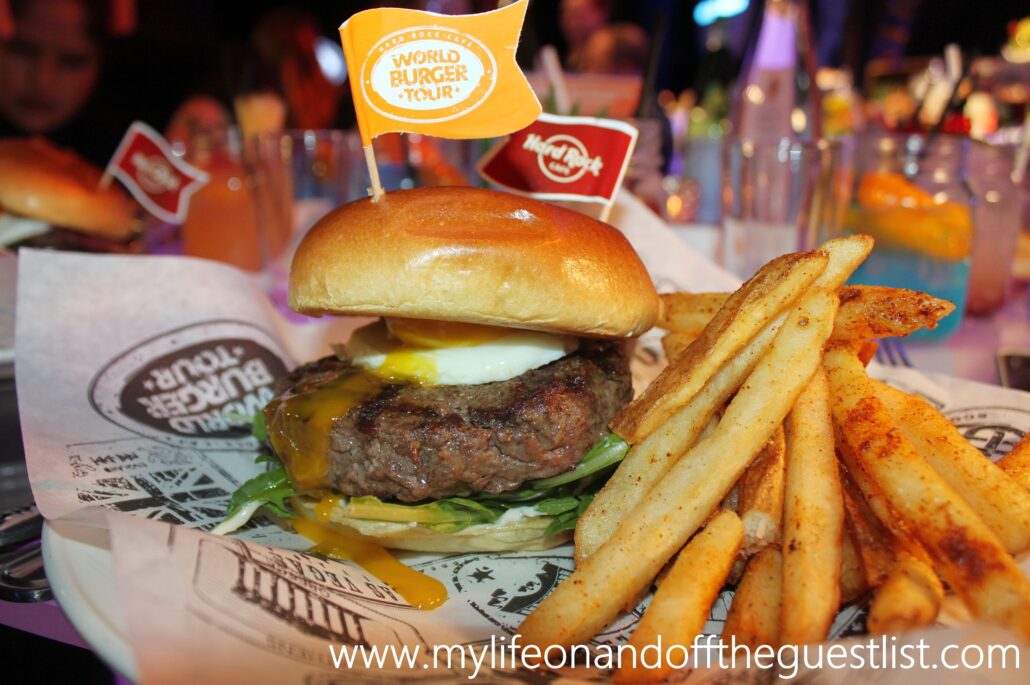 A Certified Angus Beef patty topped with sliced ham, a sausage patty, a fried egg, a portobello mushroom, arugula and garlic aioli and served with a side of baked beans.
David: Very tasty burger with salty and savory breakfast layers that didn't have the weightiness of an all red meat burger but was still just as satisfying. The briny ham with the fresh egg and the almost chameleon-like unifying earthy quality of the portobello made this a delicious start.
Glasgow: I tried this divine burger sans the portobello mushroom, so not sure what flavors it added to it, but boy this was delicious. Talk about starting with a bang. I love the blend of flavors and textures, the juiciness of the Angus beef combined with the sunny-side up egg were perfection.
Jamaican Jerk Burger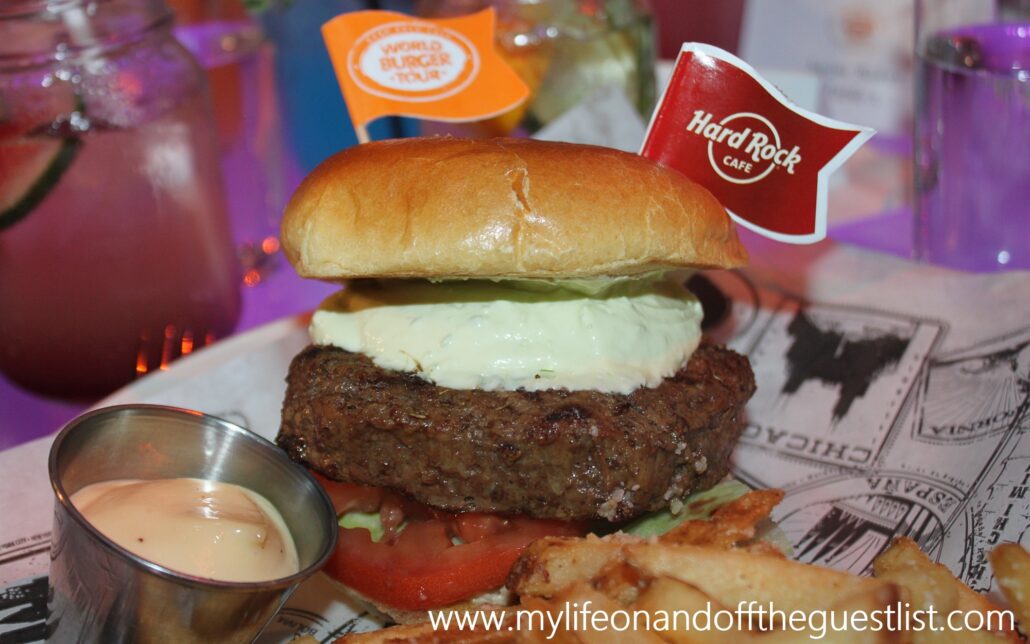 A Certified Angus Beef patty topped with banana pepper rings, mango jalapeño cream cheese, and jerk mayo.
David: This wasn't a traditional way to have jerk but the seasoning profile of the peppery and pungent jerk spices were close to the original. The mango cream cheese and the mayo created a nice balanced cool down element for the variations of heat from the spicy arugula and punchy banana peppers.
Glasgow: For those of you who love spicy, this is a must! The creaminess of the cream cheese tones down the jerk a little bit, but the addition of the banana peppers and jerk mayo ups the heat to wonderful flavor heights (for those who love a little less spice, just remove the banana peppers). I also recommend dipping the Parmesan Romano fries in a mixture of the mango jalapeño cream cheese and jerk mayo for more flavor excitement.
ATOMIC! Burger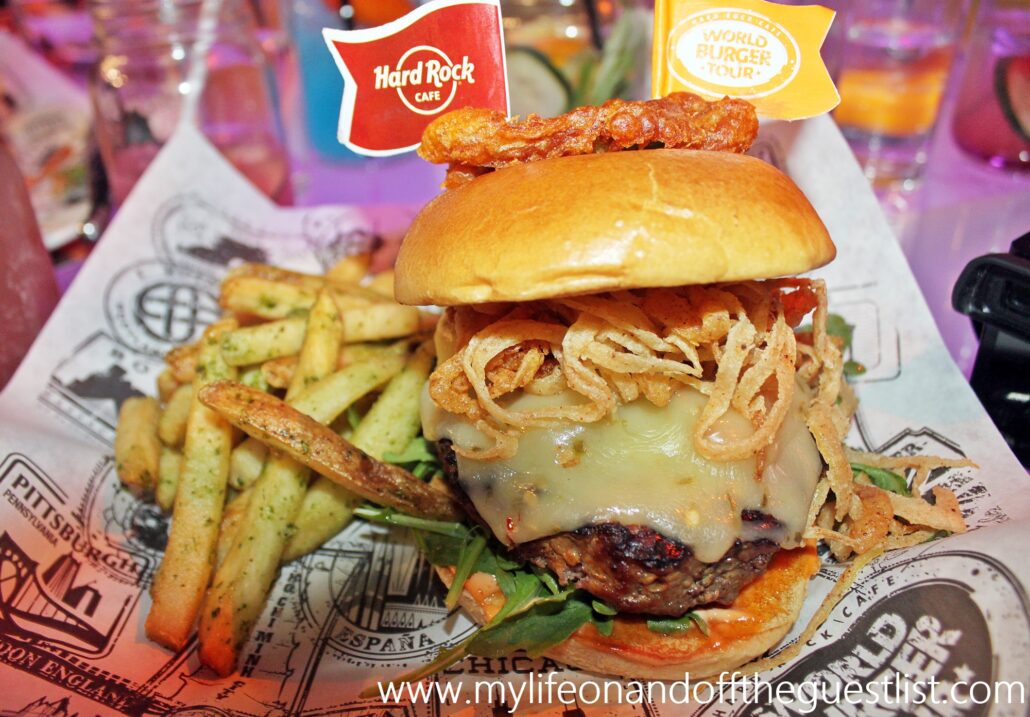 A Certified Angus Beef patty topped with Atomic beer-battered peppers, pepper jack cheese, Atomic crispy onions, sautéed mushrooms, garlic chipotle ketchup, and chipotle mayo.
Glasgow: Get ready for atomic levels of peppery flavor, and a texture party in your mouth. My third and last burger of the evening (I've made a mental note to try all eight) packed some amazing heat. The Atomic! Burger is definitely another favorite for spicy food lovers. You'll love the crunchiness of the onions and arugula against the melted cheese and juicy Angus Beef. Get ready for some finger licking fun. This could easily be my favorite burger from the Hard Rock Cafe's World Burger Tour.
Aloha Burger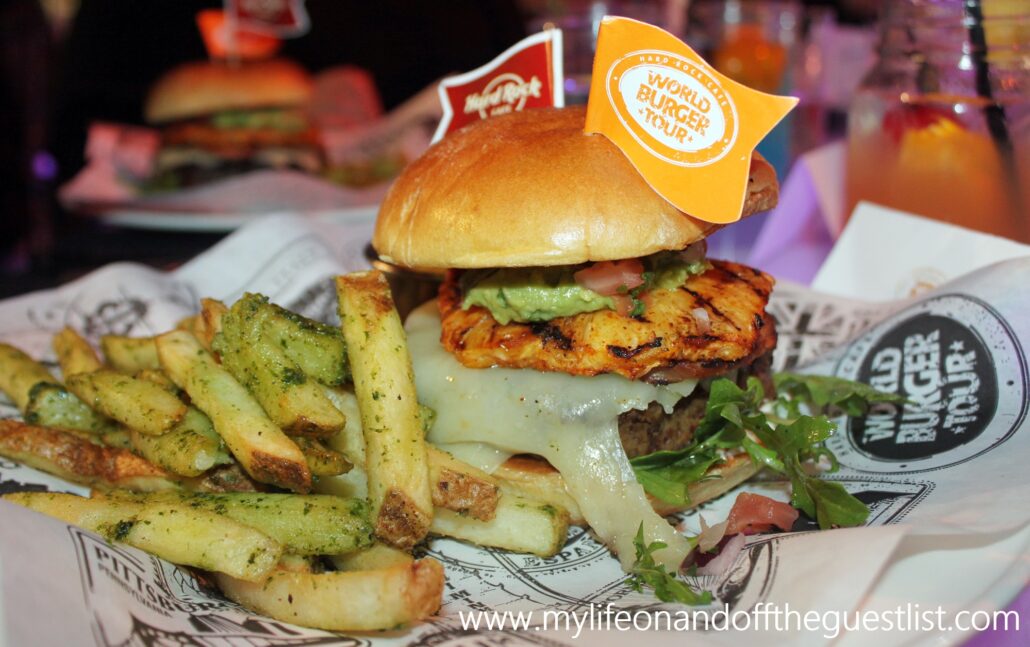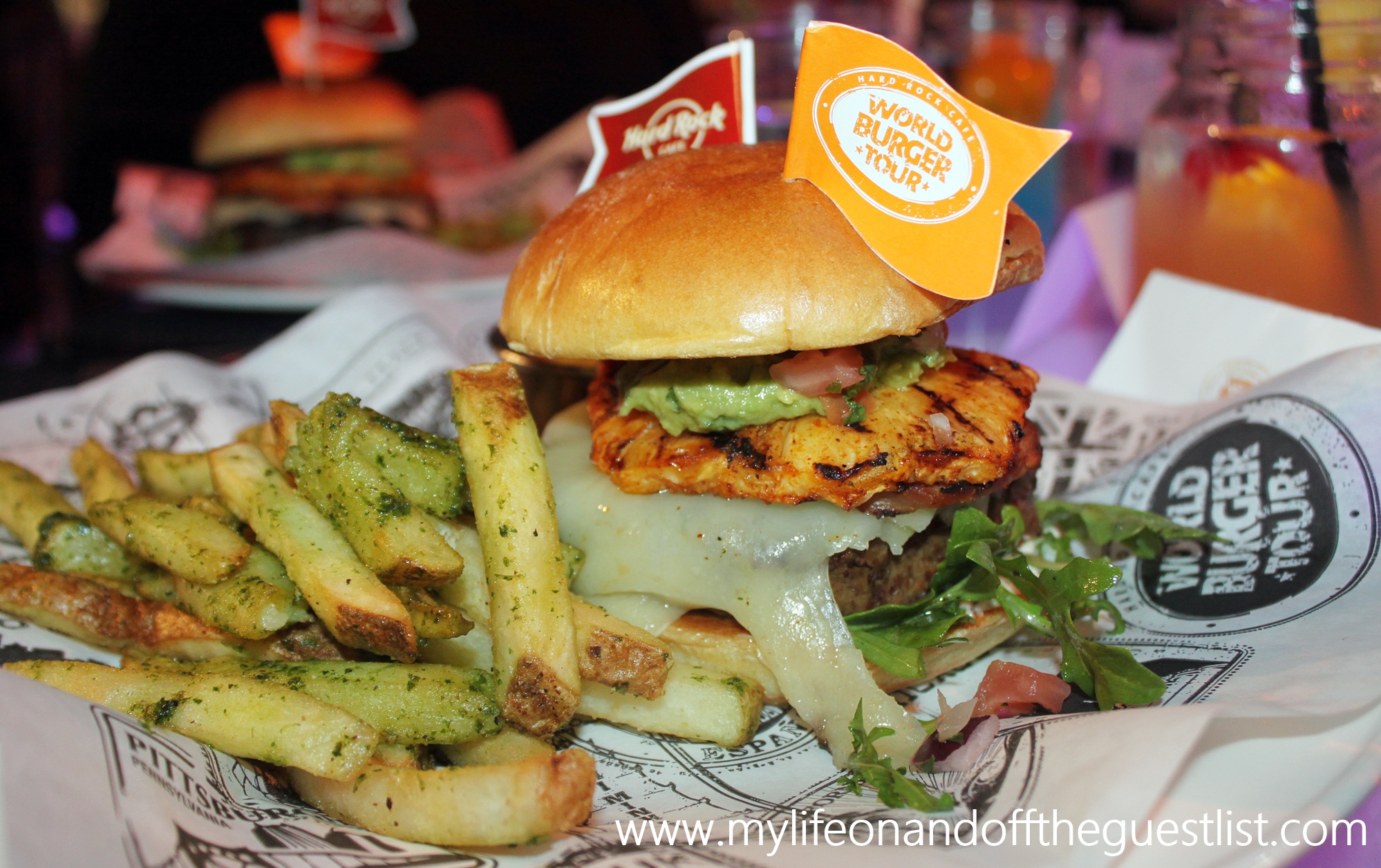 A Certified Angus Beef patty topped with SPAM, Monterey Jack cheese, a grilled pineapple ring with sweet soy glaze, guacamole and pico de gallo.
David: This was savory and sweet loveliness and my favorite burger. The salty dense spam played nicely against the sweet smoky pineapple while the guacamole, arugula and pico de gallo created an element of freshness the was neutral to the heat and sweet. The soy glaze played up the spam nicely while the slight creaminess of the Monterrey Jack unified the flavors subtly.
As we previously stated, we were also treated to several new delicious cocktails that paired wonderfully with Hard Rock Cafe's World Burger Tour varieties. In order of appearance below, the new libations include:

All Jacked Up – created to balance the Jamaican Jerk Burger's spicy flair, this cocktail features a mix of Jack Daniel's Tennessee Honey, Jack Daniel's Tennessee Whiskey, Sailor Jerry Spiced Rum, pineapple juice, Orgeat, and lime juice, garnished with orange and pineapple wedges and a cherry.
Melonpalooza – designed to complement the fresh flavors of the Greek Burger, this cocktail features a mix of Midori Melon Liqueur, Malibu Rum, Hard Rock's house-made sour mix and pineapple juice, garnished with slices of pineapple and strawberry.
Crisp Sipper – inspired by the Aloha Burger's sweet and savory taste, this cocktail features a mix of Hendrick's, Monin Cucumber, lemon, orange and raspberry, topped with tonic and garnished with rosemary and thyme.
Sweet & Fiery – inspired by the ATOMIC! Burger's spicy flavor, this cocktail features a mix of ABSOLUT Peppar Vodka, Canton Ginger Liquor, Blue Curacao, lemonade and ginger beer, garnished with a red pepper.
Black Cherry Melonade (non-alcoholic) – created to complement the rich espresso of the Java Lava Burger, this mocktail features a mix of Black Cherry Real and Monin Cucumber, topped with ginger beer, garnished with a cucumber slice and a cherry.
Are you up to take your own culinary journey and indulge in the Hard Rock Cafe's World Burger Tour? Visit the nearest location to experience the awesome burger varieties from the Hard Rock Cafe's World Burger Tour.