When we think of summer refreshment and relief from the heat, we think of cold, refreshing popsicles. There's nothing more satisfying than opening up our freezer, feeling that initial blast of cold air and continuing that feeling with a delicious, and healthy frozen fruit bar. How else can you cool down from the inside out on a blistering hot summer day? We stock up on popsicles during the summer, and while we've mostly stuck to one brand, we were introduced to some really cool (no pun intended) frozen bars at the Fancy Food Show, that has us re-thinking our "plain jane" pops, not just because of flavor, but health as well. We have truly become obsessed with the frozen treats from Brewla Bars,  Ruby Rockets, and Sun Tropics.
Ruby Rockets Fruit and Veggie Pops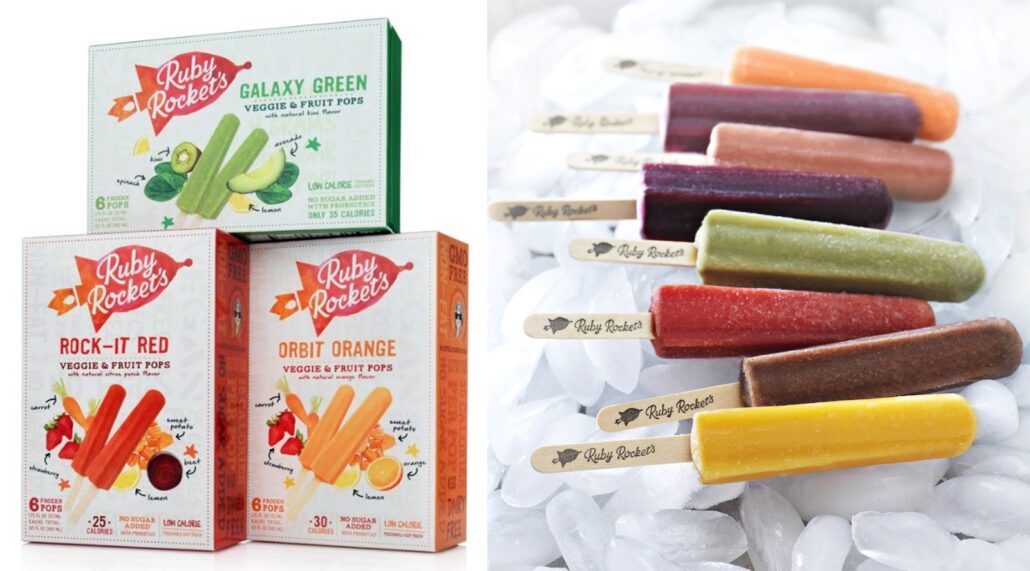 We already love popsicles because they're a great way to enjoy a delicious snack without tons of calories but what if they provided you with all the daily intake of essential fruits and vegetables you needed? Say hello to Ruby Rockets, a veggie & fruit popsicle that's as healthy as it is delicious. This vitamin and nutrient-rich popsicle boasts low-sugar, only 40 calories, made without any artificial colors, flavors or preservatives, is Gluten-free, Dairy-free, and Vegan, and is the first and only non-dairy popsicle with probiotics. What makes Ruby Rockets extra special to us, besides its deliciousness, is that it was created by an actress from one of our all-time favorite movies, Wendy Makkena of Sister Act, who initially created these for her children, out of her own kitchen.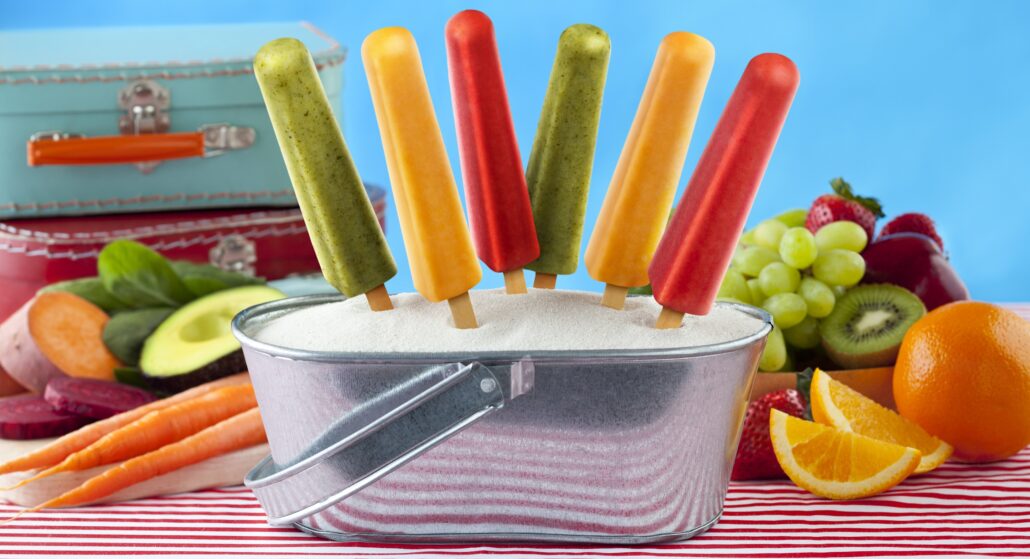 Ruby Rockets fruit and veggie pops is available in eight delicious flavors including: Rock-It Red (strawberries, bananas, carrots, organic lemon, sweet potato, and beets), Orbit Orange (organic oranges, sweet potatoes, carrots, bananas, lemons, and strawberries) and Galaxy Green (organic kiwifruit, avocados, green apples, bananas, and spinach), Celestial Cherry (dark sweet cherry, acerola cherry, yumberry, pomegranate, tomatoes and beets), Far Out Fudge (organic dates, açai, sweet potato, beets, and fair-trade Dutch Cocoa), Meteorite Mango (pineapple, passionfruit, mango, organic butternut squash, and sweet potato), Gravity Grape (concord grapes, blueberries, açai, purple, and organic sweet potatoes) and Planetary Pink Lemonade (pomegranate, goji berry, purple sweet potato, strawberries, lemon, and butternut squash). Rubu Rockets is available at Gristedes, Union Market, Kosher Marketplace, Babeth's Feast "Frozen Grocery Store" and retail for $4.99, for a box of six delicious pops.
Brewla Bars Specialty Brewed Bars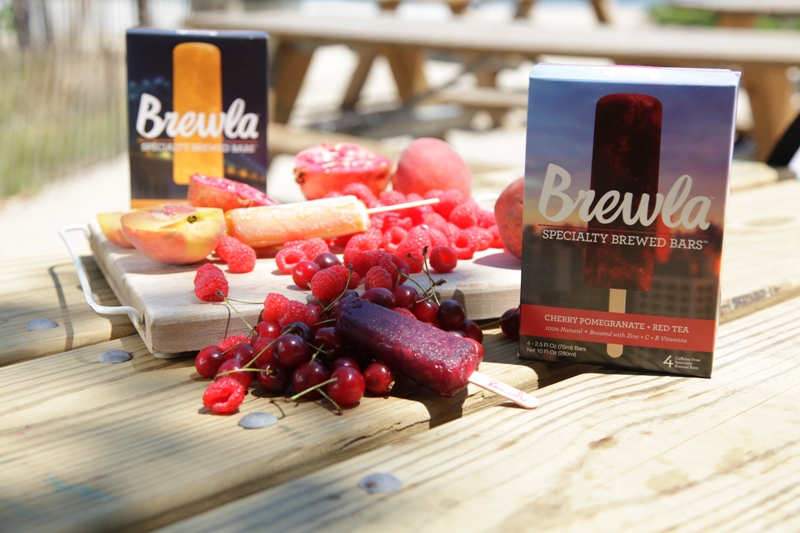 You're quite familiar with our tea obsession, so these popsicles should come as no surprise to you. We've actually created our own frozen ice tea pops during summer but Brewla Bars takes it to a whole new delicious level. We are wowed by not only the unique flavor combinations but the health benefits as well. Created by brother and sister team, Daniel and Rebecca Dengrove, these amazing popsicles combine the health benefits of various vitamins and minerals, the delicious tastes of fresh fruit, and the antioxidants of some of your favorite teas, to bring you five unique popsicle flavors that are sure to blow you away. The caffeine-free, gluten-free, Kof-K kosher certified specialty brewed, frozen bars are available in Cherry Pomegrante + Red Tea (The Hero), Peach Ginger + White Tea (The Lullaby), Tropical Fruits + White Tea (The Luau), and Strawberry + Hibiscus Tea (The Lifeguard), all of which are boosted with various nutrients, and for those of you want a frozen treat that's not necessarily fruit-based, you'll love Brewla's Craft Brewed Root Beer Float (The Doctor).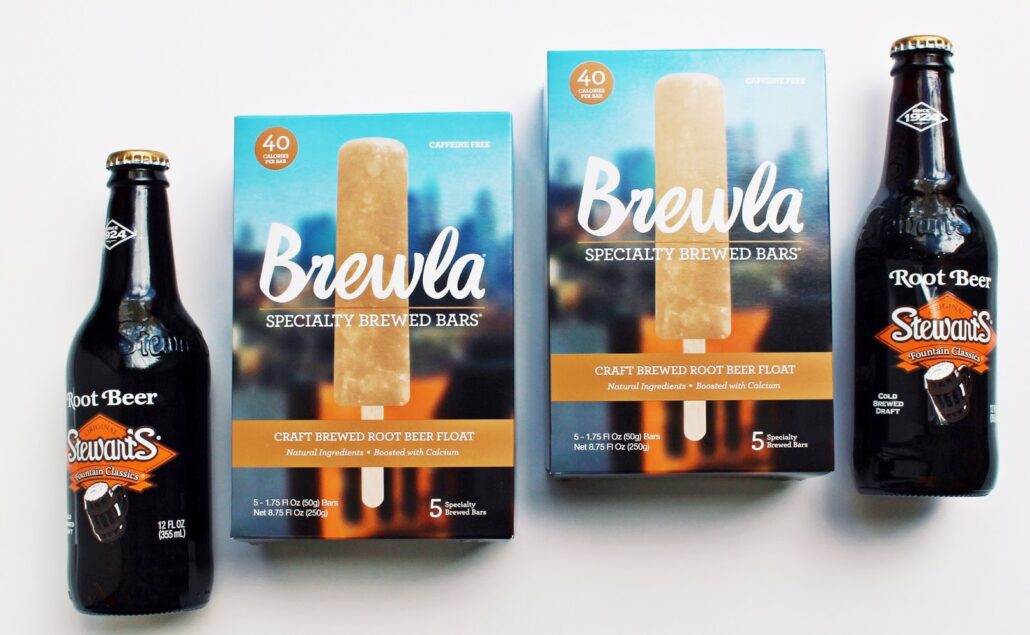 All flavors, with the exception of The Doctor, are Vegan, are 50 calories or less, and are sweetened with all-natural sugar cane. Trust us when we say, tea time will never be the same again. Grab a box of five Brewla Bars for $5.99 – $6.99 each at store locations near you. As Brewla says, "Lick well, Live well".

This is no ordinary fruit popsicle. We're typically used to popsicle that have 50% fruit juice, most are made that way, but the Sun Tropics Frozen Fruit Bars are very different because they're made out of freshly frozen fruits, not fruit juice, and we're delighted to see that these are all tropical fruits. It's like taking your taste buds on a delicious tropical vacation. You won't find these exotic fruits readily available (with the exception of the mango) at your local supermarket or most fruit stands. Each Non-GMO, and dairy-free Sun Tropics frozen fruit bar is packed with real tropical fruit, so every bite is like biting into an icy piece of the various fruits! It contains nothing artificial and is sweetened with cane sugar (no corn syrup here). Snag a box of four of these exotic fruit bars for $5.99, at Whole Foods, Target, Safeway, or at a select retailer near you.